We know, Tom Petty, waiting is the hardest part. And some schools—cough, Stanford Graduate School of Business (GSB), cough—certainly aren't making things easy on Round 2 applicants. The stress is high, the updates are few and the results are pure poetry.
For anyone who's completely befuddled, we're talking about the creative ways candidates have taken to LiveWire to let off steam as they wait anxiously for interview invitations from schools that have yet to share them. Though Stanford GSB has provoked the greatest outpouring of silly LiveWire posts, UC Berkeley's Haas School has also elicited a few, and there have been some general grumbles about MIT Sloan thrown in as well.
Adele's popularity—flat Grammy performance notwithstanding—is clear. But Lionel Richie, Notorious B.I.G., Jack Johnson, Aloe Blacc, Richard Marx, Ice Cube, Drake, Taylor Swift and Warren G lyrics have also all provided points of departure for our creative-in-the-face-of-anxiety crowd. Eclectic musical tastes, we'll give you that.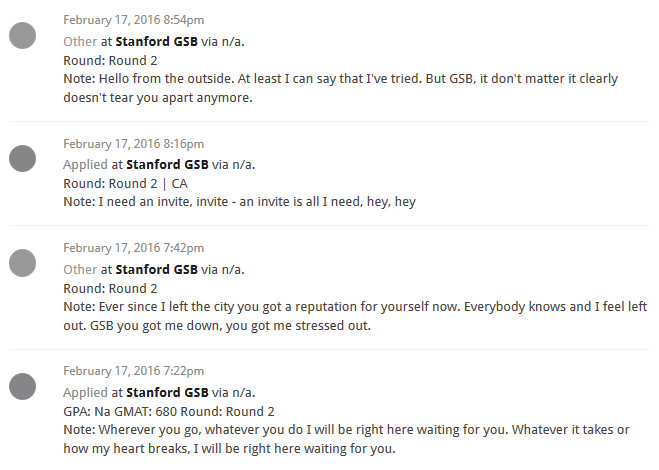 Adding to the mix have been a haiku or two, a random non-sequitur completely apropos of Berkeley and a clever tuition-payment plan.



Waiting for Bolton
Of course, Stanford GSB MBA Admissions Director Derrick Bolton has received a couple of call-outs by name. We'll check in with him to see if he has a favorite and report back.



In the meantime, thanks all for your engagement. We've printed out our favorites and created a LiveWire Creativity Hall of Fame here at Clear Admit. And apologies to those who have been offended by the frivolity—stress can do funny things to people.
By the way, we get that you want a means of communicating with each other on LiveWire. We're looking into some additional options for that, so stay tuned.