If you applied in Round 2 to Harvard Business School (HBS), Stanford Graduate School of Business (GSB) or the Wharton School of the University of Pennsylvania—the so-called "holy trinity" of MBA programs—are your nails bitten down to the quick by now? Tell the truth. It's decision week at all three schools, and anxious applicants all over the world have been awaiting word today and tomorrow.

HBS on Track to Release Round 2 Decisions Tomorrow
Dee Leopold, HBS managing director of admissions and financial aid, took to her Director's Blog today to reassure anxious Round 2 applicants that everything's on track. "We're all set to get decisions out to Round 2 candidates—tomorrow, 12:00 noon Boston time," she wrote.
HBS will not make any phone calls in advance, she added, urging folks to "relax" until tomorrow. She also shared that roughly 100 applicants will be added to the waitlist as part of tomorrow's notifications. Eileen Chang, who manages the HBS waitlist process, will follow up with this group in a separate email providing details on what to expect, Leopold noted.

Stanford and Wharton Are Fast Out of the Gate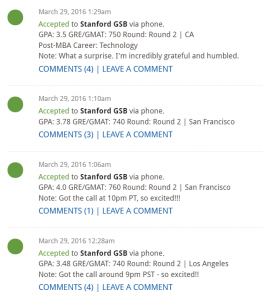 Wharton and Stanford weren't waiting around for HBS. Both schools were slated to start notifying applicants today, and MBA LiveWire began lighting up green with reports of acceptances at Stanford GSB just after midnight. Wharton took the baton a little later in the morning—closer to 8 a.m. EST, according to most reports—and began making its own calls.
We'll wait for HBS to issue its own notifications tomorrow before digging into the data shared by applicants to the three schools over a high-stakes couple of days.
Good luck to all who are still waiting. And don't forget, if your acceptance to a particular program seals the deal, meaning you now know where you're headed in the fall, be sure to submit your decision via MBA DecisionWire. (Or, if you're on the fence, have a look at how applicants before you have made tough decisions when presented with options like your own.)