Tim Chaves, a graduate of Harvard Business School's Class of 2015, snagged a coveted internship at Google during the summer following his first year at HBS. His performance led Google to offer him a full-time job after graduation. He turned it down. Who turns down Google?
He turned it down to found a startup. And here's the real kicker: He has three young kids. "That's so risky," said basically everyone. But in the post that follows, you'll see why he thinks it was absolutely the right choice.
His startup, ZipBooks, is a free small business accounting software platform that provides access to working capital in the form of short-term cash advances. Since raising $300,000 in seed funding a year ago, the company has gone on to launch an iPhone app, debut its product on Product Hunt and leverage strategic partnerships to provide bank integrations for companies in the U.S. and Canada and process credit card payments in North America, Europe and Australia.
ZipBooks' primary mission is to reduce the mortality rate of small businesses by helping them improve their access to the capital they need, Chaves says. And customers are responding. The startup has doubled its customer base every month since its founding.
Read on to learn how his HBS MBA helped Chaves feel confident enough to turn down Google and follow his dream.
Is Founding a Startup with an MBA and Kids Too Risky?
by Tim Chaves
The first day I sat in class with my section at HBS, I knew I was out of my element. One by one, we introduced ourselves to our section mates, offering brief bios, interesting anecdotes and modest attempts at humor. I took special note of the family situations of my classmates. A lot were single, a few were married. Other than me, just two had kids (one child each, both still infants). I, on the other hand, had a four-year-old girl and an almost-three-year-old boy—and, little did I know, another one would soon be on the way. As I fidgeted in my seat, I wondered how my family would affect my experience at HBS—and the dreams I had to start a venture-backed startup post-graduation.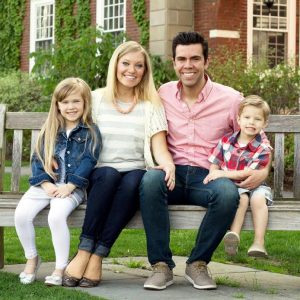 Before I enrolled at HBS, I'd finished my undergrad at Brigham Young University, getting married to my high school sweetheart my sophomore year. The entrepreneurial bug bit quickly, too—I started one company (an iPhone cover manufacturer) while in school, and my first daughter was born a week after I graduated. Despite academic success, I turned away job offers (and a whole lot of advice) to pursue my dreams and "control my own destiny."
Within a few years, I'd exited that company, started another and our second baby came along! My family was progressing as quickly as my career was, and even with a modestly successful exit under my belt, I wanted to do something bigger. I hoped an MBA at a top school would help give me the education, network and credibility I'd need to design something really impactful.
Lucky enough to be admitted to HBS, I headed to Boston excited but with some trepidation. I'd always been willing to think long term but I found myself, for the first time, surrounded by 900 of the smartest risk mitigators I'd ever met. Talking with many of my classmates, it suddenly didn't seem as reasonable to throw away a couple years of salary, live with a family of four in one of the most expensive cities in the world and found a high-risk venture afterward.
Maybe, just maybe, this time I needed to do something a little more reasonable. I started to doubt my startup plan—and I accepted a product management internship at Google in March of my second semester—the same month we found out our third child was on her way.
Google is everything you hear about, by the way—the food, the massages, the quality of your colleagues, the work hours, the perks. It was a fantastic summer. But back in Boston in the fall, it was time to get serious. Many of my peers who had previously been interested in entrepreneurship starting accepting job offers at Fortune 100 companies. When Google called with an offer, I was faced with one of the hardest decisions of my life: turn down a sure thing with Google, or turn my back on what I really knew I wanted to do?
Google was a great track for my career and my family. But another question hit me hard: If I didn't pursue my startup dream now, when would I? Add a few years, a mortgage, another kid—would I really be in a better position to found the company I had always longed to? I made up my mind, turned down Google and started work on what would eventually become ZipBooks.
There's a lot of career talk second year at a business school. When people asked me (multiple times a day) what I was doing after graduation and I told them I was founding a startup, 90 percent of the time I got the same response.
"Wow, really? With three kids? That's so risky."
And they were right. But I learned something important in business school—"risk," in its true sense, doesn't just mean downside. It means volatility, and that goes both ways. More potential for downside, but more for upside as well.
I think often about something one of my favorite HBS professors taught us our final day in class. "The degree you earned over the past two years gives you a floor—a safety net—so in a sense, your career is now a call option. And the way to increase the expected return of a call option is to increase volatility." (Business students will recognize the Black-Scholes option pricing model working in this analogy.) In other words, my worst case scenario was covered. Having an MBA from a top school meant there wasn't a viable scenario where my family and I ended up on the street! And that gave me a ton of confidence as I moved forward.
I've been working on my startup for a year now, and I haven't regretted it for a second. My salary may be a little lower than many of my classmates (ok, a lot lower), but my job satisfaction is off the charts. Every day I get to have the biggest impact of any place I could be. Without me, ZipBooks wouldn't even exist! I get to execute plans for the future of the company that I'm building alongside a great team. We now have thousands of active users that send and finance invoices, process payments and do their accounting every month. It's the #1 rated accounting app in the Chrome Web Store and on Product Hunt. I'm really proud of what we're building!
For those considering the startup route post-MBA—even those with some family obligations—my advice is simple: Remember that risk goes both ways. If you've covered your worst-case scenario with your degree, then you can think of your career as all upside—and risk can be a key element in maximizing it. There might not be a more perfect time to start your own company than now.