'Tis the season for the appointment of new deans at leading business schools. Following on the heels of last week's appointment of a new dean to lead the University of Michigan's Ross School of Business, Stanford Graduate School of Business (GSB) today announced that it has appointed a new dean to succeed Garth Saloner, who will step down after seven years in the post.
Stanford has named economist Jonathan Levin, former chair of the Stanford Department of Economics and a noted expert in the field of industrial organization, to serve as its tenth dean. Levin's appointment is effective September 1, 2016, Stanford President John Hennessy and Provost John Etchemendy announced today.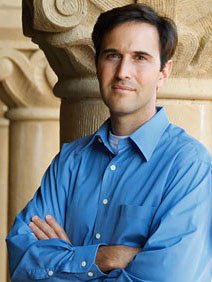 Levin joined the Stanford University faculty in 2000 and served as chair of the Department of Economics from 2011 to 2014. He is also a professor, by courtesy, at Stanford GSB, as well as a senior fellow at the Stanford Institute for Economic Policy Research and director of the Industrial Organization Program at the National Bureau for Economic Research.
In announcing his appointment, Provost Etchemendy praised Levin as a teacher, administrator and scholar. "Importantly, he brings a vision for the future of management education that is rooted in his extensive scholarship on the evolving needs of a global business community," he said in a statement.
Levin replaces Saloner, who in September announced his decision to step down amid controversial litigation stemming from his alleged affair with a married member of the Stanford GSB faculty and the alleged wrongful termination of her husband, also a member of the faculty.
"Jonathan brings not only stellar academic credentials but a fresh perspective and leadership skills that will help Stanford GSB maintain its preeminence for years to come," search committee co-chair Mary Barth said in a statement. Barth, a Stanford GSB professor of accounting, noted that the committee was impressed by Levin's "thorough grasp of what is required to maintain, and enhance, the high quality of teaching and research at the school."
Levin, 43, is renowned for his scholarship in industrial organization, where his research has included topics ranging from auctions and marketplace design to the economics of organizations and econometric methods for analyzing imperfect competition. Most recently he has been studying Internet platforms, the healthcare system and ways to incorporate new datasets into economic research.
Levin earned a BS in math a BA in English from Stanford in 1994, an MPhil in economics from Oxford University in 1996 and a PhD in economics from the Massachusetts Institute of Technology in 1999. He joined the Stanford faculty as an assistant professor in 2000 and became a full professor in 2008. In 2011, he received the American Economic Association's John Bates Clark Medal in 2011 as the economist under the age of 40 who has made the most significant contribution to economic thought and knowledge.
"Stanford GSB is devoted to transforming lives by preparing future leaders to change organizations and change the world," Levin said in a statement. "It will be an honor to join such a committed, dedicated faculty and to support their mission of applying both academic rigor and real-world relevance to their research. Deepening our understanding of management and bringing that knowledge into the classroom couldn't be more exciting."