Moving right along in our new series designed to give applicants a glimpse into the real, live people who run admissions at the world's top business schools, we're pleased this week to feature Judi Byers. The Hawaiian-born Byers now calls upstate New York her home, where she's overseen admissions and financial aid at Cornell's Johnson Graduate School of Business since 2015. (Prior to that she directed admissions at American University's Kogod School of Business in Washington, DC.)
"I hope you're getting the sense that I am very comfortable with who I am," she said matter-of-factly as she rattled off answers to our quirky questions. Recently appointed Johnson Dean Mark Nelson, for his part, is also clearly very comfortable with Byers on his team. "Having an absolutely tremendous admissions director is extremely important, and we absolutely have that in Judi," he told us in a recent interview.
When we connected with Byers at the recent Graduate Management Admission Council (GMAC) Conference, we also asked her to share with us how she knows when she spots an applicant who's right for Johnson. Here's what she said: "Johnson students are collaborative by nature, seek to have impact and are committed to enhancing their leadership qualities. Specifically, we look for competence character, compassion, and courage—qualities that are part of our 4Cs Leadership Framework.
Read on to learn more about what makes her tick. Our thanks to Byers for taking part and helping prospective applicants get to know her a little better.
Real Humans of MBA Admissions: Judi Byers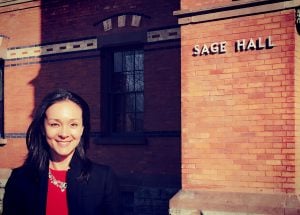 Coffee or tea? Coffee (Dunkin')
Beach or mountains? Beach. (I am from Honolulu, after all.)
Morning person or night owl? Night owl
Pet peeve? Assumptions. Rarely are they accurate, and the result is unnecessary and often unfortunate misunderstandings.
Guilty pleasure? Sweets
Favorite virtue? Loyalty and integrity
Worst habit? I think a lot.
Happy place? Walt Disney World! Walt Disney had a real vision to connect people in a positive way through his animated films, which get brought to life at the theme parks. It's amazing to experience his creativity, innovation, and optimism—I've been to all Disney parks now with the exception of Paris and Shanghai and am really excited to eventually visit both.
Comfort food? Most wouldn't consider it a comfort food, but I am always up for sushi and especially enjoy it while traveling!
Go-to cocktail? Margarita, frozen with salt
Proudest moment? My proudest moments are the ones where people find their "ah ha." If you have a role in being part of that, it's a really rewarding feeling. You can see it on people's faces, but you can also feel the emotionality of it.
Biggest regret? None. You can learn something from everything always.
One thing you would change about how you were raised? Nothing