As we reported here, Cornell's Samuel Curtis Johnson Graduate School of Management appointed a new dean in early July, part of a larger reorganization that will integrate Johnson, the School of Hotel Administration and the Charles H. Dyson School of Applied Economics and Management. Falling under the heading of the Cornell College of Business, the union promises a wider range of courses for students, enhanced abilities to draw top recruiters and faculty and greater efficiencies and depth in specific fields.
We recently had the pleasure of speaking with Johnson Dean Mark Nelson just weeks into his appointment about what the new role will entail, why he sees the College of Business as a boon for each of the individual schools, some of what he'll miss about teaching and what his 26 years as a professor to Johnson MBA students has taught him about who those students are and what they can do.
"You Don't Say 'No' to an Opportunity Like That"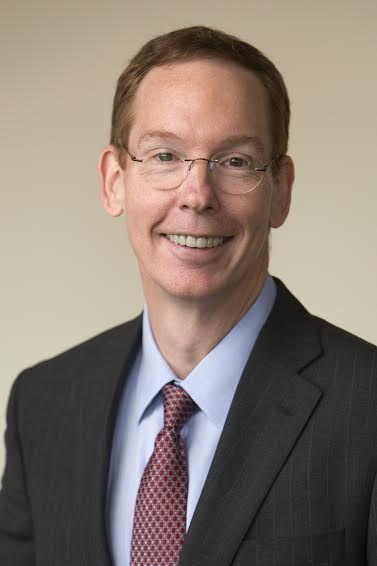 For Nelson, the new role was one he simply couldn't turn down. "I love this community and the people in it, and being able to contribute and help move the school forward means a lot to me—you don't say 'no' to an opportunity like that," he says.
He's also unabashedly enthusiastic about some of the things that set Johnson apart. "The immersion program was something I taught for a long time, and I've seen its power in terms of setting students up to have a good internship and get a full-time offer," he says. Johnson offers immersions in eight industries and career areas to MBA students in the second semester of their first year, providing hands-on experiential learning integrated with coursework to help them dive head first into their summer internships with confidence and valuable preparation.
"It's great having a student come back and tell you that what they learned in their immersion gave them an edge," he adds. Of course, the immersions have and will continue to evolve over time. "They will change and adapt in ways that still preserve this idea of giving students practical skills they can combine with the core and do really well in their internship." As an example, Johnson this past spring added a new immersion in digital technology for students interested in careers in technology consulting, product management and data science and analytics.
Johnson students, too, are one of a kind, he says. They are smart and hardworking, although Nelson acknowledges that can be said of students at most top business schools. "What's different here is there is ambition without attitude," he continues. "Everyone is really driven, they want to be really successful, but they also have the attitude that they are working together and are part of a community that's greater than them. They know they can get farther faster by working together."
Integration Issues Ahead?
Of course, the students' fierce dedication to Johnson could cause problems with the planned integration with two other Cornell schools, but Nelson is optimistic. "There is a balance we must strike, yes, but we are family and our family just got bigger," he says. "What a tremendous opportunity that gives us—now we benefit from the College of Business while still enjoying the advantages of Johnson that we had before."
To be fair, the unanimous January 30th vote by Cornell's Board of Trustees establishing the College of Business was not met with enthusiasm by all parties. A New York Times article bore the headline "Cornell Plan to Merge Hotel School Gets an Icy Reception." It noted that while dissent was greatest among "hotelies," Johnson and Dyson students also expressed unease regarding the integration.
"It's a challenge in the sense that we need to foster collaboration between the schools while maintaining their separate missions," Nelson concedes, pointing out that each school has a rich tradition and its own successful faculty and staff. "I'm glad people aren't apathetic," he says. "People are really loyal, and we need to preserve each school's strengths."
Part of Nelson's role—along with the deans of the other schools and former Johnson Dean Soumitra Dutta, who has been appointed dean of the new College of Business, will be to identify ways the schools can help each other, best practices to adapt and opportunities to reduce frictions and constraints that could make it hard to collaborate effectively.
"It will take work and it will take people wanting to pull together, and I think we have that," Nelson says. It will also require bridging the physical distance between the schools, located in different buildings, and identifying and playing up complementary strengths. Nelson recounted a recent two-hour meeting about all the different institutes and centers housed at Johnson's sister schools. "As someone who had been siloed at Johnson, I didn't even know some existed," he says. "We are going to be able to coordinate much more effectively."
While Nelson acknowledges that there may be some overlap between the schools, he doesn't view it as a negative and notes that there is an explicit commitment that no jobs will be lost as a result of the College of Business's creation. "There is just a lot of really cool stuff we can do together," he says. "To the extent that there are redundancies, we will have expertise that can be marshaled to address aspects that we previously lacked the bandwidth to do. I don't perceive a lot of redundancy—instead I think there is a lot of complementarity." Prospective Benefits Far Outweigh Risks
"The challenge for every organization is having enough talent to bring to bear to address that organization's mission," Nelson says. "When you are ambitious, you have a lot you want to do." The integration of the schools promises to be greater than the sum of its parts, he argues. Cornell's College of Business will boast the third-largest faculty of any business school—behind only Harvard Business School and the University of Pennsylvania's Wharton School—and will be fourth overall in size.
"From a faculty perspective, that makes it easier to attract and retain top scholars in given fields," Nelson notes, adding that individual professors will be able to more easily leverage what they teach across students at all three individual schools. Coordinating the three schools also expands the number of courses students can choose from and increases opportunities to develop new courses.
Cornell University Provost Michael Kotlikoff, for his part, has argued that the integration also presents exciting opportunities for interdisciplinary programs to emerge thanks to the schools' collective expertise in finance, technology, sustainability, hospitality, agriculture and food security.
Not only that, students will have much greater access to all that's happening in the different schools in terms of information, centers and institutes. "It turns out various centers and institutes have separately been addressing some of the same important themes—now they can be addressed more effectively by scaling them up," Nelson says. Entrepreneurship, emerging markets and sustainability, for example, have been points of focus at each school. By uniting as the College of Business, the separate initiatives can be ramped up and offer more seamless opportunities to students.
The potential benefits are also significant on the recruiting and career services side, Nelson notes. "Previously we could have the same large company accessed by three different schools in three different ways," he says. "That lack of coordination can be inconvenient for the employer." Through the College of Business, employers will now get to understand the different facets of Cornell in a coordinated fashion. "I think we will be able to attract recruiters we couldn't attract before because previously they saw these opportunities as splintered."
Of course, another major benefit of business school is the network it offers. "Our students and our alumni are now part of a bigger family—which means more events around the world and more alumni to draw on as they go through their careers," says Nelson. "The fact that we are now the College of Business as opposed to just Johnson is huge."
Accounting + Psychology = Dean?
Nelson, whose decades of research and teaching have focused on accounting and psychology, concedes that he will greatly miss being in the classroom. "That's the tough part of becoming dean," he says with a chuckle. "I am going to fight to occasionally insert myself into the classroom—I just can't bring myself to give that up completely," he adds. But he also looks forward to learning about the broader student body and bringing some of the skills he used as a teacher to bear in the role of dean.
His particular combination of disciplines, he believes, will prove relevant in his new role. As far as accounting is concerned, understanding the numbers behind the operations of a business school is obviously critical, as is communication. "Transparency, clarity, freedom from bias—these are all important for us in the College of Business," he says. He also brings his accountant's healthy concern about unintended consequences. "In accounting, you can pass some new standard only to have something you never saw coming happen," he says. In his work as dean, as he thinks about changes or new initiatives, he will be careful to consider potential consequences in an effort to ensure that all actions are making change for the better.
From the perspective of psychology, Nelson views encouraging people as vitally important. "Walking around and interacting with this community and offering encouragement is a really important part of my job," he says. "One of the unique things about Johnson is the esprit de corps and the willingness that we have to pull together."
Nelson—together with counterparts Ed McLaughlin, interim dean of the Dyson School; Kate Walsh, interim dean of the Hotel School; and College of Business Dean Dutta—is entering what Dutta has termed "a new era of business education" at Cornell. "Everyone in the leadership group has the right attitude," Nelson says. "Everyone is excited about it and working together, so it's not competitive, it's collaborative."
Among the next steps? Launching an integrated admissions portal, cross-listing courses to increase access for students across partner schools and coordinating career services. This month, a brand study is scheduled to be launched, and an advisory council will be set up in the fall.
Johnson is also poised to double its square footage over the next year between its campuses in Ithaca and Cornell Tech in New York City, with a future campus on Roosevelt Island opening in the fall of 2017. "It is great to step into a role where you are at a great school—it's even better when you've been set up with a lot of capabilities to take it forward," Nelson says.