After a summer hiatus, Clear Admit is delighted to be reigniting a content partnership with MBA Mama, an online platform that provides ambitious women with tools and resources to leverage an MBA and strategically navigate family/career planning. In the months ahead, we look forward to sharing periodic posts from the MBA Mama blog that we think will be of interest and inspiration to our readers.
The following piece spotlights Allegra Asplundh, a second-year MBA student at UT-Austin's McCombs School of Business, who balanced a demanding summer internship at Goldman Sachs in Dallas with the demands of pregnancy. Now, she and husband Evan are juggling business school and work while raising one-month-old son Winslow. She shows us it can be done.
The following is a compilation of three posts republished from their original source, the MBA Mama Blog.
September MBA Mama of the Month: Allegra Asplundh, McCombs (MBA '17)
Allegra Asplundh is a new mom to Winslow, a career switcher and a full-time student at the McCombs School of Business at the University of Texas (MBA '17).
Allegra graduated from Yale with a B.A. in history. After graduation, she joined the Peace Corps and spent two years living and working on the island of Dominica. There, Allegra worked with community leaders to establish rural borrowing libraries for students, built a mentorship program for young business owners and played soccer every chance she got.
After a few years working in philanthropy and in nonprofits, Allegra decided to pursue an MBA. In her first year at McCombs she focused on finance and joined the McCombs MBA Investment Fund. She interned at Goldman Sachs in Dallas this summer and will return to the firm and to Dallas full-time after she graduates in 2017.
Allegra lives in Austin with her husband, Evan, who is a writer and a tutor, her month-old son Winslow and two adored dogs. Read on to learn how Allegra completed a rigorous Wall Street internship while pregnant and gain insights into how she is balancing her MBA with a new baby.
In Allegra's own words: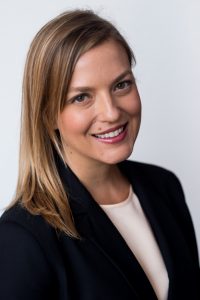 I was not visibly pregnant during recruiting. I shared the news with my school community and summer employer in March of my first year so I had gone through the winter recruiting cycle and accepted an offer.
By that point, I was showing, so it was a bit anti-climactic. Folks at school were like, "That's great, so happy for you, but we've known for weeks."
I loved my summer experience, but it was certainly presented some unique challenges. You try and turn some of the superficial ones into fun things. Take maternity clothes for example. I had no idea how I would dress in business formal attire at 8-months pregnant. Luckily, I am blessed with a stylish mother who researched all the working-woman maternity lines for me. It's a small example, but those outfits made a difference in my confidence.
I remember placing some urgent Zappos orders a few days before the internship's start date because my feet were too swollen to fit into any of my shoes.
Honestly, physical discomfort was the toughest part of my internship.
One cool thing about being pregnant in a new work environment is that it gives people a point of connection, an easy way to start a conversation with you. I think successful women in finance embrace the fact that we stand out just by virtue of being in the minority. Sure, that can be burdensome, but the flipside is our voices carry weight. Our contributions stand out. And pregnancy simply heightens that phenomenon.