If you've got the MIT Sloan School of Management in your sights for the coming application season, you're very likely busy putting the finishing touches on your Round 1 application—due Thursday. What better time to get a glimpse into the woman who heads MBA admissions for the school?
Dawna Levenson has been in her current role as director of MIT Sloan Admissions since March 2013, but she's been at the school for much longer than that. When she arrived in November 2007, it was as associate director of academic programs for the School of Engineering, and she had been reading MBA applications for the past year. She moved over to admissions in 2012, where she's since stayed, but her combined experiences really help her know the MBA program inside and out.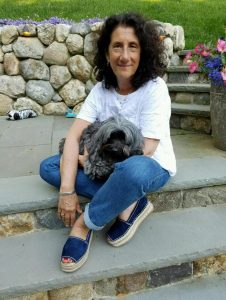 She also knows the school as a student, having obtained her B.S. in management science at MIT and her M.S., also in management science, at MIT Sloan. And she spent 18 years working for Andersen Consulting, now Accenture, as a consultant. All that experience gives her amazing insight into the goals and aspirations of prospective Sloan applicants and helps her know who will fit best with the school's signature MBA program.
Beyond the professional, Levenson has her own quirky traits and characteristics that make her a real person, as we all do. She was kind enough to reveal a few of them to Clear Admit's readers in this, the latest in our Real Humans of MBA Admissions series. Enjoy!
Real Humans of MBA Admissions: Dawna Levenson of MIT Sloan School of Management
Coffee or tea? Coffee
Beach or mountains? Beach
Morning person or night owl? Morning. Right now I am at the beach, I have been up since six, and I've probably had four cups of coffee.
Pet peeve? The phrase "I could care less," because it should be "I couldn't care less." I'd like to say that nothing irritates me, but that's not true. If you could care less, then you could care less.
Guilty pleasure? Shoes
Favorite virtue in others? True confidence. The real deal—not the "bang on your chest" bravado kind. I think that is a single quality that defines so much about an individual.
Worst habit? My family would probably say that I check my phone too much. But I would say lack of exercise—that I don't exercise enough.

Happy place? My home in the Cape (Cape Cod)
Comfort food? Chicken soup
Go-to cocktail? I'm not a drinker.
Proudest moment? When I was notified of my current job—that I'd be director of admissions at MIT Sloan. I was very proud of that, to be honest.
Biggest regret? I regret not taking more advantage of opportunities made available to me in college.
One thing you would change about how you were raised? My parents did not put much emphasis on sports or exercise when we were growing up.
Superpower you wish you had? If I could have a super power, I would want to bring about world peace.
Favorite fictional hero/heroine? Mrs. Beasley the doll, from the TV show Family Affair. In fact, it's the name of one of my dogs.