Kyle Shelato came to Lehigh University as an undergraduate with a single-minded focus. "I am interested in being an Apache helicopter pilot—how can I do that?" he asked as soon as he arrived on campus. For him, the answer involved participation in ROTC throughout college while also pursuing dual degrees in electrical engineering and physics. Upon graduation, he enlisted in the Army, was selected into the aviation branch and went directly to flight school. Two years of training later, he was doing just what he set out to—flying Apache helicopters.
All told, Shelato would spend nine years in the Army, flying 1,700 hours in the attack helicopter, including three years in war zones in Iraq and Afghanistan. "Maybe you've heard of Mosul?" he asks. As in Iraq's second-largest city, plastered across today's headlines as Iraqi forces seek to retake the city from Islamic State militants as part of a U.S.‒backed campaign. Shelato knows it intimately, having served a tour there in 2008.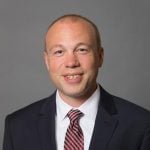 "Being able to fly helicopters in the Army was a tremendous experience," he says. "Not only that, I had leadership opportunities the entire time I was in the military in one way, shape or form," he says. His experiences helped him hone an ability to lead incredibly diverse groups of people—ranging from recruits straight out of high school to people with advanced degrees and deep field-specific knowledge. He also worked in teams the entire time. "The ability to work in those groups and leverage the skills everyone brings to the table was phenomenal," he says.
But for as happy as he was about his time in the military, there were also other things he wanted to do. With his electrical engineering and physics degrees, he'd initially assumed he would pursue a master's degree in engineering. "Instead, my time in the military convinced me that business school would be the next chapter for me," he says. "I realized that what I was really drawn to were leadership opportunities where I could help develop people and roles where I'd get to solve organizational problems as opposed to physical problems with a device."
Next Stop: Business School
Enter the MBA. Having decided that his next goal was an MBA, Shelato came up with a number of decision criteria to use as he evaluated multiple schools. Cornell's S. C. Johnson Graduate School of Management stood out for a few reasons, he says. First was geography. "It's perhaps a little selfish, but my family is from the East Coast and I wanted to be close enough to be able to see friends and family with ease." It's not like he hadn't spent the last nine years traveling and living in nine different places or anything…
Second, Shelato was drawn to the Ithaca school's tight-knit community and alumni network. "Johnson is among the smallest in its league, but what it misses in the size of the network it gains back in the quality of the network," he says. He knew, leaving the military, that he would never find another organization that approached the level of camaraderie that develops when you go into combat with others while spending a year away from home and family. "What surprised me was how close I actually got to that feeling of camaraderie at Johnson," he says.
The third consideration that really tipped the scales in favor of Johnson was the school's scholarship opportunities. Not only is Johnson a participating school in the Yellow Ribbon Program—a federal post-9/11 GI Bill that provides aid to cover the cost of school—Shelato learned that he could also apply for Johnson's Park Leadership Fellows Program. A merit-based, full-tuition scholarship program that includes its own academic curriculum focused on leadership, Shelato was a perfect fit and was promptly accepted.
A Natural Give and Take with Civilian Classmates
At Johnson, Shelato has been delighted to discover that he has important strengths and experiences he can share with his classmates—and that they have plenty to teach him as well. One of the contributions his military service helps him bring is what he calls more of a "macro perspective." When you've faced actual life-or-death situations in a war zone, even the most stressful class assignment pales in comparison. "In situations that are less challenging, I can be quite a bit more relaxed than some of my classmates," he says. "Worst-case scenario, we will all learn a lesson from this," he thinks to himself. Recognizing that other students can often be significantly more nervous, he finds that by being relaxed himself, he can often help calm down the others on the team.
Another strength Shelato feels he brings as a veteran is his concept of leadership as something that has to be done by every member on a team. "I have been able to see that first hand most of my career," he says. "The most important part of leadership is doing what you have to do to get the team to its goal." By reminding himself of this while working on Johnson teams, he feels he's been able to contribute to leadership even if he hasn't assumed a specific leadership role. "I always try to keep in my mind: 'What's the most important thing for the team for me to do.'"
From his civilian classmates, he's learned a plenty, too. For starters, he says, he's come to understand the importance—and nuances—of managing up. This, he admits, had not previously been a strength of his, in part a result of having always worked for people with tremendous leadership skills. He has also really benefited from the diversity presented by his classmates, he says. "Everyone comes into the military under similar circumstances, goes through the same initial training, speaks the same language—it's easy to lead when you all share the same experiences," he says. "That is not the case here—something that means one thing to one person means something different to someone else," he continues. And true leadership involves bridging those divides.
Getting Involved on Campus with Johnson's Veterans Association
Johnson touts the fact that close to 11 percent of its students are veterans, although Shelato said that statistic wasn't one he compared school to school and didn't impact his decision to attend. "The biggest difference for me was how approachable Johnson's veteran community was," he says, adding that it's something he is now trying to pay forward. As part of the student-led Association of Veterans (AOV), Shelato is vice president of admissions, which means he is the one who receives emails from prospective veteran applicants.
"I have been told by a number of prospective students that we are far and away more approachable than some other schools—we respond quickly, we are cordial, we genuinely want to talk to other veterans considering business school," he says. Nothing would make him more proud of his community than for this to be true, he says.
"I tell veterans that I speak with on the phone that I consider myself a veteran before I consider myself a Johnson alum," he says. "I want them to find the right fit for them regardless of whether or not it is Johnson."
In terms of his advice to prospective veteran applicants, reach out to veterans at the schools you are interested in early in the process. "I was very fortunate to have the opportunity to speak to people from Johnson when I was applying," he says. "It really helps you learn how to translate your experience effectively as part of the application process as well as to assess the school and learn the culture." Most schools have an association of student veterans, and that's the best place to start, he says.
But his ongoing involvement with the AOV has done more than simply let him return the favor he received as a prospective applicant, he continues. "I am still learning more about my achievements from the past and how to communicate those in a way that makes sense to someone who doesn't have a military background—how those skills translate into something that is valuable to a company," he says. Here, fellow veterans can be very helpful.
Membership in the AOV also has provided an opportunity to talk across academic immersions, across career perspectives, to hear about experiences outside of your own, he says. Shelato, who is pursuing a career in consulting, quickly found himself falling into a cohort and associating with lots of prospective consultants. "AOV transcends all of that—I can talk to people interested in managerial finance or marketing or tech," he says. "And especially early on, when you don't know for sure what you want to do, that's a great opportunity to test things out and learn from other people's experiences."
Finally, the AOV is frequently contacted by various companies interested in hiring veterans, so membership can have career development benefits as well. For example, this past year AOV members attended an MBA Veterans Conference together held in Chicago. "There they can go talk to several companies at once and bring their resumes—it can result in interviews on the spot," Shelato says.
Johnson Military Preview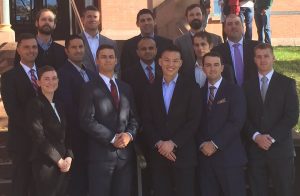 To commemorate Veterans Day this year, the AOV planned a special day called Johnson Military Preview and invited prospective students to sign up to attend. Those who signed up in advance to participate are eligible to receive an invitation to interview throughout the application cycle as well as an application fee waiver good for any time during the 2017 application year.
Taking place today, November 10th, the day included tours of Sage Hall and the rest of campus, opportunities to meet with admissions representatives and an invitation to attend a Sage Social, Johnson's Thursday evening social gathering. Two panels—one of current veteran students and another of veteran alumni—offered participants a chance to ask questions about student life, career opportunities and more. "Military Preview Day is really a great opportunity for prospective applicants to see and experience Johnson and its culture," says Shelato.
In parting, Shelato offers one final piece of advice to prospective veteran applicants considering business school—whether at Johnson or somewhere else. "One of the challenges I had when I got here was that I underestimated what I could bring to the table based on my background—I assumed that all my classmates who weren't veterans had some fundamental knowledge or experience that surpassed mine so I was hesitant to speak up," he says.
"I couldn't have been more wrong," he says. "It's a very diverse student body, and everyone here has a lot to gain and a lot to give. I would encourage vets out there—when they get to their MBA program—to have confidence in their viewpoints and discuss them. They are equals to their classmates."