After a brief hiatus we are delighted to resume our Real Humans of MBA Admissions series this week with an interview with Michael Robinson, director of MBA admissions at Columbia Business School (CBS). A 2001 CBS alumus himself, Robinson returned to work in admissions at the school in 2002, after a brief stint in business development at Panasonic. He's been at CBS ever since and was promoted to director of MBA admissions in July 2016. In this role, he both serves as part of the admission committee and manages strategic relationships with key corporate and nonprofit partners that will drive future MBA applications.
In the responses that follow, Robinson reveals—among other things—that he's always on the lookout for the underdog, the applicant who has had an atypical or unusual path. Read on to learn more about this key figure making decisions on your candidacy at CBS. Our thanks to Robinson for taking part!
Real Humans of MBA Admissions: Columbia Business School's Michael Robinson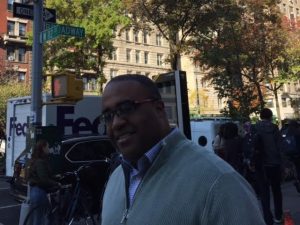 Coffee or tea? Coffee, two cups a day please, Jamaican Blue Mountain.
Beach or mountains? Mountains with scenic views beats white sand any day.
Morning person or night owl? Night owl—mornings are for sleeping.
Pet peeve? People who remain wedded to their conclusions despite evidence and data to the contrary.
Guilty pleasure? Chocolate—cheap chocolate, expensive chocolate, doesn't matter. Add a little caramel to the mix and that is heaven for me.
Favorite virtue in others? Those who genuinely believe in servant leadership—people who define their success by the positive impact that they have on others.
Worst habit? Procrastination
Happy place? Any comfortable chair with a good book
Comfort food? I have this thing, this weakness for chocolate. I do like sweet things—and I love any restaurant that still serves home-style pecan pie.
Go-to cocktail? Not a drinker—as in, I probably drink less than 10 beers a year. In fact, I tasted whiskey for the first time last year. But on my international recruiting trips, I make a habit of drinking the popular local beer.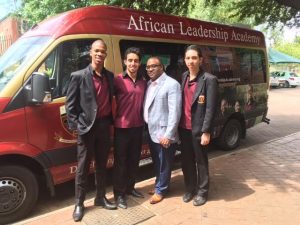 Proudest moment? Becoming a father. I have a 10-year-old autistic son who is my pride and joy. Sometimes I watch him while he sleeps in total amazement that I played a part in creating something so beautiful.
Biggest regret? I don't do regrets. Why? I try to learn from my mistakes. I still make tons of them, I just try my best not to make the same mistakes.
One thing you would change about how you were raised? I wouldn't change anything. I tend to be forward looking, but if pressed—and this might seem inconsistent with what I said in previous question—but the only change would be to have more wisdom as a young person where I'd be more perceptive of opportunities that were in front of me at the time.
Superpower you wish you had? Being invulnerable
Favorite fictional hero/heroine? I rarely, rarely read fiction. Instead many of my heroes are long dead historical figures who shaped the American experiment. Abraham Lincoln stands above all others, and I've often said that if you sit with Lincoln, steep yourself with several good biographies, you become a better professional, a better father and a better person. But if forced to pick a comic book hero, my tastes would run to the dark and the conflicted—I'd pick Batman.
What schools, if any, rejected you? (And if you were rejected, how did the experience impact how you interact with those who you must say no to?) Fortunately, I didn't have any rejections, but prior to attending Columbia Business School, I attended Baruch College, part of the City University system in New York City, so not very selective. There are few city college graduates from any state in our program so this colors my experience and my approach to this work. I've always looked out for the underdog, the person who has had an unusual or atypical path.
Which part of the CBS process would you most like to skip if you were applying today? It's not possible, but I would have loved to skip the GMAT or GRE.
What's the best thing you read/watched/listened to recently? Michelle Alexander's The New Jim Crow had more of an impact on me than any other book in recent years. Her work has caused many to rethink and redefine our vision of social justice, one that speaks to "a moral and spiritual revolution that will birth a new, more inclusive, compassionate and equitable America." I'm so happy that she has joined the Columbia-affiliated Union Seminary as a visiting professor. I look forward to seeing her on campus. Her presence here will help us to, as the young folks say, "stay woke."