It began as a joke.
"It started out as a complete prank," recalls Matt Loftus, speaking with UVA Today staff writer Caroline Newman. Just before joining the University of Virginia Darden School of Business in 2014, Loftus and his fiancé Kristina Zambelli had a running joke. A friend of theirs had ordered a pair of bright orange pants, which they had begun to pass around for fun photo opportunities.
"To beat the joke to death, we even started an Instagram account called the Brotherhood of the Traveling Pants," Loftus, who graduated from Darden in May 2016, explains. The idea began to snowball after they started school, but their goal at the time wasn't to start a new business; it was to raise money in honor of a friend who had died in a car accident in 2010.
"We started reaching out to some clothing companies to see if they would send us some more pants in exchange for a fun marketing story," he says. U.S. clothing company Vineyard Vines promoted the Instagram account, helping to raise $30,000 for the John Frankel Memorial Scholarship at Davidson College.
The always-active and now-married Loftus and Zambelli eventually turned the idea into Rhoback, an active-wear clothing line catered to upper-end male clientele. "We were a big group of active guys sweating through our button-down shirts and khakis with each activity. We wanted something more sweat-wicking, but fun and stylish," Loftus remembers. "We saw there was a space for an active-wear brand targeting the higher-end male."
The Darden couple credits the school for helping foster the company's success.
"The Darden community has been amazing," Loftus said in the interview. "It feels like we've interviewed the whole school; they've felt fabrics, they told us how they liked their shirts to feel and look."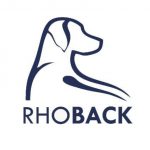 The work eventually led to a victory at the 2016 EDENS Retail Challenge, where Rhoback beat more than 100 other fashion startups from across the United States. The business gained momentum when the couple enrolled in UVA's iLab. By December, the company launched its first line of clothes: three polos, two t-shirts and four hats in a range of colors. Each piece was emblazoned with the outline of a Rhodesian Ridgeback, the inspiration behind the company's name. Rhoback has already sold more than 7,000 products, amounting to more than 70 percent of the company's inventory. There are already plans in place for more additions, as well as a women's line the near future.
You can read more on Rhoback and the Darden couple at the official Darden website.