Harvard Business School (HBS) set a monumentally ambitious $1 billion fundraising goal when it launched its Harvard Business School Campaign in April 2014. The hope was to raise the funds over the next five years, part of an overall Harvard University $6.5 billion campaign. In fairness, HBS did share that it had already raised $600 million toward the goal in the campaign's "quiet phase," which kicked off in 2012. Given this head start—and the dedication and commitment of the school's 80,000+ alumni across more than 160 countries—it may not come as a complete surprise to learn that the billion-dollar mark was reached during 2016.
What's a school to do when it reaches its initial goal with time still on the clock? Set a new one, of course. And indeed, HBS has now announced that it is seeking to raise an additional $300 million before the official campaign ends in 2018.
What in the world is HBS going to do with all of that money? The initial $1 billion was raised to support priorities such as expanded student financial aid, faculty research, globalization, curricular innovation and enhancements to the school's residential campus. The additional $300 million goal the school has identified reflects "the importance of sustaining the initiatives we have launched, providing future flexibility, and strengthening the core," wrote HBS Dean Nitin Nohria in a January annual report to alumni recently shared by the school with Clear Admit.
In the 16-page report to alumni, Nohria explained that an unusual overlap of three different school governance groups on campus last April to review the school's educational programs prompted HBS to undertake its own comprehensive self-examination and assessment. It held internal gatherings on campus with students, faculty, alumni and staff and incorporated the insights of the outside governance groups—the Visiting Committee, the Board of Dean's Advisors and a reaccreditation team from the Association to Advance Collegiate Schools of Business (AACSB). Factoring all of this in, the school took a critical look at the progress it has made on its "5i" priorities—innovation, intellectual ambition, internationalization, inclusion and integration—which Nohria helped set after assuming his role in July 2010.
As part of this undertaking, Nohria wrote, they set out to answer the following questions:
"Where do we feel confident we are on the right path?"
"What efforts are having less than their intended impact?"
"What trends are we seeing in business, and are we responding appropriately to them?"
"What should we be doing less, or more, of?"
"Are there important activities we have neglected or new initiatives we must consider?"
"What is distinctive about HBS, and how do we preserve it?"
While the process helped reveal that progress has indeed been made on each of the 5i priorities, it also highlighted areas where more needs to be done. Specifically, HBS concluded it must make sure that what it teaches continues to be relevant and rigorous, understand the impact of a student body that has grown more economically diverse thanks to increased financial aid and revitalize its faculty—including teaching its newer members how to write case studies—so that the school's distinctive methods and mission can endure. "Taken together, the feedback suggested that we must strengthen what is at our core—our curriculum, our student culture, and our faculty's distinctiveness—even as we sustain our focus on innovation," Nohria wrote.
TEACHING THAT IS RELEVANT AND RIGOROUS
Highlighting some of the gains, Nohria noted the successful ways in which the school in recent years complemented its signature case method curriculum with essential experiential learning through its Field Immersion Experiences for Leadership Development (FIELD). The comprehensive review did lead to some shifts in FIELD for this academic year, including extending the first FIELD Foundations module over the full fall term to let students develop core leadership skills and moving the second module, now called FIELD Global Immersion (FGI), to the spring semester to culminate in an in-country global immersion for all students in May. "This new timing enables students to leverage the skills and concepts of the entire INNOVATION first year curriculum, including courses such as Strategy and Business, Government, and the International Economy that are taught in the second term," Nohria wrote. The FIELD3 module—in which students launch a micro-business—has been moved to the second year and made an elective given the fact that some students found it "deeply important" while others were "largely disengaged."

Nohria also shared with alumni the launch this year of an elective January Wintersession. The inaugural offering was a short, intensive start-up boot camp for entrepreneurs, and future year sessions could feature topics such as coding and financial analysis. "We hope this opportunity to explore new domains and build useful skills will both help students who come to HBS looking to change their career trajectory and add some variety to the otherwise lock-step nature of the first-year curriculum," he wrote.
He also noted that first-year students will return from their FGI trips in the second semester to take their exams and complete a short capstone course. This addition was driven by insight from neuroscience that suggests that individuals are most likely to retain ideas in long-term memory if asked to remember them just as they risk forgetting them. In this way, the capstone course is intended to help them integrate and retain their learning from the first year.
"With FIELD continuing to evolve in the required curriculum, and with immersive and extended field courses now representing more than 20 percent of the 80+ courses in the elective curriculum, we have made significant progress in redefining how we advance the knowing, doing and being of educating leaders in the MBA Program," Nohria wrote.
In addition to highlighting advances in the MBA program, Nohria also cited milestones in the school's doctoral and executive education programs, as well as its online learning program, HBX. Hitting 10,000 learners this past summer, HBX has grown into a successful startup since its launch three years ago. HBS is now looking for ways to use its HBX classroom with a range of audiences, including alumni and MBA students. "Our ultimate vision is to begin to integrate these pedagogical strands—case, field, and digital methods of learning—into even more transformational educational experiences across all our programs," he wrote. CORe—HBX's credential program on the fundamentals of business—has proven to be a great aid to incoming MBA students without a background in business or economics. "This year, more than half of all entering MBA students (including many who weren't required to do so) completed all or some portion of the program," Nohria wrote.
IMPACT OF AN ECONOMICALLY DIVERSE STUDENT BODY
In keeping with the "inclusion" portion of the 5i's, Nohria noted the school's commitment to being a place where everyone can thrive and do their best work.
"We have made significant progress in the MBA Program, and it is deeply heartening that in the last several years we have closed the gender achievement gap: men and women are now roughly proportionally represented among first and second year honors recipients, as well as among Baker Scholars. Equally important, today there are no differences in satisfaction with the MBA Program among student demographic groups," he wrote.
The school has also made great strides in terms of its commitment to increasing financial aid, he noted. Last year, the school provided aid to roughly half of all MBA students, with an average annual fellowship of $35,000. "As one indicator of our success, 71 students in the MBA Class of 2018 are the first in their families to attend college," he added.
But while financial aid covers tuition and living expenses, it doesn't extend to the many—often pricey—extracurricular jaunts where many students find they build some of their deepest relationships. "The MBA leadership team and the Student Association co-presidents for the past two years have made this an area of focus, devising ways to bolster less expensive on-campus activities (including, for example, dinners with faculty and enhancing the residential experience)," Nohria wrote. But it's an area that requires deeper examination. "If we can get our students to better understand and find creative ways to respond to the economic inequality issues they experience at HBS, undoubtedly we will better prepare them to tackle these pressing issues when they leave the School."
Also under the heading of "inclusion," Nohria noted that the school is planning in 2018 to celebrate the 50th anniversary of the founding of the African-American Student Union. It is also paying close attention to the 2015 American Association of Universities survey on sexual conduct as it seeks ways both to prevent gender-based and sexual harassment (including assault) and support any members of the community who experience it. Finally, HBS is wrestling with the tension between inclusion and free speech. Especially with the case method, diversity of thought is essential, but there is a thin line between ensuring that everyone feels welcome, respected and heard and people beginning to feel that they can't disagree with each other or must censor thoughts that might not be widely shared. "Harvard Business School has long sought to embrace this dichotomy, knowing that true learning takes place when opinions are tested, and this is the balance we must continue to strive to attain."
STRENGTHENING FACULTY'S DISTINCTIVENESS
HBS finds itself needing to support the ever-evolving research interests of its faculty, including a growing interest in more complex, and costly, field-based experiences. "This style of research requires new models of funding, as the resources involved typically far exceed our internally-provided research budgets (picture field experiments in emerging markets that test the efficacy of mobile phone interventions to improve financial and health literacy, or experiments that mobilize communities of problem solvers to tackle innovation challenges presented by organizations like NASA)," wrote Nohria. But it is work that can have significant real-world impact—"precisely the kind of intellectual ambition we want to nurture at HBS," he continued.
In addition, there are interdisciplinary projects tackling massive topics like the competitiveness of the U.S. economy, how to create a value-based healthcare system that lowers costs while improving outcomes and the drivers and consequences of economic inequality, among many others.
And last but not least, there are case studies to be written. "We are looking to ensure that succeeding generations of faculty master the art of case writing," Nohria wrote, noting that they are important not only in HBS's curricula but indeed make up a significant portion of the curricula of business schools around the globe. "With very few new faculty members coming to HBS with an MBA, it's rare for them to have even encountered a case, much less taught or written one," he continued. And so resources must be allocated toward ensuring that the craft of case writing continues.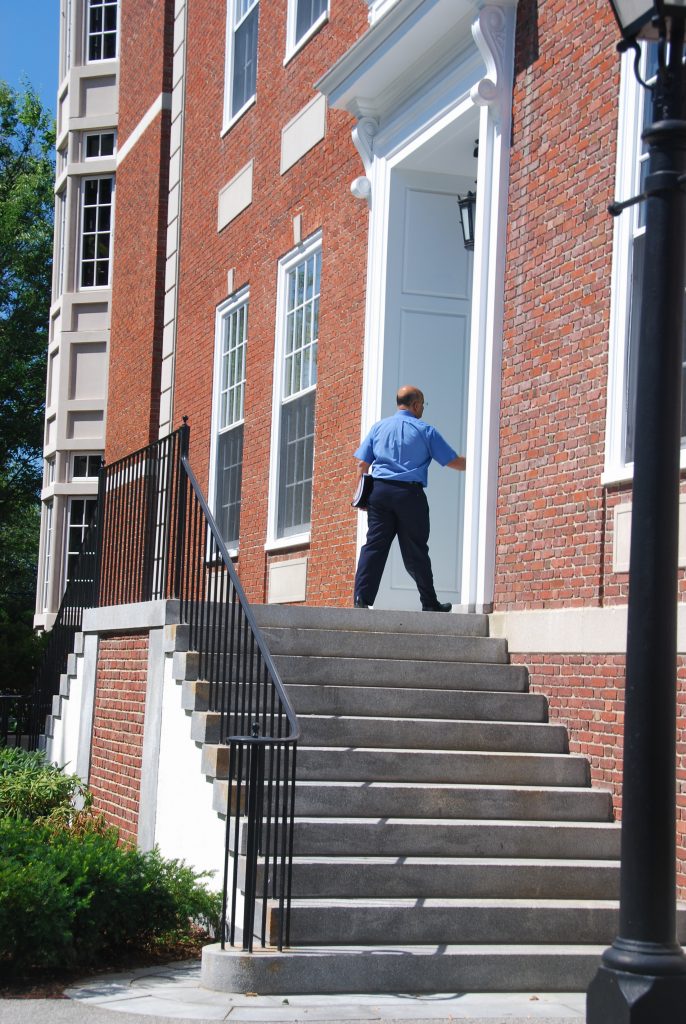 CONTINUED COMMITMENT TO INTERNATIONALIZATION—CURRENT TRENDS NOTWITHSTANDING
Nohria's address to alumni was nothing if not current. Though written before the executive order by President Trump banning immigrants from several nations threw the world into turmoil, Nohria's update tackled the issue of globalization—and its detractors—head on.
"The anti-globalization sentiment that is spreading across many nations is one we will need to watch carefully, because in many ways HBS is both inherently and intentionally global," he wrote. Indeed, one of every three MBA students and two of every three Executive Education students hail from outside the United States. And as part of FIELD, all 900 MBA students are required as part of the curriculum to spend time in another country. (The ability of some current students to travel as part of FIELD has been called into question with the executive order and its subsequent legal battle.)
"Forces like global terrorism and viruses like Zika can at times make it seem easier to simply withdraw from our international engagements," Nohria wrote. "Our mission of educating leaders who make a difference in the world, however, commits us to continued global engagement," he said.
"As someone who is at heart optimistic, I believe that the School's global network of students, faculty, staff, and alumni powerfully demonstrate the ways that business can be a global force for prosperity and peace in communities and countries, and that our core activities of teaching and research are more important to the world today than ever."