On the surface, doubling the number of women in professional board rooms seems like an impressive accomplishment. In 1999, Ernst & Young found that around 11 percent of Fortune 500 board members were women. Eighteen years later, the figure has nearly doubled—to just under 20 percent. Yes, it's an improvement—but there's still room to grow, both in the number of women boardroom members and the responsibilities they hold.
University of Virginia Darden School of Business Marketing Professor Kimberly A. Whitler and former Procter & Gamble Co. executive Deb Henretta looked into this issue. "We felt all the focus was on getting women on boards," Whitler told Bloomberg. "But we realized that just getting women on boards isn't necessarily going to give women the voice they need in the boardroom."
Whitler and Henretta found that the majority of the positions and responsibilities women on Fortune boards had were corporate responsibility/public policy, human resources and corporate governance.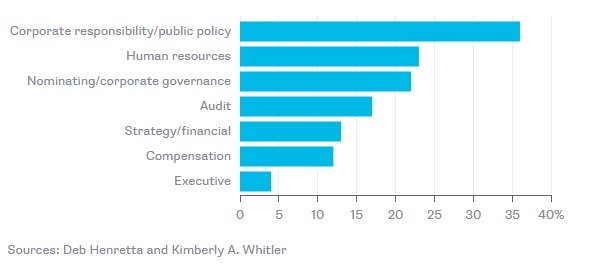 The stark difference, they found, was that the more finances were involved, the less likely women were to be. Whitler believed there were four potential reasons for this:
Some of those non-finance roles may be more powerful in the future;
The women brought onto the boards fit better in those roles, per their experience;
Women may be newer to boards—and those newer to boards may have less financial responsibility, or
"Women are being given token appointments."
One influential factor is what a business sells and who it sells to. The Bloomberg article cited research conducted by Credit Suisse AG in noting that businesses that sell directly to consumers are more likely to have female board members than businesses that sell products to other businesses. As Fortune 500 companies continue to evolve, more direct-to-consumer companies could potentially mean more women in professional boardrooms. But that still doesn't answer how and why women aren't given more varied roles.
Henretta offered a perspective, saying, "We don't think there's anything intentional going on here; women have to grow into leadership positions. But as we get to a fair share of women on boards, we should be looking to get a fair share of representation across all the committees. We shouldn't have the male committees and the female committees."
One of the factors holding women back from earning these boardroom level roles may be the different kinds of experiences workers of each gender prioritize. A 2013 study by Boris Groysberg and Deborah Bell analyzed the different dynamics of male and female board directors. The study notes that female directors felt communication was a more important strength than their male counterparts, while male directors favored financial, operations and global experiences more strongly than their female counterparts. That latter finding, Groysberg and Bell found, could simply be chalked up to stark differences in opportunity.
"We've found that women are often not considered for international assignments, because of the assumption that women with families find it more difficult than men with families to relocate or travel for extended periods. The unfortunate consequence is that women don't get equal access to international roles."
Less obvious factors like hobbies might also help men secure more of certain types of roles. Groysberg and Bell noted that many more male boardroom-level employees played golf than their female counterparts. It's possible that not teeing up with co-workers may translate to being excluded from valuable relationship building.
"One female board member said that when she achieved her first C-suite role, several of her male colleagues advised her: 'If you don't want to be excluded from some of the things we do, you're going to need to learn how to golf and start golfing with us.' Other women reported that their male colleagues made a lot of important decisions together on the golf course—preempting the opportunity to discuss them at formal meetings. Another female director underscored the point: 'Golf was amazingly helpful to my career. I would be the only woman on a men's golf trip. It built great camaraderie and relationships—and respect. It put me on the same playing field as everybody else.'"
While the somewhat slow rate of change in women's board representation over the past few decades may seem bleak, an acceleration may be on the horizon. Emily Peck, writer for the Huffington Post, noted an increase in women in board rooms a few years ago. Speaking with Malli Gero, president and co-founder of nonprofit advocacy group 2020 Women on Boards, she found that while the overall number of women on major boards was still small, the steadily increasing numbers meant that a 50/50 ratio isn't out of the question in the future. If increases continue at the current rate— women, who make up 51 percent of the world's population today—could make up 50 percent of major boards by 2046.
The Forté Foundation has been doing exemplary work increasing the number of women MBA candidates in the leadership pipeline, supporting women's representation in business school and corporate environments since the early 2000s. One of its many successful projects, the "Women On Boards Initiative," has brought together numerous business schools, the European Commission, Financial Times and other organizations to help prepare women for those leadership opportunities as part of its Global Board-Ready Women List program.
For more information on the "Women On Boards Initiative" and to see if you're eligible for the Global Board-Ready Women List, head over to the official Forté Foundation website.