Business schools that place a premium on collaboration appreciate that their students—and the diversity of perspective they bring—are as valuable as their renowned faculty. Northwestern's Kellogg School of Management is one such school, and it has just placed a $250 million bet that by championing collaboration it will help define the future of graduate management education.
That $250 million bet, of course, is the stunning new Kellogg Global Hub, a 415,000-square-foot home for the business school perched alongside Lake Michigan just north of Chicago, which welcomed students for the first time last week. Toronto-based KPMB Architects won an international competition to design the facility, beating out four other firms, and construction began in April 2014. The resulting building—which entailed more than a million work hours put in by more than 1,500 people and incorporates materials from 17 countries from around the globe—truly places Kellogg's commitment to collaboration at its core.
Collaboration at Its Core
Indeed, visitors to the Global Hub enter through its soaring Collaboration Plaza, a 6,000-square-foot, three-story central space modeled on piazzas of Europe, where the Kellogg community is expected to intersect and interact both by chance and by design. Grand "Spanish Steps"—34-foot-wide terraced seating inspired by the beautiful "Scalina Spagna" of Rome—form the plaza's center and connect the building's ground, first and second floors. They were designed as a convening space both where groups can plan to meet and where passersby can be lured into serendipitous conversation with peers as they move from one part of the building to another.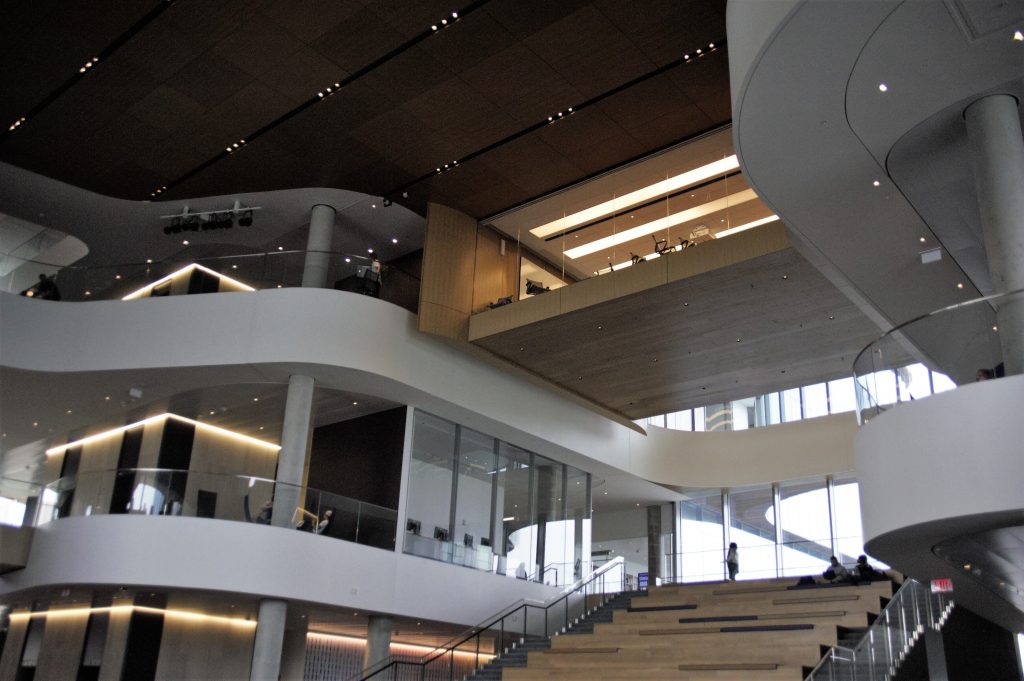 "What I have seen already is you see and interact with your peers so much more in this environment," says Tim Novick, a first-year student in the full-time, two-year MBA program at Kellogg. "As you go from a classroom to the Marketplace for a meal to the coffee shop to the gym there is this constant interaction because you are crossing paths. It not only builds a lot more excitement—you are seeing your peers a lot more and it's energizing to have all this sunlight and to be in this great big open space—but also, as I look forward to my experience at Kellogg, I think it is going to facilitate better, deeper, broader relationships with my peers than I would have had at the 'Jake,'" he says. The "Jake" is the affectionate nickname given to the Jacobs Center, which previously served as the business school's main facility.
Associate Dean of MBA Programs Matt Merrick concurs. "The energy levels have been through the roof continuously," he says enthusiastically, describing the initial days that students have filled the new building. "One of the neatest things—yesterday afternoon as I was on the second floor and looked down on the Collaboration Plaza and the Spanish Steps—the place was packed and buzzing," he continues. "It was almost like we staged it—it was exactly what we envisioned and I almost didn't believe it for a second because we have been waiting for this day for a long time. It is just so great to see the students using the building in the ways that we thought would be meaningful to them."
But there is a price for this increased interaction. "I find myself running late for all my meetings," Merrick confesses. "I am bumping into students so much more—it is happening 10 times more than it would have happened before." He may need to allow more time to get from one place to another, he concedes, but it's proof that the building is already achieving its goals. "The building is supposed to be driving engagement and communication, and it is certainly doing that."
Dramatic Interplay with Natural Setting
Another thing that's impossible to miss as you enter Collaboration Plaza is the dramatic vista of Lake Michigan to the east. "In order to celebrate the building's lakefront location, we chose to pay homage to the environment in two ways—the curved exterior walls reflect the wave movement on the lake, while the glass reflects the blues of the water as well as the sky," KPMG Founding Partner Bruce Kuwabara said as part of a Q&A on the school's website. "Even on grey days when the environment is desaturated of color, the building is strikingly beautiful."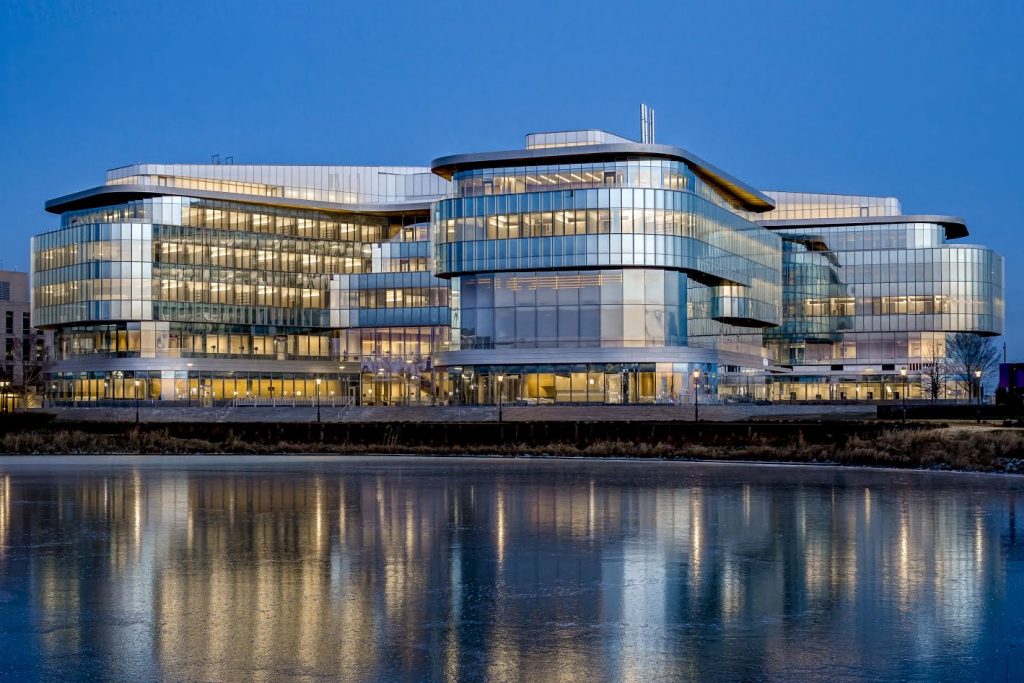 The building's southern wall of windows, meanwhile, overlooks the famed Chicago skyline. "The Kellogg and Northwestern community is very connected to Chicago and shares a culture of boldness in business, innovation and architecture," Kuwabara continued. "We were inspired to design a building that reflected this connection while considering the history and traditions of the university, as well as the stature of the institution."
The result is inspiring in every sense of the word. "Something I feel when I walk into this building is just inspiration," said Ben Jones, strategy professor and faculty director of the Kellogg Innovation and Entrepreneurship Initiative, as part of a panel discussion entitled "Why Space Matters" during a week of welcome events. "Compared to our old building, you just elevate your sights when you walk in here—and with that comes the aspiration for excellence. It motivates."
Merrick feels much the same. "There is just an inspirational element to it," he says. "I always try my hardest at work every day, but there is something about this building that makes me want to do a little more," he continues. "I want to be worthy of this building—and I can't believe that doesn't impact the students, too."