Welcome to another edition of MBA Applicant Spotlight, in which we catch up with individuals on their admissions experiences. In contrast to the 10 applications of our last profiled candidate, this week's applicant, Shelby Colby, shares her story about just two applications—one to Harvard Business School and the other to MIT / Sloan.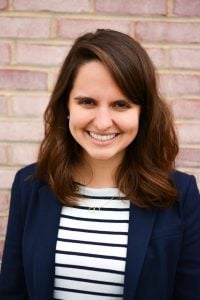 Colby is currently the strategy analyst and special assistant to the CEO at the Graduate Management Admission Council (GMAC). She started her career as an associate consultant at Bain & Company in its Washington, D.C., office. While at Bain, she served several private equity and retail clients on strategic due diligence projects, and during her final assignment at Bain, she worked for a university. There, her passion for working on strategic issues in the higher education sector developed, leading to her current role at GMAC. She graduated with degrees in economics and religious studies from the University of Virginia, where she was a Jefferson Scholar.
Read on for her creative approaches to her MBA applications.
Where did you apply?  What were the results?
I applied to the full-time MBA programs at Harvard Business School and MIT / Sloan during Round 1, and I was admitted to both schools.
Which part of the application process did you put off the most?
I put off working on the short-answer sections for both applications. These sections were challenging because of the strict word limits.
What helped you the most during the application process?
That's a tough question! I gathered a lot of helpful resources to navigate the application process. I drew upon the guides from Clear Admit, and I also loved using the ApplicantLab platform, on online admissions consulting tool. It was also helpful to have conversations with peers who were going through the process in the Forté MBALaunch program and with former applicants who knew the process well.
Which school's application was the most fun to complete?
I loved working on the MIT optional essay because I decided to do something I had never done before: make a video. ApplicantLab suggested that I use the Camtasia tool to create it, and I had so much fun telling my story in a visual way.
How much time did you give yourself to complete your applications? Do you wish you'd allowed more?
I spent a lot of time in the late spring and early summer learning about the schools and thinking about my story and résumé. I ended up only devoting about  three to four weeks late in the summer, however, to writing my HBS essay and making my video for MIT. Given that the deadlines were in September and I felt them fast approaching, I wish I had gotten started on these big tasks a few weeks earlier.
If you could go back in time and provide yourself with one piece of advice before applying, what would it be?
I would tell myself to take a deep breath and to enjoy the application process from the beginning. I didn't think that I had a good shot of getting into a top school, so I often let fear keep me from enjoying all the opportunities the process gave me to be introspective and creative. Applying to business school provides a rare opportunity to concretely think about who you are and what your dreams are, and I wish I had recognized that from the beginning.
If you get accepted/got accepted to your first-choice school, who will/did you share the news with first?
I called my husband on FaceTime in the moments before I looked at my HBS decision, so we found out together!
You can be a part of MBA Applicant Spotlight, too! Simply email [email protected] to introduce yourself and get started.