Graduate management education has become increasingly global, but fewer prospective business school students from outside the United States cite America as their most preferred study destination than have in the past, according to a recent report from the Graduate Management Admission Council (GMAC). Anti-immigrant rhetoric and uncertainty around potential changes to student and work visas—coupled with growing numbers of high-quality programs in other parts of the world—have driven the decreased appeal of U.S. programs, GMAC's data suggests.
More prospective students than ever—nearly three in five (59 percent)—intend to apply to programs outside of their country of residence, according to the 2017 mba.com Prospective Student Survey Report, released this week by GMAC. That's up from 44 percent in 2009. Those looking beyond their own country's borders do so in pursuit of a higher-quality education (says 63 percent of respondents), better odds of securing international employment (58 percent), and to build an international network (51 percent). And a third of candidates (34 percent) who prefer to study outside their country of citizenship say they also hope to land a job in the country where they go to school.
The U.S. is still the most preferred study destination—cited by 58 percent of full-time MBA candidates looking to study abroad. But that's down from 61 percent in 2009. Where the U.S. has seen a three-percentage point loss, Canada has seen a commensurate uptick in prospective students preferring to study within its borders, growing from 4 to 7 percent over the same time period.

The GMAC report, which analyzed responses from more than 11,000 registrants on mba.com between February and December 2016, finds that the appetite for studying outside of one's own country has been holding steady for the last few years—with close to 60 percent of overall applicants targeting programs abroad. It's the declining appeal of the U.S. as a study destination that is noteworthy.
"The biggest change is study destination preference," says Gregg Schoenfeld, GMAC research director. "And it's due most likely to a lot of political issues that we have been talking about recently at GMAC." These include President Donald Trump's proposed travel ban as well as ongoing conversations about potentially limiting visas for foreign workers, including the H1B visa that many MBA graduates rely on to secure employment with leading U.S. business school recruiters.
These concerns could well be driving the uptick in prospective applicants now indicating the U.S.'s northern neighbor as a preferred study destination, says Schoenfeld. "There has been a lot of talk about work visas, and Canada has a much more liberal work visa policy for students," he adds.
Trump Rhetoric Is Changing Behavior
Although Trump's travel ban attempts so far have not held up in court, and no official changes to visa policy have been announced, the uncertainty surrounding them has been enough to give some prospective international students pause. "I think the rhetoric that is out there is creating the impression that the U.S. is not as attractive a destination," Schoenfeld says. "It is changing people's behavior, even though it is just rhetoric at the time being."
This phenomenon is even more pronounced among prospective applicants to non-MBA business master's programs, the GMAC data reveals. In 2016, 47 percent of non-U.S. prospective students interested in non-MBA business master's programs cited the United States as their preferred study destination—a drop of 10 percentage points since 2009. Making up for the drop off in candidates indicating a preference for U.S. specialized master's programs have been increases of three to four percentage points in each Western Europe, Canada, and East and Southeast Asia over the same time period.


It's not entirely clear why the appeal of specialized master's programs in the U.S. has fallen even more than MBA programs among international students, but Schoenfeld speculates that it has to do with these applicants being even less confident about landing post-graduation jobs. "I wonder if someone who has work experience [as more MBA applicants do] might feel they have a much better shot of finding a job outside of their country, as opposed to someone with no prior work experience [more typical of applicants to specialized master's programs]?" he says.
Online Forums Reveal Uncertainty Among Prospective International Applicants to U.S. Schools
International applicant uncertainty about U.S. study has also been reflected in conversations on Clear Admit's MBA LiveWire and Reddit. In one recent LiveWire post, an Indian applicant sought insight from fellow international students regarding what level loan makes sense for what level school given the current work visa uncertainty. "How are internationals (specifically Indians) managing the funds for Ross considering Prodigy isn't providing enough?" the poster wrote. "I am even starting to wonder it makes sense to take such a huge loan given the current work visa situation."
The post drew dozens of responses, many of them echoing the original poster's concerns and some suggesting that taking on six-figure debt for an MBA from a U.S. school without guarantee of a U.S. job at graduation is too great a risk. Of course, there were others who argued in favor of U.S. schools, even with significant debt and without the guarantee of a job. Wrote one, "I am going to Tepper, taking $140k loan. I find it worth to go there. I already rejected ISB for Tepper. For me the experience is really important. I really hope though that I get visa and job in US. Hopefully technical industry will stay strong."
A similar thread on Reddit started with a post from an applicant who applied unsuccessfully to three U.S. schools this past fall. She's considering a second attempt but having doubts about whether or not it makes sense. "With the ever growing concern about H1B and rising fees (along with unstable political scenario/racism/decreased job opportunities for immigrants), it is becoming more difficult for me to decide," she wrote. "If I do manage to get in an average school and then don't get an h1/job, I'll end up with a huge student loan."
U.S. Comes Up Short on Key Criteria Considered by International Applicants
Several of the concerns voiced in the applicant forums mentioned above were measured by GMAC's most recent survey. As the graph below shows, the United States continues to outdistance other regional study destinations in terms of the reputation of its educational system and how well it prepares students for future careers. But schools in regions in other parts of the globe are gaining ground in these areas, giving applicants for whom these are the most important criteria increasing options around the globe. As GMAC points out in its report, a full half of the top 100 full-time MBA programs in the Financial Times 2017 rankings are located outside the United States, up from 44 non-U.S. programs included in the 2009 rankings.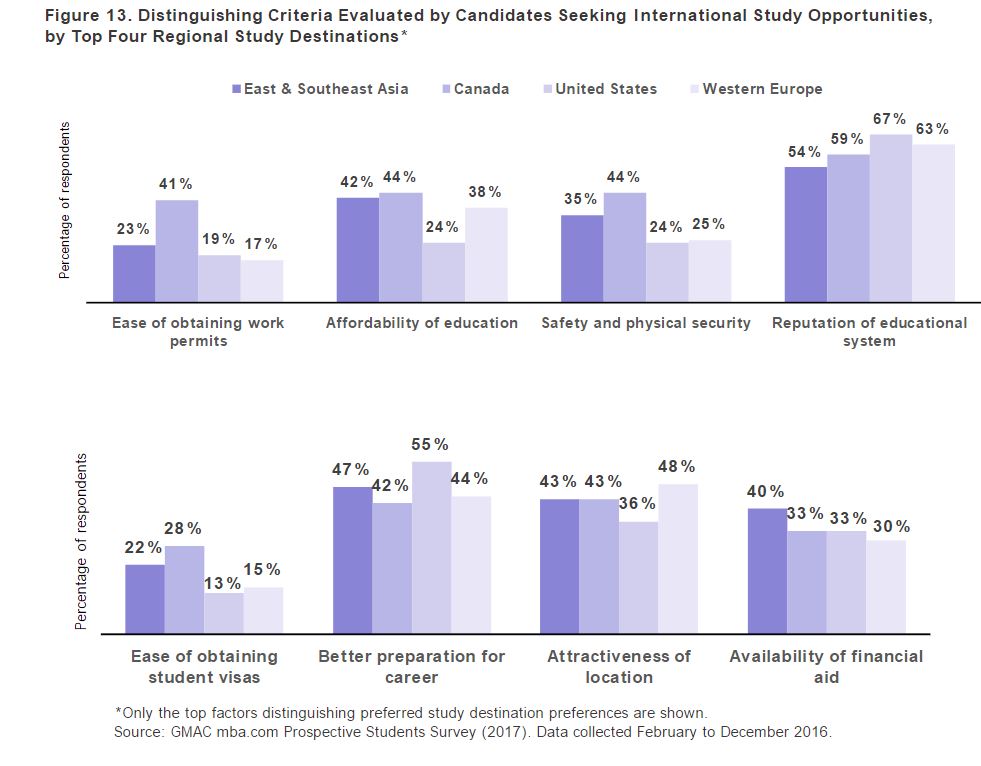 And on every other criterion—including ease of obtaining work and study visas, attractiveness of location, affordability, and safety and physical security—the U.S. lags most if not all other regions. As the forum conversations reflect, international students must weigh these various factors in terms of their relative importance to them individually—which makes the U.S. less a clear frontrunner for more candidates.
Uncertainty About Immigration Policies Could Also Impact U.K. Schools
Business schools in the United States are not the only ones that could be impacted by shifts in immigration policies. "Anticipated changes in U.S. immigration policies and last year's Brexit vote in the United Kingdom may make it more difficult for non-citizens to obtain student visas to study in those countries or to obtain work visas after graduation to seek employment, one of the main reasons for studying in those countries," reads the GMAC report.
Citing separate sets of surveys it conducted specifically around changes in the U.S. and the U.K. over the past year, GMAC noted as part of its most recent report that international applicants say they are less likely to study in either country as a result. "The percentage of non-U.S. citizen mba.com registrants who say they are now less likely to study in the U.S. has grown from 35 percent in November 2016 to 43 percent in April 2017," read the GMAC report.
A survey conducted in December 2016, meanwhile, among 1,300 non-U.K. GMAT test takers about the Brexit vote, found 58 percent of respondents saying it had made them less likely to study in the U.K. When GMAC conducted a follow-up survey in March 2017—on the day the U.K. triggered Article 50 of the Treaty of Lisbon, the mechanism through which the U.K. can leave the European Union—an identical percentage of respondents reported they were less likely to study in the U.K.
Better Odds for Those Who Apply to U.S. Schools?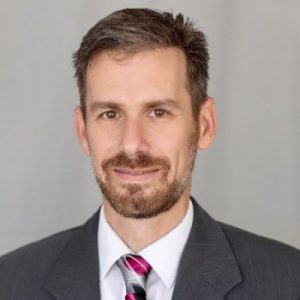 Amid an increase in global applicants applying to schools outside their home countries and a decrease in non-U.S. applicants citing the U.S. as their preferred study destination, one thing isn't changing: The vast majority of U.S. applicants continue to favor U.S. schools—nine out of 10, consistent with prior years—according to GMAC's latest data.
And if actual applicant behavior follows prospective applicant survey responses, it could mean that getting into U.S. schools will be less competitive for those who do apply. "With fewer applicants, the competition does decrease," says Schoenfeld. "So it might be a good time to overlook the rhetoric and apply to U.S. business programs," he suggests to non-U.S. applicants.
But do not take that to mean that the quality of applicants accepted to the very top U.S. schools will diminish, he warns. "Even in years past—when we were at the very bottom of the cycle for full-time MBA programs and schools saw the fewest applications—top schools still had more than enough qualified applicants to fill their classes," he says. More likely to take a hit are those schools' yield rates, he adds, as a smaller pool of top candidates will have more slots at more schools from which to choose.
For the full GMAC 2017 mba.com Prospective Student Survey Report, click here.