If you've met Soojin Kwon, who leads admissions at the University of Michigan Ross School of Business, you know that she doesn't pull punches. She's whip-smart, no nonsense, and gets right down to business, whatever the business at hand happens to be. Most recently, on her Admissions Director's Blog, she offered advice to prospective applicants on dos and don'ts for attending MBA admissions events. In our opinion, her tips are worth heeding whether you're applying to Ross or any other top school.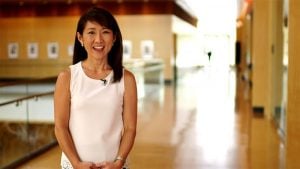 In an earlier blog post, she encouraged MBA applicants to carve out the time to attend recruiting events even though it adds to the already long list of GMAT prep, resume revision, and essay writing. "Think of these events as a break from the solitary, heads-down work you're doing—an opportunity to get critical questions answered and learn something new about a school," she suggests.
In her most recent post, she concedes that walking into a room full of fellow candidates, admissions officers, and alumni may seem daunting but then lays out a few straightforward steps to follow that can help you make the most of these events.
For starters, take the opportunity to make a good first impression on members of the admissions committee and alumni, who can become advocates for your candidacy early in the process, she says. How? "Practice your 'elevator pitch'—i.e., a short, interesting summary of your background and goals," she suggests.
Second, when you have a good conversation, follow up to share why you appreciated it, mentioning something specific you may have discussed to help jog the person's memory. "For all of you Gmail users out there, pick an appropriate headshot for your email photo; it'll help us remember you," she notes.
Also take the opportunity to connect with other candidates—since they could well become your future classmates or even roommates. Plus, they are going through the same thing you are and could have helpful insights of their own to share.
As for what NOT to do—Kwon advises against being disrespectful to others. While this may seem a no-brainer, she offers a couple of concrete examples of ways she's seen potentially well-intentioned applicants lose sight of common courtesy at past events. "Don't be the one who interrupts the conversation to ask what the school offers for someone with your unique background and specific interest," she offers. "Worse yet, don't be the one who rattles off your background then asks what your chances of admission are. It's impossible for us to say at this point."
*Photos courtesy of the Ross School of Business.