Stanford Graduate School of Business (GSB) announced this past spring that Kirsten Moss would fill the void left by Derrick Bolton, who led admissions for the most selective business school in the world for 15 years. Moss, who assumed her new role in June, becomes the only person to ever lead admissions at both Stanford and its chief rival, Harvard Business School (HBS). An HBS alumna, she nonetheless knows Stanford's admissions office intimately, having worked there from 2004 to 2010, first as a consultant, then as associate director of evaluation and finally as director of MBA admissions. She left Stanford in 2010 to work for global executive search firm Egon Zehnder before launching her own consulting firm in 2012, which she has run for the past five years. Over the same span of time she also obtained her doctorate in psychology—with a focus in organizational behavior—further honing her expertise in assessing and developing leadership talent.
Moss has been swamped getting up to speed just as a new admissions cycle gets underway. Even so, she took time to sit down with us face to face on Stanford's campus just weeks after she started and has graciously shared her answers to our Real Humans of MBA Admissions series so candidates can get to know a little more about what makes her tick. We look forward to conducting a more in-depth interview shedding light on the admissions process—including any changes she may have in store—once she's settled in a bit more.
Real Humans of MBA Admissions: Stanford GSB's Kirsten Moss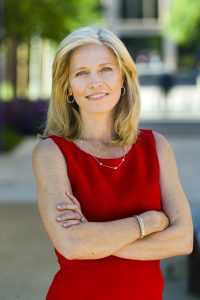 Coffee or tea? Since my mother is British, she often drinks a cup tea in the afternoon. I have adopted her afternoon tea time habit, but I still love a large latte to start the day.
Beach or mountains? Beach, hands down
Morning person or night owl? Morning
Pet peeve? A "to do" list that is growing, not shrinking
Guilty pleasure? Twizzlers
Favorite virtue in others? Being authentic
Worst habit? Working on weekends
Happy place? Walking along the beach in Santa Barbara, California
Comfort food? Popcorn
Go-to cocktail? Wine from Napa Valley
Proudest moment? Last year it was celebrating my 20th anniversary with my husband, and this year it was completing my dissertation.
Biggest regret? When my mother turned 80, we took an amazing vacation together and explored the Greek Islands. I wish we had traveled together for her earlier momentous birthdays as now it is much harder for her.
One thing you would change about how you were raised? I would have been born in a place without blizzards.
Superpower you wish you had? Breathing under water
Favorite fictional hero/heroine? Aslan, the King of Narnia, is a lion who sacrifices himself to save a boy named Edmund from the White Witch in The Lion, the Witch, and the Wardrobe, by C.S. Lewis. For me, Aslan represents a strong, yet gentle hero who uses his power to give a troubled child a second chance.
Which part of the MBA admissions process would you most like to skip if you were applying today? I had to take the GRE when I applied to my doctoral program. Remembering geometry under time pressure was stressful!