Frequently in this space, we republish content written by prospective applicants, current students, and recent alumni from leading business schools that has appeared elsewhere—such as on those schools' blogs. But occasionally we have the distinct pleasure of receiving a contributed article written expressly for the Clear Admit audience. That's the case today. In her piece, entitled "When Kellogg Says 'Social Impact,' It Means Business," first-year Kellogg School of Management MBA student Sahar Jamal talks about what social impact means to her—and what it means at Kellogg—and why the common ground between the two made her choice of schools an obvious one.
As you'll see, second-generation Canadian immigrant Jamal led a successful career working as a senior brand manager at Johnson & Johnson's U.K. headquarters before deciding that business school was the next right step in her path. In particular, she was looking to the MBA as an opportunity to make a career pivot toward the social impact field.
In the thoughtful, comprehensive piece that follows, she shares more of her journey to Kellogg and, importantly, much of what she's discovered now that she's there regarding the range of ways Kellogg supports students interested in social impact.
We are so grateful to Jamal for sharing her perspective with the Clear Admit audience and know and trust our readers will benefit from it.
When Kellogg Says 'Social Impact,' It Means Business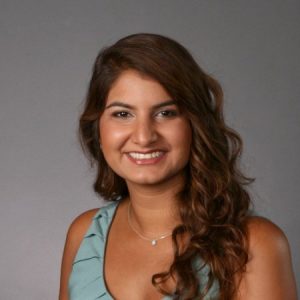 By Sahar Jamal, MBA '19
Before I came to Kellogg, I was working as a senior brand manager at Johnson & Johnson's U.K. headquarters. I loved my job and felt proud of my relatively successful career, but there was still something missing.
From a young age, I have felt a deep sense of gratitude for my upbringing, as a second-generation immigrant in Canada, and an obligation to pay it forward to those less fortunate. Although I tried to fulfill this desire by taking on an internal CSR role at J&J and voluntary leadership positions outside of work, I eventually decided that it was time to shift my career into the so-called 'social impact' field.
My goal is to work for an international development agency that invests in sustainable, human-centered projects in the developing world and believes in the power of innovation and storytelling. While getting an MBA may not seem like the natural choice for someone switching out of the corporate world and into the field of international development, I believe that the forces of business can be leveraged for social good. I learned from my international marketing experience that communicators like me can have a profound influence on societal change, which increasingly comes from changing perspectives, rather than policies. At Kellogg, I have found a community of students, faculty, and alumni that aligns to these same beliefs.
Kellogg prioritizes the importance of Social Impact for all its MBA students, regardless of whether they choose to work in the private, public, or non-profit sector. A great illustration of this is Kellogg's Social Impact Days event, which was scheduled before any classes began, before orientation, and even before some of our boxes were unpacked! I arrived in Evanston and was immersed in an experience where students from diverse backgrounds with like-minded ambitions were encouraged to think about how they can use their MBA to better serve society.
On Day 1, we broke into teams based on four focus areas (healthcare, education, environmental sustainability, and financial inclusion) for a 24-hour case study competition. Our ideas were informed by industry experts, such as Logan Duran from Patagonia and Ed Stellon from Heartland Health Outreach, respected professors like David Schonthal from IDEO, and impressive Kellogg alumni like Carmita Semaan, founder of the Surge Institute. Our solutions needed to be backed by a clear business objective, powerful human insight, and robust funding model. To combat the stereotypes of inefficiency and unsustainability in the social sector, we were encouraged to tackle these important societal challenges with creativity, innovation, and enterprise.
First thing in the morning on Day 2, we caffeinated after a long night and got revved up for our pitches in front of the panel of esteemed judges. From sustainable farming to tele-health clinics to day-trading for charity, many of the ideas that we came up with in less than a day had the potential to become the next innovative social enterprise. I could feel the palpable energy in the room created by a group of smart, ambitious students tackling challenges they felt genuinely passionate about. In this moment, there was no question in my mind that the Kellogg Class of 2019 would go on to lead big change in the world.
We concluded the event by learning how we could channel our passion for social impact through the 40 impact-related courses, 12 social impact clubs, and a wide-range of career services and resources at Kellogg. Within just a couple of months of starting the program, I have already taken advantage of these and tailored my Kellogg experience to fit my career objectives.
I was fortunate to be appointed as a Careers Director for Kellogg's Net Impact Chapter, which was recognized as the 'Graduate Chapter of the Year' in 2016. In line with this, I'll be leading a Social Impact Career Trek in San Francisco to visit various non-profits, impact investors, social enterprises, and social impact consultancies. I'll also be heading to the Net Impact Conference in Atlanta, to meet established social entrepreneurs, non-profit CEOs, and other Net Impact Chapters. Finally, Kellogg's multi-faceted approach to social impact has given me exposure to a broader range of impact-related topics, such as design innovation through Kellogg's Innovation and Entrepreneurship Initiative.
Kellogg's Dean Sally Blount once wrote that the world needs leaders who can take "effective management practices and apply them to improve the performance of organizations in the government and nonprofit sectors" and "who can leverage the power of markets to create lasting social value." By connecting a community of ambitious, socially-minded students with world-class curriculum, faculty, alumni, and career opportunities, Kellogg's Social Impact program is building a cohort of future leaders that will make a sustainable impact in the world and reflect the changing role of business in society.
I chose Kellogg for its strong Social Impact community and I have not been disappointed. The Social Impact Days event was a perfect start to my Kellogg experience—and I can't wait for what these next two years have to offer!
*Pictured above: Jamal and her Education Case Competition teammates.