As candidates hear about interviews (and dings), admissions news keeps flowing into Clear Admit's MBA LiveWire, prompting us to take a closer look at the data applicants have shared. Most recently, we examined results reported by Harvard Business School (HBS) and University of Chicago Booth School of Business candidates. With invitations rolling out from the University of Pennsylvania's Wharton School and MIT Sloan wrapping up its Round 1 notifications, we're now shining the spotlight on these two schools.
Read on to see how the current crop of applicants invited to interview at each of these schools compares to those who were rejected.
Rejections at Wharton Surrounded by Interview Invitations
For those who were invited to interview, reported GPAs on the 4.0 scale ranged from 2.8 to 3.9, with an average of 3.6. The GMAT score range was from 690 to 800, with an average score of 743. For those who got a ding, the GPA range was 2.88 to 3.83, with an average of 3.51, and the GMAT score range was 680 to 780, with an average of 733. Just under 60 percent of those who reported their Wharton fates via LiveWire shared that they had been invited to interview.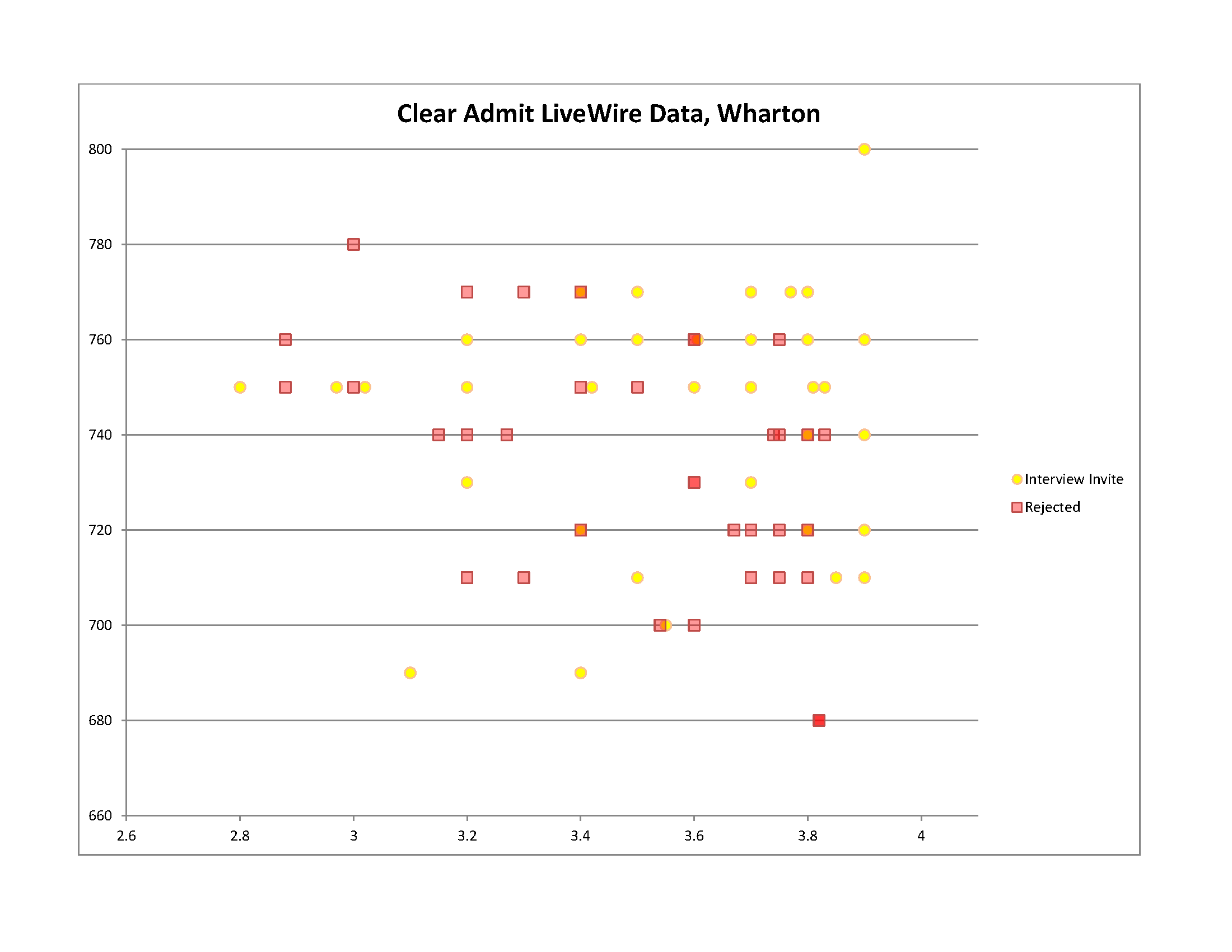 Looking at the data, there is a slightly larger window for those invited to interview, as invitations are noted in both the highest and lowest combinations of GPA and GMAT. In terms of average stats, the difference between those who were rejected and those who got an interview was slight—a mere .09 points in GPA and 10 points in GMAT scores. Truly, the stats of the two groups are so similar overall that the results could easily be flipped—suggesting that among candidates with highly competitive numbers, it's often other materials, such as essays and recommendations, that ultimately  tip the scales.
Of course, we should note that our sample size is relatively small and likely subject to some response bias, which is to say that applicants who scored well on the GMAT or had strong GPAs may be more inclined to share their numbers publicly (albeit anonymously). Also, applicants who received an invitation to interview are perhaps more likely to share the good news than those who were rejected.
Overlap at MIT Sloan Suggests It's More Than Just Stats
At MIT Sloan, reported GPAs for applicants who have received an invitation to interview ranged from 2.8 to 3.98, with an average of 3.53. GMAT scores, meanwhile, fell between 690 and 780, with an average score of 740. For those who got dinged, GPAs ranged from 2.6 to 3.9, averaging 3.48, and GMAT scores ranged from 690 to 760, with an average of 731. (The GPAs reported by some international applicants on other scales were converted to 4.0 scale for the purposes of straightforward comparison.)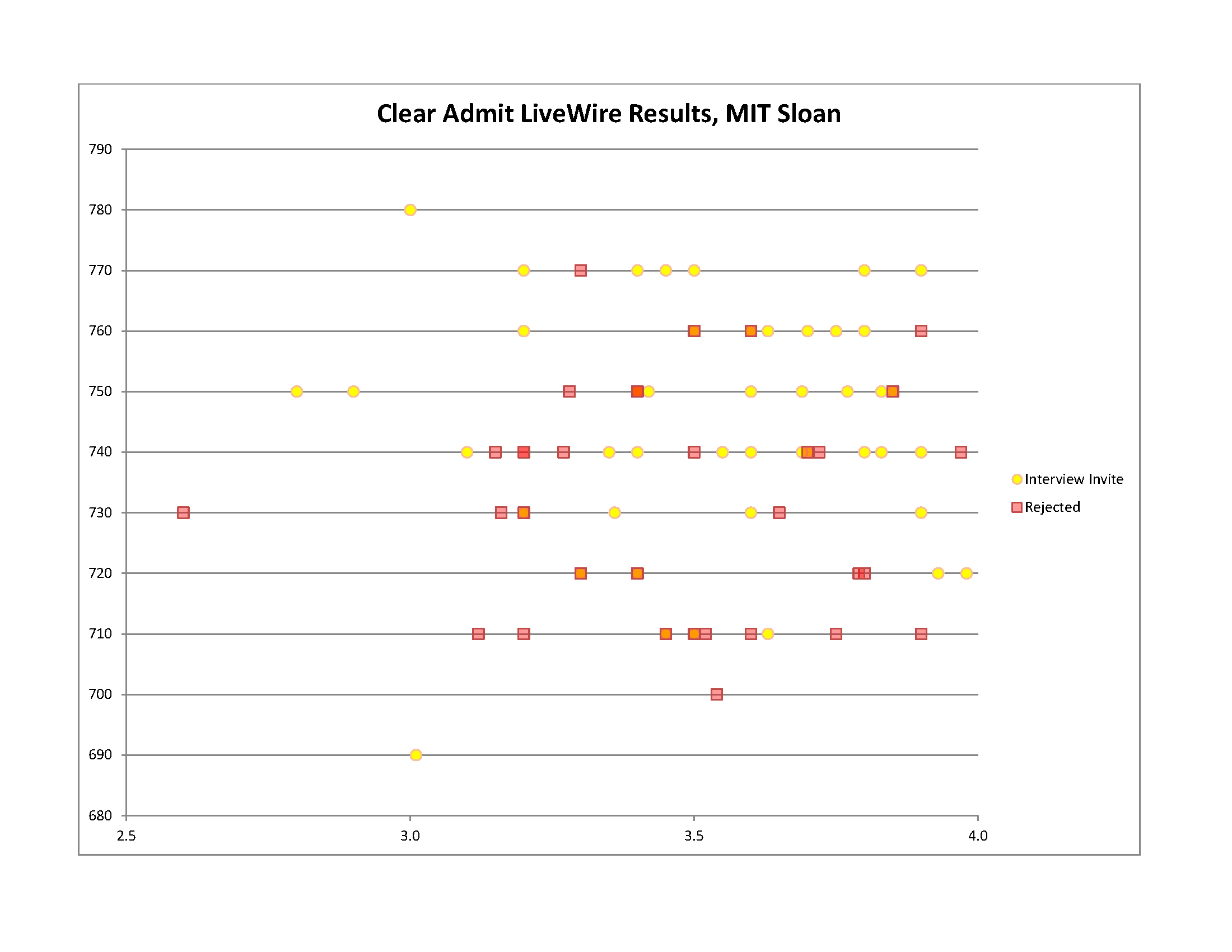 Much like Wharton, the differences in average stats for those invited and those rejected seem barely discernable—a .05-point difference in average GPA and 9-point difference in GMAT averages for reporting applicants. In fact, in several cases applicants with overlapping data points met opposite fates. The closeness of these stats again attests to the value of other application elements. MIT is known for its emphasis on cultural fit in its essays and behavior in its interviews, so it would follow that the essays and more personal content in a candidate's application could sway the offer of an interview (provided stats meet a certain standard).
Have you received an invitation to interview? Don't forget to prepare with Clear Admit's Interviews Guides for Wharton and MIT Sloan, which can help you prepare. Thanks for sharing your results via Clear Admit's LiveWire. Keep 'em coming!