Returning to civilian life can be difficult for military veterans. In fact, in some cases, a veteran may never even have applied or interviewed for a civilian job before. Then—as U.S. Veterans Magazine. recently described—there's the difficulty of trying to transcribe military duties into practical skills that a company could understand.
Veterans may also face challenges like PTSD and service-related disabilities, as well as being older and having a different life situations than their classmates. According to a 2016 survey by Student Veterans of America, 80 percent of student veterans are over the age of 25 and 46 percent have children—this includes both undergraduate and graduate students.
That's why many top MBA programs such as UT Austin's McCombs School of Business offer a variety of support programs to help military veterans make the transition between active duty and school.
Veterans at McCombs
Today, around 500 veterans are enrolled across the UT Austin campus, and quite a few of those are MBA students. At McCombs, veterans are recognized for their leadership, management, team-building, logistics, and operations skills, all of which are easily transferable to the MBA experience. McCombs student veterans come from all branches of the military.
For these veterans, there are a variety of resources available to help them on their journey in the MBA program, including:
Armed Forces Alumni Association (AFAA): This is the primary MBA student organization for military veterans, which provides an opportunity for students to get connected and involved in the community.
Student Veterans Association: The Student Veterans Association supports students with prior or current military association, their families, and dependents. It does this by developing and implementing activities to assess, promote, and represent the interests of veterans.
Scholarships and Financial Aid: All veterans are eligible to receive various merit-based admissions scholarships, which they are automatically considered for upon applying to the McCombs MBA Program. Veterans also receive an automatic application fee waiver.
Texas MBA Military Forum: This forum offers military MBA candidates the opportunity to meet alumni, top-rated faculty, and network with Texas MBA military alumni.
Meet Two Military MBA Alumni
Beyond the resources provided to veterans at McCombs, there are also many inspiring alumni that current MBA candidates and students can learn from. Recently, an article on McCombs Today profiled two MBA alumni and U.S. military veterans.
Michael Sarraille, '17 MBA
Lieutenant Commander Sarraille is an active duty Naval officer with 20 years of experience in the military. He initially joined the military to gain independence but stayed because of the friends he made. "There was no way I was going to leave the guys to my left and my right," he said in the interview. "I absolutely loved the guys I worked with. They were intelligent, they were warrior athletes, courageous, loyal."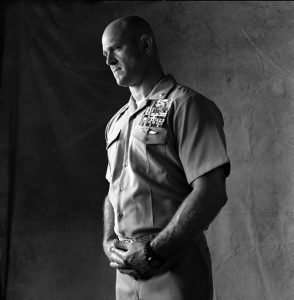 A father of two and full-time MBA student, Sarraille balances his time between his family, studies, and his duties as a military officer. His commitment to his fellow service members and veterans led him to create the VETTED Foundation during his two years at McCombs. "We always say in the military, 'nobody gets left behind,'" Sarraille explained. "I just can't, in good conscience, leave my brothers and sisters behind. It's absolutely true in the battlefield, and, at home, it should hold true as well."
VETTED is a veterans transition programs that helps veterans find work. Since 9/11, seventy percent of vets have reported difficulties landing employment, and VETTED seeks to help them translate their skill sets into the corporate world.
"Both sides are trying to do their best to solve these problems," Sarraille said. "It's not ignorance on either side, but the divide between the veteran population and the corporate world has become so wide. We are less than 1 percent of the overall population in the United States. If I'm a manager who's never served in the military, it's very hard to contextualize what we do."
VETTED accepted its first applicants this August 2017 and hopes to be working with 50 veterans by the summer of 2018. Currently, the program is only operating in Texas, but the goal is to eventually spread to other states.
Mary Jennings (MJ) Hegar, MBA '16
Hegar is a former Air Force pilot and mother of five who has become a champion for women in the military. In 2012, she led a lawsuit against the Department of Defense to repeal a policy that prevented women from taking ground combat positions—and won.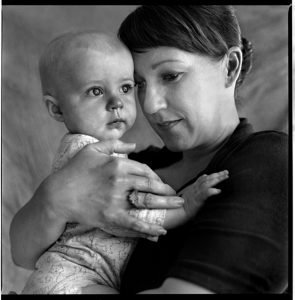 "There are thousands of women in ground combat and have been since the Revolutionary War," Hegar said. "The policy didn't keep women out of combat. What it did was keep them from being commanders."
Hegar's ground-breaking suit occurred because in 2009, after her plane was shot down by Taliban, she was forced to retire because she couldn't become a special tactics officer. "I would have been perfect for that job," she explained. "But I couldn't apply for it because I'm a woman." So, instead, Hegar retired in 2012 and headed to McCombs to earn her MBA.
Now, Hegar is the author of a successful 2017 memoir, Shoot Like A Girl: One Woman's Dramatic Fight in Afghanistan, which details her experiences in the military and her subsequent lawsuit and has been commissioned for film adaptation. She also runs her own business, teaches UT's executive MBA program media relations training, mentors AFROTC cadets, and is campaigning to be one of Texas' 36 U.S. representatives for Round Rock.
For student veterans at McCombs, there are many potential opportunities for support and education. To learn more, visit Texas MBA Insider website.