UVA Darden Interview Questions & Report: Round 1 / Alumni / Off Campus Hub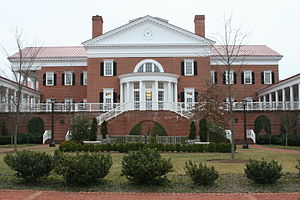 The following UVA Darden interview questions & report were submitted to Clear Admit by a Round 1 applicant. Good luck to them!
Hi Everyone!
I tried to find feedback on interviews that happened on Google Campus last year for Darden, but no luck. It looks like they just started this option in 2016. There were about 30 prospective students who attended in total. We did both an interview and a mock case discussion with one of their GREAT professors! The case study material was given to us 48 hours in advance. No need to understand the whole industry or business, but I spent quite a bit of time researching other case studies and the history of the specific company so I could at least add some credible knowledge to the conversation.
In regards to the interview, I want to start out by giving my general feedback on reports I've seen about interviews with alumni or schools that typically have a more "laid-back" interview process. As I read through them, I notice the undertone of those assessments is VERY casual. Although that might be the case for that person, I want those who have interviews coming up to PREPARE like it will NOT be casual.
As a re-applicant, I realized my interview preparation was poor last year. I thought I could briefly go over my storyline/professional history and just kind of "wing-it" as most of the questions were behavioral and about my current job, which I know the ins and outs of. Not the right approach! I can confidently say it's best to prepare for the worst.
The other thing is, you do NOT get to pick who you interview with. There may be some interviewers who you will connect with immediately and almost effortlessly be able to speak well with. That would be great, but don't expect that. EXPECT that the person you meet with will be the hardest type of interviewer. EXPECT someone who is going to grill you and seeks to find a reason why you shouldn't be admitted. Then if you get someone who you connect with, no sweat. You got this!
Going through interviews this year, I tightened up my understanding of not just the school, but my story, who I am, and how everything I've done until this day has prepared me for business school. In doing so, I made sure to over-prepare for every interview. I started doing mock interviews on my phone, with parents, and with friends. With every interview I got better and my answers became crisper. To a point it was just a common response.
It is true that some interviews may truly have been very laid-back and not much preparation was needed. For those that had this experience, I think that's great and this may not apply so much to you. However, I think for the majority of people it will benefit to over-prepare because when it comes time to interview, you want to fall back on your naturally prepared answers to get you comfortable in the moment. Nerves will come up at some point prior to meeting your interview. It happens to everyone. Even the best!
In regards to the interview, the person I had was nice, very positive, and had a background in consulting, which is what I'm planning to transition into. Darden REALLY puts you in the driver seat for this interview. I heard the same thing from everyone who talked about their experience that day. They start out with asking you to tell you about yourself, I.E., from the beginning of your life to present day. That's much different than other interviews. Overall though, I led the conversation a majority of the time, which is NOT easy if you don't really know why you want to go to Darden. Being a top school for me, it felt easier in the driver seat, but that may not be the case for other schools I don't know as well. My advice would be to go into that interview thinking that if you started school tomorrow, you have a clear picture of what campus activities/engagements you want to be involved in. Below are the questions as I remember them (Not in the exact order):
1. Tell me about yourself (About 10-15 minutes. Much longer than other interviews.)
2. What made you choose the focus for your undergraduate program? (Mine is business)
3. How did you get interested in business to know that's what you wanted to go into?
4. Tell me about a situation in which you were very different from the people you interacted with.
5. What's your long-term career goal?
6. Why Darden?
7. Tell me about a time you were a leader?
8. Do you have any questions for me?
Hope that's helpful. The interview lasted about 40-45 minutes.
Good luck to everyone!!
---
Preparing for an upcoming UVA / Darden MBA Interview? Click here to get the Clear Admit UVA / Darden MBA Interview Guide.
After your interview, be sure to add your first-hand interview report to the Clear Admit Interview Archive.
Preparing for your interview?
Give Veritas Prep a call at +1-310-295-2098 or click to
About the Author