Depending on where you live, April-like weather may or may not yet have arrived. (It's chilly here in Philly as I write this.) But spring weather or not, admitted MBA students' weekends are getting underway at leading business schools throughout the month.
The latest episode in our Clear Admit MBA Admissions Podcast series tells you everything you need to know about these weekends—including what to expect, how to prepare, and what you should try to take away from them. We even offer some advice on what to do if two schools you're choosing between managed to schedule their events on the very same weekend.
Tune in to hear Clear Admit Co-Founder Graham Richmond share advice and tips and even reminisce a little about when he attended his own admitted students' weekend at Wharton.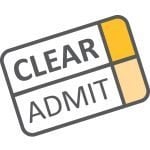 Hosted by Editor-in-Chief Jeanette Brown and produced by Contributing Editor Jonathan Pfeffer, this latest episode, like the seven before it, are available both here on the Clear Admit site and on iTunes.