Cornell's S.C. Johnson Graduate School of Management has the dubious distinction of producing some of the longest discussion threads in the history of Clear Admit's MBA LiveWire. Last month, one thread drew more than 100 comments and another racked up 82. What gives?
Johnson's admissions process is divided into four rounds, with application deadlines in October, November, January, and April. But unlike many of its peer schools, which issue decisions by round in accordance with stated notification deadlines, Johnson informs its applicants of final admission decisions on a rolling basis.
Early Round Applicants Kept in the Dark as Later Round Applicants Are Accepted
The unprecedented LiveWire volume resulted as Johnson applicants expressed frustration at long wait times for decisions and inadequate communication from the school. Drilling down into these discussion threads revealed that even as applicants in the (later) January and April rounds began to learn of their acceptances, some (earlier) October and November round applicants were still completely in the dark. In other words, some applicants got near immediate acceptances, while others were still waiting without any update from the admissions committee 10 weeks or more after they interviewed.
One applicant sought advice from the LiveWire community on March 15th, writing the following: "Any suggestions here would be greatly appreciated. I am really tensed about my situation. I interviewed in November for the two-year, full-time MBA [after submitting my application as part of the October Round] and was told I will hear back in December. I still have not heard back and my status is still "Under Review." I called the adcom last month and they said they still have not made a decision for my application. Is anyone else in the same boat? What should I do now?"
As even more time passed, applicants who interviewed in early rounds and did eventually get accepted shared their experiences, which also included long waits without updates from the admissions committee. Wrote one: "I was so stressed out those 5-6 weeks post-interview…I sent my interviewer updates on the things I was doing to improve, and got some 'Thanks for the update' emails, but no knowledge of my status until the acceptance phone call which drove me nuts."
Applicants Share Advice on How to Bolster Candidacy When Waitlisted
In other cases, early-round applicants who had been placed on the waitlist—as opposed to remaining in "'under review' purgatory" as some began to call it—shared the steps they'd taken to update the admissions committee about improvements.
Here's an example, shared on April 17th: "For those who are interested, I was waitlisted with no interview in round one. Took many steps to improve candidacy and follow up but have heard NOTHING from the adcom in the past several months. Fortunately, I had other options, however, for a top 20 program to struggle with responsiveness is really rather unacceptable. I hope for their sake this doesn't hurt their yield, but if I was attending Johnson, I would be nervous that these issues might prevent strong applicants from applying in the years to come…"
As Other Schools' Deposit Deadlines Approach, Some Applicants Rule Out Johnson
Anxiety continued to mount for early-round applicants who still had heard nothing as deposit deadlines at other schools, including CMU's Tepper School of Business and UNC's Kenan-Flagler School, began to approach.
"The deposit at Carnegie Mellon is next Monday," read a post in the March 30th LiveWire thread that would grow to include more than 100 comments. "I got a scholarship at CMU, and I want to go into tech if I can't do consulting, so CMU is an awesome choice. I loved Johnson, and I think I am a good fit, but if I don't hear back this week, I'll take it as a sign and attend CMU by default."

Another applicant commented in the same March 30th thread, "I am up against a deadline in that I have put a deposit and go to an admitted students weekend at another school if I don't hear back from Johnson by Monday or Tuesday." This applicant shared that he or she reached out to current Johnson students for advice on what to do—one suggested sending an email and another encouraged a direct call to the admissions office. "I ended up nervously giving them a call, and an admissions councilor said what you might expect: they make admissions decisions on a rolling basis, and she couldn't say for sure when they would make a decision," the applicant continued in the LiveWire post. "I mentioned that I was up against a deadline for another school, and she said that she would make a note to the ADCOM and she indicated that the note might encourage the ADCOM to take that into consideration and take a look at the app sooner, rather than later."
Others held out hope as long as they possibly could that they might still get accepted in time to attend Destination Johnson, the school's admitted students weekend, which took place on April 20th and 21st. One applicant wrote on April 11th, "I wish they [would] make some comment about the rest of us today, would prefer to have some answer [other] than 'Under Review.' Ideally, if they get back by today, I can attend DJ (best case scenario)." Another wrote on April 17th, "I really hoped to attend Welcome Weekend but it is looking more and more unlikely." And a third wrote, in the same thread, "If you get a call in the morning tomorrow, theoretically you had time to fly out red eye to Ithaca ;)."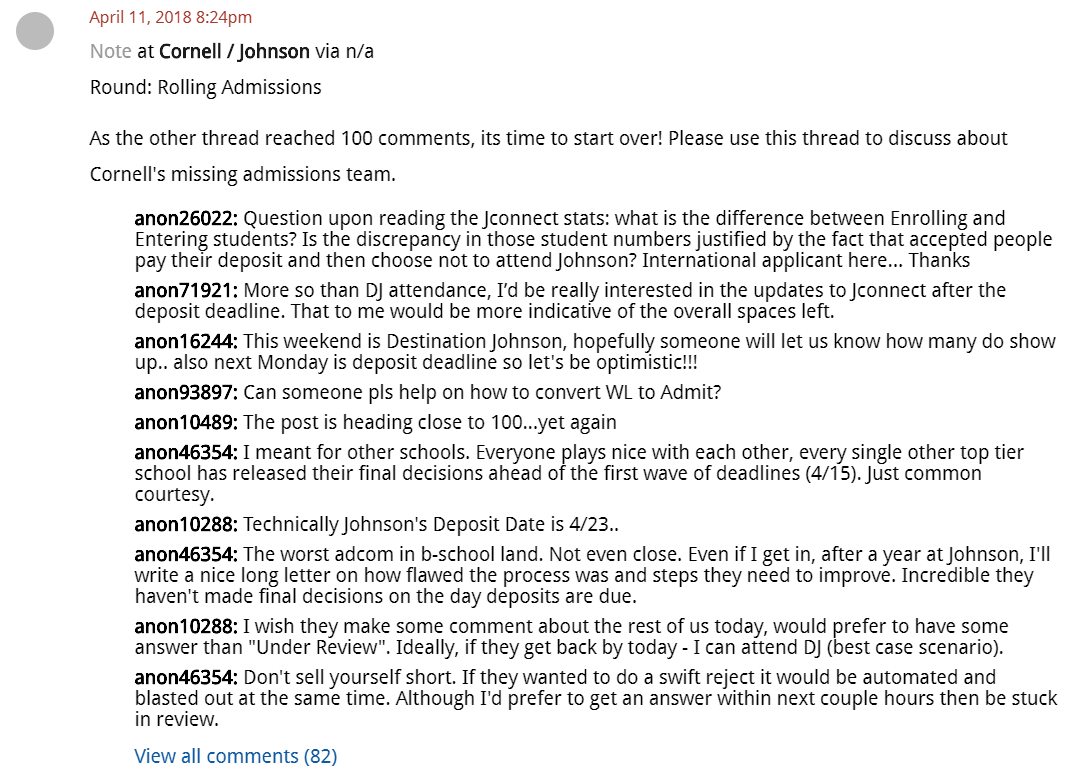 LiveWire Chatter Helps Flag Hiccups in School Admissions Processes
It's not the first time that LiveWire chatter has helped reveal issues in a school's admissions process. MIT Sloan School of Management drew some complaints in spring 2016, when applicants awaiting decisions were bombarded with marketing emails instead. That same year, anxious applicants desperate for word from Stanford Graduate School of Business took to expressing their angst through song lyrics. And just earlier this application season, Chicago Booth drew some fire for marketing its part-time MBA program in the rejection letters it sent to applicants to the full-time MBA program.
But the unprecedented length of the message threads that grew around Johnson applicant anxiety this application season suggest that the Ithaca school might really want to rethink how it communicates with applicants in future application cycles. Notably, LiveWire conversations for NYU Stern School of Business, which also issues rolling admissions decisions, have not reflected heightened applicant discontent.
We reached out to Johnson Executive Director of Admissions and Financial Aid Judi Byers to draw her attention to the Johnson LiveWire discussion, which she had not previously seen. Byers offered the following statement in response, for inclusion in this piece:
"We sincerely appreciate the feedback from the Clear Admit community—crafting each entering class is a deliberative process and we remain thoughtfully and actively engaged with the selective evaluation of candidates whose backgrounds and experiences best align with the program and community that Johnson offers. We take the comments that have been shared seriously and will endeavor to improve the process and experience for all applicants moving forward."
Johnson Threads Highlight the Best of the LiveWire Community
Those of us here at Clear Admit were sorry to see some Johnson applicants face tough choices and heightened anxiety as a result of extended waits for decisions this year. But we were delighted to see how supportive applicants were of one another throughout the process in their comments on LiveWire.
Admitted students freely shared information they had about the admitted class to date in an effort to give applicants who were still awaiting word greater ability to assess their chances. And almost without exception, the LiveWire comments shared between applicants—including admitted, waitlisted, and rejected applicants, as well as those still under review—were incredibly encouraging and offered sound advice to peers.
It's this type of community support that we always hope to see on LiveWire. Thanks so much to this group of Johnson applicants for making our community tools truly about community.