October is an anxious month for MBA aspirants who have submitted applications to the leading MBA programs for Round 1. Many of these programs roll out their interview invite decisions during the month. If you are one of these candidates, MBA LiveWire is a good place for you to keep up to date with what's going on; we hope you will also share your news.
Harvard Leads the Way
Harvard generally leads the way with Round 1 interview invite decisions. In 2017, HBS released its decisions on two dates, October 2nd and October 5th. The latter date included all those not invited for an interview (rejections). You can see these offers reported directly on MBA LiveWire by using the filter feature:  'Harvard,' 'Round 1,' 'Interview Invite,' and 'Harvard,' 'Round 1,' 'Rejected.' In 2016, Harvard released its interview invite decisions on October 4th, 6th, and 12th. Harvard also typically sends out an email, prior to these dates, alerting its candidates of their process. We have not seen that email yet this season.
Filter search: HBS R1 Interview Invites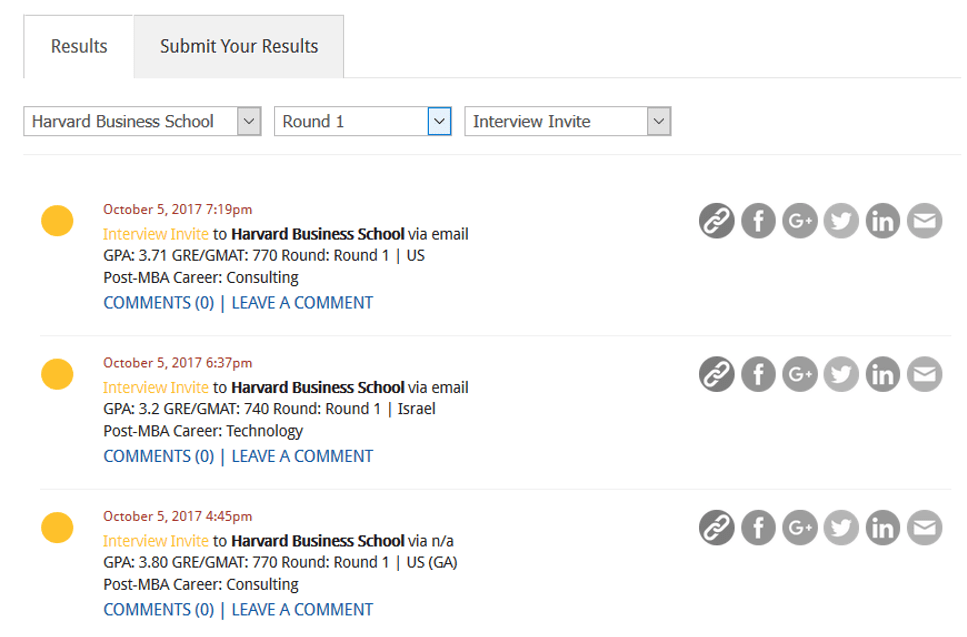 Stanford and Wharton Use Different Approaches
Stanford has used a different approach in recent seasons, rolling out Interview Invite decisions from mid-October, right up to a couple of weeks before their final decision release date. Last season, MBA LiveWire's first Stanford Interview Invite was posted on October 16th, in 2016 it was October 17th.
UPenn / Wharton uses a slightly different approach again. Over the last couple of admissions seasons, Wharton has released its Interview Invite and Rejection decisions at the same time. October 31 was the date in 2017, November 2nd was the date in 2016.
Use LiveWire Data to Predict Invite Timing at Your Target Schools
Each leading school has a slightly different approach in terms of the process they use for rolling out their Interview Invite decisions. MBA LiveWire is a great way to track whether or not a school has released those decisions, as applicants can tune in to the flurry of entries that are posted shortly after a release. For the schools to which you have applied, you can use the LiveWire filter options to get a sense of the historical timing of invites. You can also explore the credentials of those candidates who were offered an interview (test scores, GPAs, etc.).
We wish you the best of luck for the forthcoming admissions season, and look forward to following your experiences on MBA LiveWire!