Each week we collect all the MBA news that's fit to print and provide a quick overview of the latest trending topics from top business schools around the world. Here's your quick MBA News You Need digest for the week of October 4, 2018.
New Yale SOM Scholarship Will Support First-Generation College Students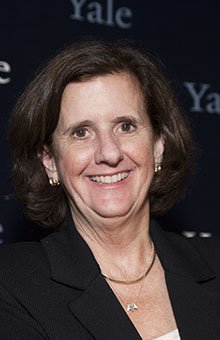 For the first time at Yale SOM, an endowed scholarship has been created to help first-generation college students finance their educations. It was established by Lise Pfeiffer Chapman, a 1981 Yale MBA alumna who received a generous loan from a nonprofit foundation to help cover business school. Now she wants to pay her good fortune forward by helping low-income students become the first in their families to attend college.
"I needed to own this and be a mentor, to lead by example," said Chapman. "I want to help students feel that they all belong as members of the Yale family. I hope this new scholarship encourages SOM and other Yale alumni to make a difference in their own way."
The new scholarship is linked to 1stGenYale, a Yale alumni group created by Chapman that connects first-generation, low-income students. You can learn more about the scholarship and 1stGenYale in the Yale news release.
HBS Names New Cohort of Entrepreneurs-in-Residence
Entrepreneurship has played a significant role at Harvard Business School (HBS) since 1947, when it was first introduced there as a legitimate field of inquiry at HBS. Thanks to the many resources on the HBS campus, including more than 30 entrepreneurship-focused faculty members, HBS students will have an opportunity to create and launch their own startups while still in school.
The 21-student Entrepreneurs-in-Residence cohort, selected by the school's Arthur Rock Center for Entrepreneurship, will receive regular advice on starting their own companies and work closely with faculty members throughout the academic year on research and development.
The cohort will also have the chance to participate in the New Venture Competition and benefit from the Rock Center's content, support, and entrepreneurial ecosystems.
For a full list of students selected for the 2018-19 Entrepreneurs-in-Residence cohort, read the HBS press release.
Gender Balance Draws Some Students to Asian MBA Programs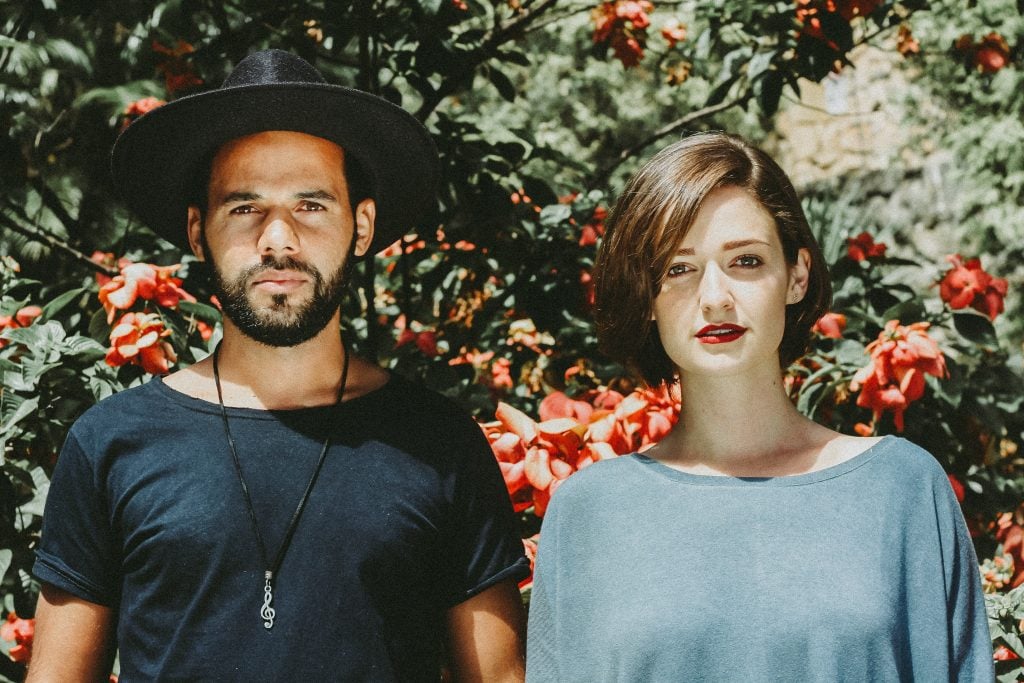 According to this year's Financial Times rankings, just 38 percent of the incoming class at the top 100 MBA programs in the world were women. At Singapore Management University (SMU), however, the gender split was almost 50:50. SMU is not the only Asian MBA program dedicated to gender parity. In China, the government has actively sought to create more employment opportunities for women, leading to more women in Shanghai's China Europe International Business School (40 percent of the latest MBA cohort are women).
This move toward gender balance in Asian business schools has many benefits. It subtly changes the dynamic within classes, which can improve empathy and help give women a stronger voice both in and outside the classroom. As SMU MBA student Lam Hung told the FT, "Being one of many women on the course makes the experience more valuable." She elaborated that it made it easier to speak up during debates and encouraged her to aim higher.
Most importantly, this increase in women at Asian business schools has also meant an increase in female managers. For example, in China, 36 percent of management roles are held by women. Learn more by reading the full Financial Times article.
UNC Kenan-Flagler Scholarship Helps MBA Students Pursue Entrepreneurial Ventures
Many MBA students would love to intern with a startup but can't afford the pay cut. UNC Kenan-Flagler's Carolina Startup Fellowship, established by the Entrepreneurship and Venture Capital Club (EVC), helps MBA students commit to entrepreneurship-focused summer internships by offering grants to supplement their income.
Summer internship opportunities at startups are often low-paying or unpaid. This harsh truth can make it difficult for some MBA students to chose entrepreneurial experiences over more traditional, and traditionally lucrative ones. But the Carolina Startup Fellowship will help subsidize startup internships for nine MBA students this year.
"We have a lot of EVC members who want to launch their own startup, work in a management position at a startup, or go into an entry-level position in venture capital," says John Huang (MBA '19), EVC president. "Having fellowship money so students are able to do what they are passionate about is meaningful and helps them explore these options without the fear of not making some ends meet." (UNC Kenan-Flagler Blog)
Olin Business School Convenes First "Data for Good" Conference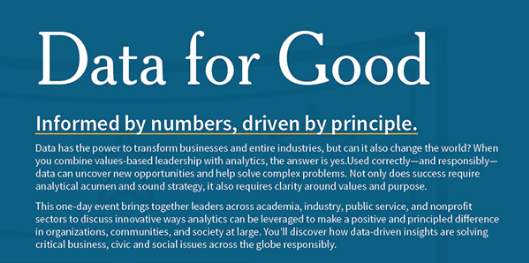 How do you know your company's annual investment provides the returns you want? It's a tough question a lot of businesses face, and it set the tone for the inaugural "Data for Good" conference at Washington Olin.
The conference, which takes place on October 5th, is designed to help business leaders and academics examine strategies for using data to make a difference in businesses, organizations, and the community. Speaker Tony Sardella, CEO of predictive analytics technology company evolve24, will discuss how data cross-referenced with subjective measurements can illuminate a company's impact.
Other key speakers include Jake Porway, founder and executive director of DataKind, and Chris Merz, vice president of product development and innovation at Mastercard.
"This is really important for WashU," Sardella said. "I'm passionate about it because some companies are starting to pull the plug on their data lakes. They're struggling to create value for the business. But it's about better decision-making. To make a better decision, you have to quantify and predict the consumer trends and make decisions now that match with those trends."
To learn more and register for the event, head to the Olin website.