Sponsored Content
If you're applying to business school because you want to change your career, you are not alone. Almost half (48 percent) of all MBA candidates head back to school for a career switch, according to a recent survey by the Association of International Graduate Admissions Consultants.
Even more telling is what happens after graduation. According to a 2017 GMAC study, 52 percent of MBA alumni work in a different industry or job function than what they did before school.
Earning your MBA to career switch is the norm. And that's especially the case at Indiana University's Kelley School of Business where almost 90 percent of all MBA students are career switchers, and only one-third of the class has a background in business.
MBA Students Are Running From or Running To
In the Kelley Full-Time MBA Program, there two types of students: those running from something and those running toward something. According to Rebecca Cook, executive director of the MBA program, these students choose an MBA because, in either case, they then have two years to figure out what they want.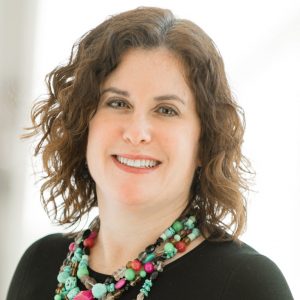 "It doesn't matter if you're running away from something you hate—a job function or company—or you're running toward an idea, an MBA gives you the time and opportunity to figure it out," said Rebecca. "The internship allows you to test out a new career and company. Classes give you the chance to learn about other industries and interesting topics. Your classmates can open your eyes to new experiences. The entire purpose of the MBA is to help you build the dots and connect them to jobs and employers."
Kelley career coaches and professors work with MBA students of all types and varying backgrounds. In previous classes, there have been makeup artists, classical musicians, fundraisers, and opera singers. It doesn't matter where you come from; what matters is what brings you to your MBA. Kelley enables you to take the next step in your career.
That's exactly why a New York City chef chose an MBA for the next step in his career. Although he was happy as a chef, he wanted something that was steadier and that he could still be passionate about. Unfortunately, he didn't have the business background he needed to change careers to investment management. But after two years at Kelley, lots of networking, project work, and an investment internship, he graduated in 2017 with a full-time position at a private equity firm.
If you want to move from engineering to marketing, that's what an MBA is for. If you think you like venture capital, but you're not sure if it's for you or if you have the right skillset, that's what an MBA is for. Unlike a specialized master's degree, an MBA is made to help business professionals explore as many new opportunities as possible.
Start Before You Get to Campus
The key to being a successful MBA career changer is to start as early as possible. At Kelley, every MBA student starts their post-MBA career journey before they even step foot in their first classroom.
"We start students with 20 to 30 hours of pre-work during the summer," Rebecca explained. "This pre-work is a chance for students to reflect on what they like and what they don't like, as well as what truly motivates them. It's an opportunity to explore a variety of interests and to help students figure out a potential path."
For example, if you're coming from an engineering background the pre-work will help you take a more in-depth look at your career to see what skills you already have. You might be surprised to discover that you have experience in marketing during a project where you worked with that department. Or you might walk away with a better understanding of your soft skills, which can help you figure out your story and a potential new career that makes sense.
From this self-reflection, Kelley takes students on an in-depth journey in Me, Inc.—a two-week orientation that's all about preparing you for the next steps in your career.
Me, Inc.—Dive Into YOU!
Kelley MBA students are never left to figure out their new career on their own. The school walks with you every step of the way from the moment you step foot on campus.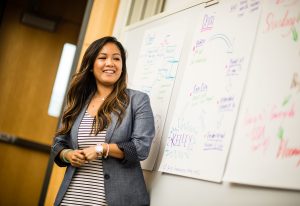 The first two weeks you spend at Kelley are part of Me, Inc. This one-of-a-kind orientation divides students into small 15- to 20-person groups led by a career services professional or someone from the MBA office staff, and a second-year MBA student. The goal: to help you build your career story by:
Building mentorship relationships with first- and second-year students who can give you honest feedback. This is the start of lifelong relationships that will impact your career path.
Working one-on-one with career coaches, faculty, and staff who will offer personal and relevant advice on your career journey.
Diving deep into your career development and learning the DNIP process: discover, network, interview, and perform.
During Me, Inc., MBA students focus on understanding their personal story and how that story can be connected to the next steps in their career. Students will dive deep into their soft skills, shape their personal brand, determine their leadership style, and look at their future. The idea is to help all MBA students connect their past experiences to their future goals in a way that resonates with employers.
"For example, we had a student come into our MBA program with the idea of going into a career in strategy consulting," Rebecca remembered. "During Me, Inc., she tried to tell her story, but she could never figure out the connection between her likes and experiences and where she wanted to be. So, during the second week, I sat down with her to really discuss what she thought she would enjoy about strategy consulting. We quickly discovered that what she loved was actually human capital consulting. From there, suddenly her story made more sense. That wouldn't have happened if we hadn't taken the time to figure out what she loved and wanted in Me, Inc."
All of this prepares you for week one of classes where you start meeting companies and participate in Academies.
Explore Your New Career Choice
The next step in the career switching process at Kelley is the exploratory phase of year one. During this time, you'll have a myriad of opportunities to meet companies, participate in experiential learning opportunities, and work on various projects within your new career field. It's all about introducing you to as many different ideas as possible.
It starts on the fourth day of class when students participate in roundtables with 40 to 50 different companies. They spend the entire day going through ten rounds with ten different companies—six handpicked by Kelley based on their major and four self-chosen. During these rounds, students get to know potential employers and learn more about what do.
After that, students join one of six career-focused Academies, which are focused on experiential learning. The Academy experience is unique to Kelley and works as a bridge between what you learn in the curriculum and how you'll apply it in the field. Each Academy is dependent on your career goals and major with options that include: business marketing, capital markets, consulting, consumer marketing, strategic finance, and supply chain.
"The first-year Academies are when students get to gain first-hand, professional experience in their future career roles while also figuring out the types of companies they could work for," Rebecca described. "They're designed to give students exposure to different roles and functions as well as helping them develop the skillsets and technology toolsets they'll need to be successful on the job. The goal is to get them internship-ready in an area they've never worked in before."
In Academies, MBA students also have the opportunity to travel and visit companies in cities around the U.S. For example, business marketing students might travel to Minneapolis and Chicago to visit 3M, Abbott, and DuPont, while a student in consulting might travel to New York to work with McKinsey & Co. or Deloitte.
This exploratory time was critical for one recent graduate who thought brand management was everything she wanted. After working on a few projects, trying several different paths, and even completing an internship in brand management, she realized she liked it but didn't love it. It just wasn't the right fit. So, in year two, she sat down with her Kelley career coach to figure out where she went wrong. She soon discovered that she wanted to be a career coach herself. Four years later, and she still loves what she does.
The ability to change your mind is key to the Kelley MBA program. You'll never be locked into a specific role. Students can switch Academies even late in the game. The Kelley career coaches, faculty, and staff will do whatever it takes to help you catch up with your classmates no matter how non-traditional your path.
Constant Help Throughout Your Two-Year MBA
The help never stops throughout the entirety of your Kelley MBA experience. Every semester, career services works hand-in-hand with you to build on topics first discussed in Me, Inc. You'll have a dedicated career coach that will work alongside you, helping you figure out where you want to go and if it's right for you. From behavioral studies to case interviewing, networking, and resume writing, your career coach is there to give you feedback, critique, and straight talk to help you reach your goals.
You can even test out your career internationally with the Global Business and Social Enterprise (GLOBASE) experience. GLOBASE sits at the exciting intersection of business and global development. During this two-week, on-the-ground consulting engagement, you'll work with a small business in their home country to find flexible solutions for their environments. It's a unique opportunity to experience your career while gaining a deeper understanding of local business culture.
"It's a transformational experience that gives students the opportunity to work with small businesses where they can see that they're making a difference quickly," said Rebecca. "It also gives students one more experiential learning opportunity, which is great for their future career, particularly for MBAs without a business background."
At Kelley, you'll be empowered to create the future you want post-MBA. No matter if you start school as an actor or an accountant, your MBA will teach you the functional skills necessary to experience the personal transformation you are looking for. Discover your new story as a successful career switcher with help from the Kelley Full-Time MBA Program.
Request More Information from the Kelley School of Business
Complete the form below to have someone from the Kelley Admissions team reach out to learn more about their full-time MBA option.