A conference last month at Rutgers Business School drew top names in graduate management education to discuss how today's digital revolution is reshaping the ways business schools teach their students—both in the classroom and beyond. Keynote speakers included deans from Stanford Graduate School of Business, Columbia Business School, the University of Michigan's Ross School of Business, and Cornell SC Johnson College of Business, among others.
The Innovations in Graduate Business Education (IGBE) Conference, hosted every two years by Rutgers, drew 150 attendees for two full days of presentations around the theme "Lifelong Learning in a Digital Era." Top administrators from Wharton, Kellogg, Kelley, Darden, MIT Sloan, and Tuck also took part as speakers and panelists in sessions focused on topics ranging from digital disruptions in educating business students to how to engage with alumni for lifelong learning.
In an opening address on the conference's first day, Cornell SC Johnson College of Business Interim Dean Joseph Thomas made the point that despite technology's significant impact on business and business education, not everything has changed. The soft skills—interpersonal communication skills, relationship building, networking—that business schools have long been teaching are still critical, he said.
He also acknowledged that offerings in online learning are growing rapidly—which he views as both a challenge and an opportunity for business schools.
Stanford GSB No Stranger to Digital Revolutions
Stanford GSB Dean Jonathan Levin delivered a luncheon keynote address later that day reminding his audience that the business school he now leads owes its existence and stature in part to prior digital revolutions. The birth of the semiconductor industry in the 1950s was the result of a collaboration between Stanford and industry, which later led to the rise of computing and venture capital, he noted.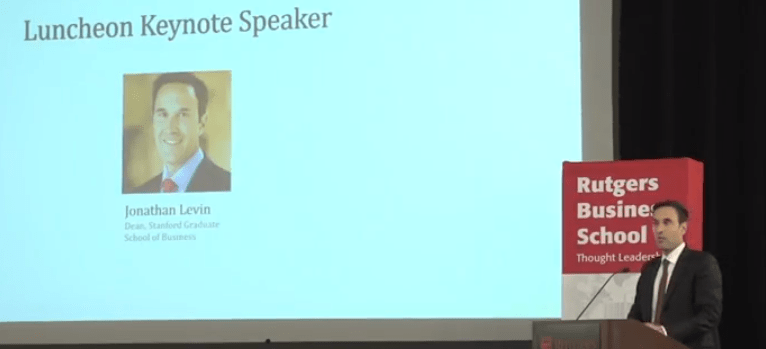 The current digital revolution—which is really a data revolution—likewise has significant implications for business school, he continued.
"McKinsey estimated that 15 percent of jobs could be automated by 2025 and 50 percent by 2050," Levin said. "That's within the career horizons of all our students."
But although those are huge numbers, they are numbers we have seen before, he continued, citing the automation of agricultural and manufacturing jobs in decades past.
"Although automation replaces many jobs, it also creates many new ones," Levin said, citing history as his guide. The adoption of the mainframe computer, for example, eliminated bookkeeping jobs but created data analytics jobs—resulting in no net change in employment.
The most important question to consider, Levin argued, is whether the next generation of technological advance will be the same as or different from prior ones.
"This is hard to answer," he said. "There are many reasons to think it will be the same but a few that suggest it will be different." The first indicator that this time is different is the pace at which things are changing now. The second is that where past automation has been about routine tasks, current automation could extend to less routine tasks—raising any number of ethical challenges.
Still, there's good news for business schools. "The most difficult skills to automate are the ones that we teach," Levin said. "How to communicate, how to manage, how to lead, how to collaborate and be effective workers in teams," he continued. "People talk about threats to management education, but we should also talk about the ascendancy of the skills that are taught."
Focus on Preparing Students to Be Data Literate, Ethical Leaders
Amid the current technological revolution, Levin and his team at Stanford are most focused on preparing students to be data literate—that is, to be effective translators who can communicate using data and use it to test hypotheses and refine business processes. Toward this end, the school has flipped some of its core classes—such as "Introduction to Statistics"—so that students watch video lectures and then work directly with data from companies to run machine learning regressions.
It is also easier than ever for Stanford students to take classes at other schools within the university. Increasing numbers of classes—including roughly half of all electives—are now taught using a paired teaching model in which academics and practitioners teach in tandem, Levin said. "The theory is that part of what will allow students to be effective is enabling them to work in a cross-disciplinary way."
Stanford is also focused on preparing students to be not just effective users of technology but also thoughtful, ethical business leaders, Levin continued. Facebook and other leading tech firms face mounting challenges around the social implications of how they use data and algorithms—with more and more businesses likely to face similar issues in the years ahead.
"We have been trying to bring questions about artificial intelligence (AI) into ethics classes and trying to bring ethics more into our AI classes," he said. Stanford has also been bringing in more speakers to examine the things that can go wrong with technology.
Finally, as a research institution, Stanford has continually been adding faculty with expertise in data science, machine learning, and AI.
"We have had to invest very significantly to support the work that they do, but I think it is a very good investment," Levin said.
Many of the most pressing questions of the day—around the future of work, how to manage automation in a way that augments (rather than replaces) workers, the fairness of algorithms, how to use data responsibly, how AI will affect economic growth and national competitiveness—call out for better thinking and clearer frameworks.
"Where are those questions going to be answered if not in business schools?" Levin asked. "Being in Silicon Valley and having been the beneficiary of a lot of tech development, it is something we feel is a responsibility for the university to be thinking about—making sure that the next generation works for the benefit of humanity."
Digital Transformation: Threat or Opportunity?
A recurring theme throughout the IGBE Conference was that technology will continue to disrupt business schools in both positive and negative ways. Business schools, meanwhile, must continue to refine how they prepare students to lead responsibly in a business world increasingly shaped by data, artificial intelligence, virtual reality, and other technologies.
Glenn Hubbard, now in his final year as dean of Columbia Business School, characterized the impact of today's digital revolution on business education as "far more of an opportunity than a threat."
To continue to prosper, business schools must adapt—and provide experiential learning experiences, Hubbard said. Business analytics will continue to be emphasized at Columbia and elsewhere—as will other areas in high demand by students, including fintech, blockchain, and AI.
For more details on the Rutgers Innovations in Graduate Business Education Conference, click here.