Home
»
Decision Tips
»
MBA DecisionWire Spotlight: Berkeley / Haas or UCLA / Anderson for Tech
Home » News » DecisionWire » MBA DecisionWire Spotlight: Berkeley / Haas or UCLA / Anderson for Tech
MBA DecisionWire Spotlight: Berkeley / Haas or UCLA / Anderson for Tech

In this MBA DecisionWire Spotlight, which highlights MBA candidates' choices as shared in Clear Admit's DecisionWire, we take a closer look at a candidate accepted to Berkeley / Haas and UCLA Anderson. The candidate is interested in tech and also received a scholarship offer, worth $80k, from UCLA / Anderson.

Clear Admit's Graham Richmond spent some time crafting a lengthy response: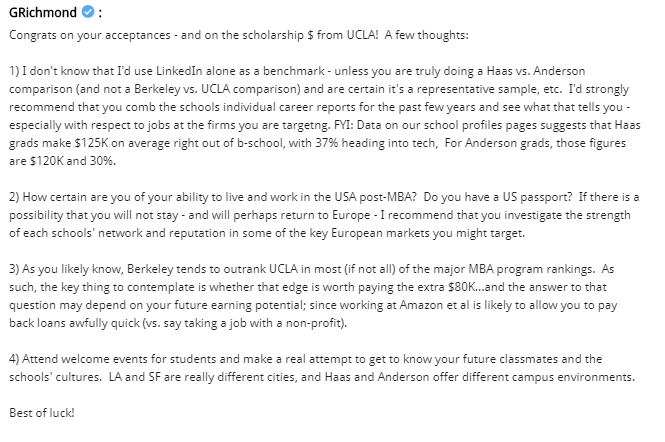 Another community member then chimed in:

The thread wrapped up with a longer-term view:

Congrats and best of luck with your decision!
See more feedback on MBA admissions decisions at:
 Do you know where you'll be going? Do you have a tough decision before arriving on campus? Share your story on DecisionWire. It's completely anonymous and only takes a minute to complete.
Posted in: Decision Tips, DecisionWire, Feature Small
Schools: Berkeley / Haas, UCLA Anderson
About the Author

Lauren Wakal
Lauren Wakal is the Editor-in-Chief of Clear Admit, responsible for overseeing content creation for the site. Lauren has been covering the MBA admissions space for more than a decade, from in-depth business school profiles to weekly breaking news and more.
Sign Up For Our Newsletter