In this MBA DecisionWire Spotlight, which highlights MBA candidates' choices as shared in Clear Admit's DecisionWire, we highlight a few posts in which brand was an influential factor.
Our first candidate gained acceptance to Duke / Fuqua, Michigan / Ross, and UVA / Darden, but wondered about the brand power of a parent university: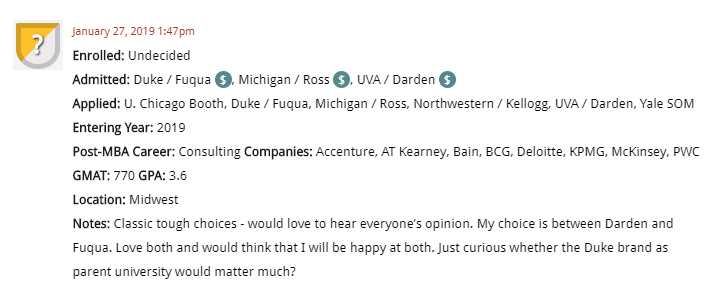 Community feedback was geared towards personal interest over brand strength:

The next lucky MBA candidate had a choice between Dartmouth / Tuck and Northwestern / Kellogg, with Tuck offering $144k.  This time, the candidate wondered about brand v. debt:

Clear Admit's resident admissions expert, Alex Brown, offered the following perspective:

Another community member chimed in to run with the scholarship:

The original poster then returned:

A fellow Tuck and Kellogg candidate then chimed in:

Congrats on your acceptances and best of luck with your decision!
See more feedback on MBA admissions decisions at:
Do you know where you'll be going? Do you have a tough decision before arriving on campus? Share your story on DecisionWire. It's completely anonymous and only takes a minute to complete.