This edition of our Admissions Director Q&A series takes us to the Kellogg School of Management of Northwestern University.  We first met Renee Cherubin this past summer when she stepped into the role of Senior Director of Full-Time MBA Admissions.  Prior to Kellogg, Cherubin spent nine years in strategy consulting and talent at Deloitte Consulting. She earned her MBA from Kellogg in 2006 and had also graduated cum laude with a bachelor's in business from Miami University.  Now, she is an active member of the admissions leadership team focused on attracting the best and brightest candidates to Kellogg's full-time degree programs (including Two Year, One Year, MMM, JDMBA, MD-MBA programs) as well as the M.S. in Management Studies (MSMS) program.
Cherubin has so much to share about Kellogg's extensive opportunities–both internationally and on-campus–as well as how MBA hopefuls should approach the Kellogg admissions process.  Read on for rich details about the MBA program and their admissions process.
Clear Admit: What's the single most exciting development, change, or event happening at Kellogg in the coming year?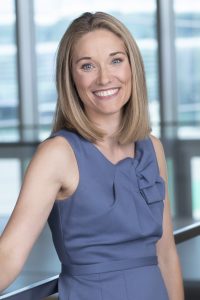 Renee Cherubin: A key addition to our Kellogg community is the arrival of our new dean, Francesca Cornelli. Francesca is our third subsequent female dean, succeeding Sally Blount and interim dean Kathleen Hagerty. She joins us from London Business School and brings expertise in private equity, innovation policy and corporate governance.
Francesca's appointment is a reflection of how globally minded we are. She will join a culture where there is already a spirit of global collaboration–you walk the halls of this building every day and constantly hear multiple languages and diverse points of view. It creates a dynamic where without even leaving campus, you will have global exposure on an hourly basis.
Another exciting development is the addition of several new experiences to our Complete Immersion in Management (CIM) orientation for incoming Kellogg students, to drive home what it means to be an inclusive leader. We've put more emphasis on small group interactions, time for self-reflection, and experiential exercises–all of which will allow students to make deeper connections with classmates.
Inclusion is one of Kellogg's most deeply held values, so it is a top priority for us that new students come to value self-awareness and the differences in others by connecting and forming relationships, while simultaneously developing inclusive leadership skills.
CA: What is the one aspect of your program that you wish applicants knew more about?
RC: Our global travel opportunities are a very special aspect of the Kellogg experience. Nearly all students spend some time abroad while completing their MBA, and 40 percent of students pursue two or more global opportunities. Some examples include:
More than 90 percent of full-time students participate in KWEST, which stands for Kellogg Worldwide Exploration Student Trips. Each trip is designed and led by five second-year students, and includes ~20 incoming students. They intentionally travel in small groups to form a core community before the academic term officially starts. Every KWEST trip goes to a unique location–as far away as New Zealand and as close as Western Canada–and every detail is planned exclusively by students for students.
Another example is our Global Initiatives Management course, or GIM. Students take a 10-week course in Evanston to learn about the business climate in a certain country, and at the end, they travel to that country together for 10 days to work on an independent research project. One of our recent GIM classes, "Branding the Nation" visited the capital of Brazil, where they spent time with Brazil's Minister of Justice, Sergio Moro.
Kellogg's Global Lab course offers students a unique opportunity to work in small groups to complete an international consulting project. The students spend their first ten weeks on-campus conducting research and analysis for their clients. Then, they travel worldwide to client sites, spending their final weeks completing research and presenting final recommendations. One of this year's projects was working with Grupo Exito, the largest South American retail company, to create more cohesive strategy for media planning and digital marketing.
Additionally, curricular innovation continues to be a big development for us. We have introduced three new pathways in 2019: Tech Management, Energy and Sustainability, and Asset Management. A pathway is a cross-functional sequence of courses that addresses a particular skill set or industry. We typically launch our pathways in response to student and recruiter demand.
We created our Tech Management Pathway because 1 in 4 students of last year's class were recruited into technology positions, such as product management and product marketing. The Energy and Sustainability Pathway was created because our students are increasingly interested in the sustainability sector.
We created our Asset Management Pathway because Financial Services is our third most popular industry choice for our graduating students. The pathway focuses on investing in publicly traded assets and developing a core set of valuation skills. A key part of the pathway is its experiential learning course offerings–including the Asset Management Practicum, where students manage long/short equity portfolios that have up to $10 million in assets.
CA: Walk us through the life of an application in your office from an operational standpoint. What happens between the time an applicant clicks "submit" and the time the committee offers a final decision (e.g. how many "reads" does it get, how long is each "read," who reads it, does the committee convene to discuss it as a group, etc.)
RC: By the time an applicant clicks submit, we understand that they've put extensive time and effort into the application. Therefore, our goal is to give each application a very thorough review to get to know to know each candidate as much as possible.
We have student readers, who look at the application from the standpoint of how an applicant might contribute to a team or to a class. We have staff readers, who have greater knowledge around various industries, career paths and educational systems. And we have director readers, who are responsible for shaping the class as a whole.
All of these viewpoints come together ensuring that we are giving the application a full review, understanding all aspects an applicant would bring to Kellogg and what they hope to get out of the MBA.
CA: How does your team approach the essay portion of the application specifically? What are you looking for as you read the essays? Are there common mistakes that applicants should try to avoid? What is one key thing they should keep in mind as they sit down to write?
RC: We are looking to get to know candidates beyond their test scores and resumes. The essays are a great opportunity to go beyond what you do for a living to show us "the how" and "the why"–how do you solve problems? How do you interact on teams? Why are the values you hold important to you? This allows us to get to know the candidate, understand what they can bring to the class, and envision how a Kellogg MBA will enable their path.
The most common mistake we see however, is when a candidate tells us what they think we want to hear. This can lead to us not understanding how career goals fit with past experiences, or a misunderstanding on why they want an MBA in the first place.
One thing I always like to reiterate is to make sure the essay represents you and only you–could anyone have written a similar essay, or are you giving us insight into how you think and work? If it's the latter, your essay is probably on the right track.
CA: How many essays would you wager you've read in your tenure at Kellogg? Thinking about the essays that have been the most memorable, is there something they have in common? 
RC: Too many to count! But, there are definitely some that I specifically remember. The essays that have resonated with me most are the ones where applicants are genuine and vulnerable in sharing their stories.
But just as important, some of the best essays I've read are the ones that are clear and direct. When an applicant can connect the dots and answer all parts of a question, it leaves the team with a clear understanding of how they would be able to contribute to the classroom and the community at Kellogg.
An alumna told our team about a trick she used when applying, which I think is a great piece of advice for prospective students: Take the prompt off the essay and have a friend read it. If the friend can't tell what questions you were answering, it means the essay isn't clear enough yet.
CA: Could you tell us about your interview process? Approximately how many applicants do you interview? Who conducts the interview (students, admissions officers, alumni) and what is the nature of the interview (blind, non-blind)?
RC: Because collaboration is such an important part of the Kellogg culture, we seek to interview as many applicants as possible. Every applicant will choose either "on-campus" or "off-campus" as their interview location.
For on-campus, the applicant with schedule their interview and come to Evanston for a visit. For off-campus, we will search for an alum in the location of the applicant and seek to pair them locally.
The interview notes are then reviewed by our application readers alongside the rest of the application, to provide a well-rounded view of the candidate.
While we highly value the interview, it is just one piece of getting to know an applicant. Kellogg continues to be one of the only schools with a video essay component. So, while the 1:1 interview is important, the video essays provide an additional way for our team to meet applicants, no matter where they are located in the world.
CA: Anything else you would like to add?
RC: The Kellogg education is shaped by real-world experiences that allow students to meaningfully develop their leadership capabilities, in the areas of their choosing. Our experiential learning opportunities are a key component of the Kellogg experience that set our program apart.
Our Private Equity Lab, for example, is a course that allows students the opportunity to be placed in a quarter-long internship with a private equity firm. Students are fully immersed in the day-to-day operations of the fund – assisting with deal selection, due diligence and investment efforts.
Additionally, Kellogg collaborates with Northwestern's various schools as a part of NUvention, an experiential program that exposes students to the entire innovation and entrepreneurial life cycle of products in various industries such as energy, transportation and the arts. The NUvention Medical program in particular, walks students through a number of product, intellectual property, regulatory and business development steps as an entrepreneurial or intrapreneurial team.
Another gem of the Kellogg experience is our Career Management Center (CMC) and the tremendous amount of resources and support it offers to students.   
The CMC is home to specialized industry coaches that offer unlimited one-on-on career coaching. It also hosts customized workshops, on topics such as interviewing etiquette, salary negotiation and crafting elevator pitches, for students at every phase of the recruitment cycle.
My favorite CMC offering is the series of industry-specific career treks that take place throughout the year, allowing students to spend time meeting with Kellogg alumni leaders for discussions and Q&A. Treks take place across all different industries, such as Venture Capital, Healthcare, and Retail & Luxury Goods, among many others. Treks also take place all over the country–last year, 36% of our treks took place on the West Coast, reflecting our students' strong interest in that region.