Northwestern Kellogg's incoming Class of 2021 reflects the intelligence and diversity that the school is known for.
As Renee Cherubin, the senior director of Full-Time MBA admissions said, "Our incoming Class of 2021 class reflects everything that makes me proud to be an alumna and current leader at this school, namely the incredible depth and breadth of diversity that Kellogg strives for. We've built a class that is not only incredibly intelligent, but also includes a rich array of cultural backgrounds, industries, functions and perspectives — all of whom will come together to form a tight-knit community."
While there were no significant changes this year over last, there are a few areas of the 474-person class that we should highlight.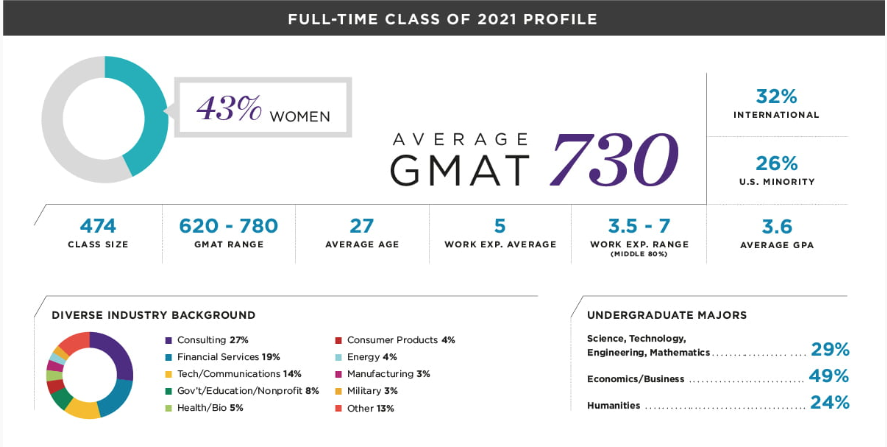 Intelligence Still Reigns Supreme
While the average GMAT score dropped slightly this year—down to 730 from the record high of 732 the two previous years—it is still an impressive number. On top of that, the incoming class has an average GPA of 3.6 from a range of undergraduate majors.
Economics and business majors make up the majority of the Kellogg Class of 2021 (49 percent). Science, Technology, Engineering, and Mathematics undergraduate majors make up 29 percent of the class while Humanities majors make up the remaining 24 percent—a similar break down to last year.
Diversity Remains Important
As for diversity, 43 percent of the Kellogg Class of 2021 are women—a 3-percentage-point drop from last year. However, that doesn't take Kellogg out of the running as one of the leading business schools in the world in regards to gender equity.
Meanwhile, international students make up 32 percent of the class and underrepresented minorities account for 26 percent of the class. These stats, although one to two percentage points lower than last year, still help underscore how successful Kellogg is at creating a diverse incoming class.
Consulting, Financial Services, and Tech Rule
And these highly diverse students come from a wide range of professional backgrounds with an average of five years of work experience. The most popular industries being: consulting (27 percent), financial services (19 percent), and tech/communications (14 percent). Other top industries for the Kellogg Class of 2021 include government/education/nonprofit (8 percent), health/bio (5 percent), consumer products (4 percent), energy (4 percent), manufacturing (3 percent), and military (3 percent).
Check out the Full-Time Kellogg Class of 2021 profile here.  You can also learn more about Kellogg MBA students in our Real Humans series.