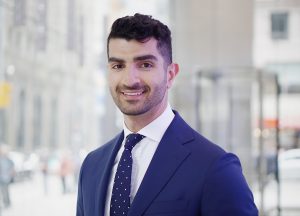 Rami Bidshahri, NYU Stern MBA Class of 2021
Age: 27
Hometown: Toronto, Ontario
Undergraduate Institution and Major: University of British Columbia, Bachelor of Arts
Pre-MBA Work Experience (years, industry): I had 4 years of experience prior to matriculation, 2 years in public accounting at PwC, and 2 years in the Corporate Finance group at KPMG in Toronto.
Why business school? Why now?
The short answer to this question is more options. To put it more broadly, getting your MBA will give you a two-year window in which you can pivot your career, establish networks in different industries, or give entrepreneurship a shot.
Furthermore, if you look at your career linearly, you realize that the friends that you make in business school could one day become your co-founders, investors, and enablers. When you put that way, business school is an investment for life. Your expected return is based on what you make of it.
I realized that I wanted to go to business school when I was in my second year of college. My first college internship was working for a recent top U.S. business school graduate who had moved back to Vancouver. He quickly became a friend and a mentor. I got to see first-hand that attending business school had made him a better critical thinker and rounded out many of his soft and hard skills.
With that plan in mind, I entered the world of public accounting only to realize that it wasn't for me. I enjoyed the client facing aspects of the role, but accounting exists in a world in which you are looking backwards to produce transparent financial information rather than looking forward and making strategic financial decisions.
After passing my Canadian CPA exams I decided to break into finance and was able to do so after lots of coffee chats and interviews. During my time at KPMG Corporate Finance, I got to work on multiple real estate transactions, private placement debenture issuances, and balance sheet restructuring. I found finance to be much more rewarding and challenging and wanted to go deeper into the industry. A top U.S. MBA was the best way to give more structure to my hard skills and get access to a much wider array of opportunities.
Why NYU Stern? What factors figured most prominently into your decision of where to attend?
Geographically, it's impossible to compete with NYU Stern since it embodies the city of New York. The Financial District is two subway rides (4 minutes) away from campus. The campus itself is in the heart of Lower Manhattan surrounding Washington Square Park.
Furthermore, in financial services and especially investment banking, Stern consistently ranks as number one in placing graduates in industry. Business school should be seen as an academic and social experience. Having the social component occur in New York city is hugely powerful.
What do you think is your most valuable or differentiating contribution to the Class of 2021?
I grew up in 3 different countries, which taught me a lot about being able to change my paradigm of thinking when in different settings or surrounded by different cultures. This allows me to connect well with the international students in my class. I'm simultaneously from Canada, which is culturally very similar to the U.S., allowing me to connect well with my American classmates. Lastly, as a career switcher from accounting to finance, I understand the plight of those who are looking at pivoting into different careers.
Fun fact that didn't get included on your application?
I've met Drake's dad.
Post-MBA career interests?
I am keen on staying in finance and pursuing a career in investment banking.
Advice to current prospective applicants:
–One thing you would absolutely do again as part of your application process?
Applying no later than round 2 and giving myself lots of time with the GMAT. Also, not worrying about the applications until I was completely done with the GMAT.
–One thing you would change or do differently?
Seeking out more current students to learn more about the application process.
–Part you would have skipped if you could—and what helped you get through it?
There wasn't really much in the process that I found unnecessary. The process is just comprehensive enough to capture your profile and just concise enough to not feel like a drag.
What is your initial impression of NYU Stern's students/culture/community? 
We just finished a week of orientation, which is called LAUNCH at NYU Stern. Stern is very keen on assessing the EQ component of its applicants, and that definitely comes to light when the class gets together. The students are intellectually and socially mature, supportive, and just competitive enough to keep things interesting. Diversity is an important factor in the culture of the school and it's widely celebrated since it adds a strong sense of community.
One thing you have learned about NYU Stern that has surprised you?
The alumni base is wider, deeper, and stronger than I realized. Once I moved to NYC, I met lots of Stern alumni that were in many different industries.
Thing you are most anxious about in your first year?
Securing my summer internship. Recruitment for structured industries like banking and consulting starts right out the gate, in the first semester. This is probably true for most first-year students, so I guess it's part of the process.
Thing you are most excited about in your first year?
Experiencing New York city as a graduate student and making lifelong friends and memories.