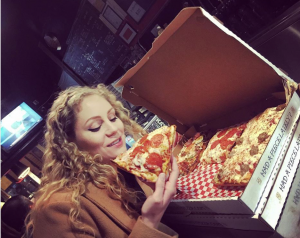 Lauren Marinaro, NYU Stern MBA Class of 2021
Age: 30
Hometown: Medina, Minnesota
Undergraduate Institution and Major: University of Wisconsin, Madison. B.S. in Biochemistry, Honors in Research – Go Badgers!
Pre-MBA Work Experience (years, industry): Medical Device Industry (Boston Scientific), 4 years; Smart Cities / Startup / Tech (ReadWrite), 2 years; Tech / Telecom (Verizon), 2.5 years
Why business school? Why now?
Solving big problems that have an impact beyond the bottom line is my passion. This began at UW Madison where I studied Biochemistry and completed cancer research at various global institutions. I moved into product launch and clinical trial management in the medical device industry (Boston Scientific, New York), working to introduce new technology to improve patient outcomes.
After four years, I decided I wanted a faster-paced industry where I could make a greater impact. I moved to San Francisco and joined a startup as their director of Smart Cities. I built and managed a business unit to connect Internet of Things startups with enterprise partners and city leaders to pilot new technologies for safer, more sustainable cities. I translated this into a role at Verizon's Innovation Center where I would consult our Fortune 500 executive partners on how to implement new tech (like 5G) to transform their business.
Not surprisingly given my passion for the health sciences, my favorite engagements were those working with healthcare partners and developing digital strategies to improve patient compliance and create more transparent, accessible care. However, rather than just consult on new technologies, I wanted to sit on the other side of table and implement new digital strategies – hence the MBA.
With an NYU Stern MBA, I will gain the business foundations to move into digital healthcare consulting, working with clients across the healthcare ecosystem to actually implement new technology and digital strategy for better patient care.
Why NYU Stern? What factors figured most prominently into your decision of where to attend?
I gained acceptance into three top-tier business schools, which frankly was a huge relief. However, in order to intelligently make a decision, additional research was necessary. Given my interest in digital healthcare consulting, I sought out advice from experts in this industry. The best recommendation was to consider three components:
Reputation in market
Curriculum, breadth and depth for my goals and agenda, and
How I feel about the school, the people I've met, the philosophy, cultural aspects and fit.
NYU Stern already had the reputation, but what differentiated Stern for me were the people, professors, and access to opportunities that only NYU and the greater NYC could offer. For example, the Leadership in Organization class by Professor Pettit emphasized an analytical yet empathic approach to teambuilding and leadership that focused on understanding motivation and leading with values. This, and Professor Pettit's unique, interactive style of teaching, inspired me and resonated with my personal goals.
The centrality of NYU Stern was very apparent upon visiting the campus, lending itself as a hub for top global executives to pop by for a quick lecture or fireside chat. This and the easy access to "Silicon Alley," New York's tech and startup scene, was very attractive for me to have a well-rounded experience and access to innovative teams and people.
Ultimately, it was my future classmates and MBA 2s that solidified my decision. Their energy, drive, authenticity, and intelligence originating from truly diverse backgrounds and experiences, created an environment that was engaging and collaborative. I literally felt tingles after connecting with one of my, at the time, future classmates on the current state of healthcare and what we wanted to do to positively impact it.
And while we could lean heavily into career interests and aspirations, it was equally easy to connect on personal passions, going as basic as sharing recipes for various international cuisines like Vietnamese five-spice chicken – yum.
Ultimately, this is a very personal decision one has to make by weighing all the possibilities, reaching out to people and researching the various opportunities, and looking internally to identify the right fit and where you feel you will be most successful.
What do you think is your most valuable or differentiating contribution to the Class of 2021?
I think my diverse career experience, from biochemistry research to medical devices and tech, provides me with a breadth of knowledge and a network that is unique to the typical business student. I hope to leverage this experience and network to support my classmates as they pursue their dream careers across the country and in new and developing industries.
Fun fact that didn't get included on your application?
Actually, NYU Stern's Pick Six, the visual personal expression component of the MBA application, offers a lot of opportunity for "fun facts," which speaks to their interest in bringing together a well-rounded class. My favorite is that I am on the Advisory Board of Techbridge Girls, a nonprofit that inspires girls from low-income communities to discover a passion for technology, science, and engineering. Through this, I found a greater purpose: to affect change for the next generation of women.
Post-MBA career interests?
Digital Healthcare Strategy/Consulting.
Advice to current prospective applicants:
–One thing you would absolutely do again as part of your application process?
GMAT Tutor!! If you need to get that score up, don't be afraid to ask for help.
–One thing you would change or do differently?
Not stress as much (of course, hindsight is 20/20), but remember that self-care is necessary to be at your best, think clearly, and represent yourself well in interviews and on paper.
–Part you would have skipped if you could—and what helped you get through it?
GMAT. However, by the end of it (with the help of my tutor) I actually enjoyed studying for the GMAT because I saw the patterns and was able to think more quickly. It became a puzzle I was eager to solve.
What is your initial impression of NYU Stern's students/culture/community?
I get chills just thinking about it! The conversations and connections I've made so far have continued to solidify my decision for Stern. The students are not only smart, but very interesting people. They epitomize the diversity, creativity and energy of New York City itself. They have an openness to new ideas and are eager to engage in diverse thought. They are well-rounded, usually having several passions whether music, sports, art, etc. and are generally accomplished in several areas.
Despite all this, they are incredibly down-to-earth, warm, inviting, and accepting. They are respectful and thoughtful – by this I mean, they won't leave something on the table because it's awkward to talk about, rather they will address it and try to define the differences in thought/culture to move on more educated and with a new perspective.
They are all leaders in that they listen well, engage and motivate the people around them. And yet, they are all so different, so special, that even when you think you've gotten to know someone, they surprise you with an interesting anecdote, creative remark or thoughtful witticism.
This is the community and culture of NYU Stern – IQ+EQ. A culture that thrives on diversity, uniting our differences through a foundation of respect, genuine curiosity, and a desire to have a positive impact beyond ourselves.
One thing you have learned about NYU Stern that has surprised you?
Stern admitted women from its inception (as the School of Commerce) in 1900, and by 1936 they made up 15 percent of the school's total enrollment.
Thing you are most anxious about in your first year?
Not having the time to do everything I want to do – join/participate in leadership positions for various clubs, join all the social activities, and succeed in recruitment and academics!
Thing you are most excited about in your first year?
Getting to know and form strong relationships with my classmates/future colleagues/business partners, Stern professors and the greater Stern community.