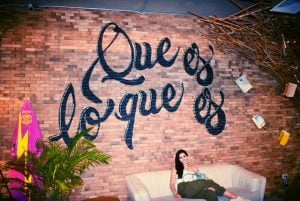 Melanie Gonzalez, NYU Stern MBA Class of 2021
Age: 25
Hometown: Miami, Florida
Undergraduate Institution and Major: New York University, B.F.A. in Dance with a Double Major in Economics
Pre-MBA Work Experience (years, industry): I have been working in Private Wealth Management for the last four years. The first year I worked at Morgan Stanley and the last three years at Merrill Lynch.
Why business school? Why now?
At Merrill Lynch I had the opportunity to work in four very different roles in the International Wealth Management department. This allowed me to see the business from multiple angles and develop various skills. Through these experiences, I found myself most excited when working on project-based work, solving difficult problems, and driving changes in a fast-paced environment.
Always thinking ahead, I knew I needed more education to continue to go forward. When thinking about the CFA vs. MBA, I really thought about what I truly wanted to pursue in the future. While I learned so much at Merrill Lynch, I realized that Wealth Management was not the best fit for me.
With the skills I developed in client relationship management, project management, and data analysis I decided I want to pursue consulting. Getting an MBA will allow me to make this career pivot.
Why NYU Stern? What factors figured most prominently into your decision of where to attend?
NYU Stern was my first choice for business school for a variety of reasons, including location, school community, and the customizable curriculum.
After graduation, I would like to remain in New York City. NYU provides easy accessibility to arrange informational coffee chats stop by corporate offices and attend networking events. Stern also offers experiential learning opportunities outside the classroom where you can help solve real-world problems across diverse industries.
I was also very drawn to Stern's community. Our incoming class is roughly 350 students – smaller than many other top business schools. I felt the size of the student body would provide a tighter-knit community and that has proven to be true thus far. Additionally, I interviewed on Stern Perspectives Day. The event was not actually a day, but a weekend of programming where I met students and staff. Everyone was genuine and supportive. It immediately felt like a great fit!
Finally, I would say NYU's customizable curriculum was another deciding factor. Stern has a plethora of specializations to help you define your educational objectives. The curriculum also provides students the opportunity to take any class of interest.
Even though I am pursuing consulting, I want to take unrelated classes in Real Estate and Law. Given the variety, the school attracts people interested in a wide range of industries. I am surrounded by a diverse student body interested not just in consulting, but banking, tech, brand management, sustainability, etc. It's really important to me to be in a classroom with people who have different post-MBA career goals.
What do you think is your most valuable or differentiating contribution to the Class of 2021?
As a Fellow for The Consortium for Graduate Study in Management and as a Forté Fellow, I look forward to working with NYU Stern on initiatives that focus on diversity and inclusion for both underrepresented minorities and women. I have already expressed my passion for diversity and inclusion to the Stern office, and I'm excited to work with them on these initiatives.
Fun fact that didn't get included on your application?
I went to a Performing Arts High School similar to the movie "Fame." I also danced competitively growing up and placed 1st at many regional and national dance competitions.
Post-MBA career interests?
Strategy Consulting.
Advice to current prospective applicants:
–One thing you would absolutely do again as part of your application process?
I would absolutely apply to NYU Stern again through the Consortium! The Consortium is a nonprofit alliance of top-tier business schools and corporate partners dedicated to increasing the number of underrepresented minorities in business education and corporate leadership.
Through the Consortium, I was able to come to Stern with an amazing cohort of 25 individuals and meet them prior to the school's orientation. It also gave me the opportunity to network and interview with companies over the summer and meet incredible people from other top business schools!
–One thing you would change or do differently?
I would have approached my essays and NYU Stern's "Pick Six" differently. While I was happy with the application I submitted and it was a true reflection of myself, I definitely did a lot of overthinking and rewriting. At first, I was focused on what I thought the admission office wanted to see. We are all unique and different, do not second guess what you bring to the table.
–Part you would have skipped if you could—and what helped you get through it?
I would have loved to skip the GMAT. I initially took it right after college when I had free time and then waited two years to take it again. When I was re-taking it, it helped to allocate time and adhere to a study schedule.
What is your initial impression of NYU Stern's students/culture/community?
NYU Stern's strong emphasis on IQ+EQ, possessing both intellectual and interpersonal strengths is very apparent when you first step on campus. The staff and second year students were welcoming and eager to answer any questions. My classmates starting with me were ambitious, passionate, generous and inclusive. It's evident that students want one another to succeed. I was even able to experience this supportive environment before I got on campus at The Consortium's Orientation Program week.
One thing you have learned about NYU Stern that has surprised you?
While I knew that Stern MBA students landed amazing internships and jobs across a variety of industries and functions, I was pleasantly surprised to see that the main reason was because of the support from the school. Stern's Office of Career Development and second-year MBA Career Coaches do a phenomenal job partnering with students to prepare them for the interview process through resume reviews, mock interviews, 1:1 coaching, etc. They truly help students navigate the process from beginning to end. Additionally, the Office of Career Development co-sponsors trainings and bootcamps like Financial Modeling and Casing with Stern's student clubs. The resources are great for anyone looking to make a pivot in their career.
Thing you are most anxious about in your first year?
I am slightly anxious about recruiting. It will be a huge time commitment that I will need to balance along with classes, extracurricular activities, social events and my personal life. I have been told the first semester goes by very fast and I know I will need to prioritize.
Thing you are most excited about in your first year?
I am most excited to build relationships with my classmates! We are currently wrapping up orientation and I can't wait to see how these relationships will evolve.