We continue our Admissions Director Q&A series with a stop in the Southern U.S.—Atlanta, Georgia, more specifically.  Melissa Rapp is the Associate Dean of MBA Admissions at Emory University's Goizueta Business School there. In this role, she leads the team responsible for the recruitment, evaluation, and matriculation of students across Goizueta's portfolio of MBA programs.
Rapp has worked at both small and large institutions helping to form and implement admissions strategies. Most recently, she was Director of Admissions for Full-Time MBA and MSMS programs at Kellogg School of Management at Northwestern University. She holds an undergraduate degree from the University of Kansas and a masters from Baker University.
Read on for more from Rapp about Goizueta's centennial, the school's holistic approach to applications, the hallmarks of a fantastic essay, an inside look into the interview process, and more!
Clear Admit: What's the single most exciting development, change, or event happening at Goizueta in the coming year?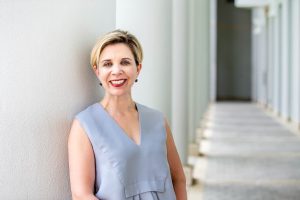 Melissa Rapp: This year marks Emory University Goizueta Business School's centennial. As one of the nation's first business schools, we are proud to bring 100 years of business education and experience into the classroom. Goizueta has maintained its place among the top-ranked business school by staying true to the principles on which it was founded:
Provide students with an intimate, collaborative learning environment
Create a curriculum combining essential business knowledge with hands-on, action-based opportunities
Partner with the business community to make an impact far beyond campus
We are using the centennial year to reflect on our past but most importantly celebrate our future.
CA: What is the one aspect of your program that you wish applicants knew more about?
MR: Applicants should understand how deeply Goizueta is integrated into the regional, national, and global business communities.
Rooted in Atlanta, the city with the third-most Fortune 500 headquarters in the U.S. and a thriving—and growing—start-up culture, our students have direct access to a wide range of industries and companies from major consulting firms to multi-national FinTech companies and from dynamic startups to global icons like The Coca-Cola Company, Delta Air Lines, and The Home Depot.
This unique convergence of industry combined with our small class sizes gives us the flexibility to annually update elective offerings based on market trends, provide students intimate access to corporate partners, and create a personalized job recruiting experience.
Additionally, Atlanta offers all the benefits of a major U.S. city—arts, music, sports, dining, public transit—at a fraction of the cost of living.
CA: Walk us through the life of an application in your office from an operational standpoint. What happens between the time an applicant clicks "submit" and the time the committee offers a final decision (e.g. how many "reads" does it get, how long is each "read," who reads it, does the committee convene to discuss it as a group, etc.)?
MR: We take a very holistic approach to application review. Every file that comes into our office is read by at least two staff members. Candidates who have taken advantage of our open interview period and already completed an admission interview move straight in to evaluation. Those who have not interviewed yet are first screened to determine if they will be invited to interview.
With our small-by-design classes, it is important for us to really get to know candidates through the interview process to ensure they are the right fit for Goizueta. After staff review, a director will review the file and make a final decision. As the class fills, we have to be aware of what each person is bringing to the class and make sure we have the level of cultural and professional diversity that enriches the MBA experience for everyone.
CA: How does your team approach the essay portion of the application specifically? What are you looking for as you read the essays? Are there common mistakes that applicants should try to avoid? What is one key thing they should keep in mind as they sit down to write?
MR: The essays are a chance for the applicant to tell their story in their own words. We have two essay questions: one focused on career goals and the other on leadership. Each of these topics is important for the admissions committee to understand what is impossible to know through transcripts or test scores alone.
Among Goizueta's values are collaboration, courage, and accountability. We work diligently to admit applicants who share those values. The essays are one place for candidates to speak to what those values mean to them. We also have a video essay, which is a great way for candidates to showcase their personality. We really enjoy it when candidates leverage the essays to share their unique stories.
CA: How many essays would you wager you've read in your tenure at Goizueta? Thinking about the essays that have been the most memorable, is there something they have in common?
MR: Too many to count! My favorite essays are the ones that demonstrate three things:
The candidate has taken the time to get to know the school and the program they are applying to. They understand the academics, the community, and expectations of the program.
They have thought about their journey to our MBA program and what they would like their journey to be afterwards.
They are very honest about the first two things. They don't overthink it or try to parrot everything from the website back to us, but they provide their whole story in a clear way. When that happens, it is very satisfying to read the application because you know they will be a good fit.
Those are the best essays.
CA: Could you tell us about your interview process?  Approximately how many applicants do you interview? Who conducts the interview (students, admissions officers, alumni) and what is the nature of the interview (blind, non-blind)?
MR: Goizueta provides any candidate the option to interview during our open interview period, which occurs before the Round 1 deadline. It is a great opportunity to get a head start on the application process and guarantee you will be interviewed.
After the Round 1 application deadline, interviews are by invitation only. The majority of candidates are interviewed by staff members on campus. We encourage candidates to come to campus, but we do also interview in a select number of markets each year.
For candidates who may be deployed or have other challenging circumstances, we can accommodate them with a Skype interview, but our preference is to meet face to face. Interviews are blind with the exception of the information on a candidate's resume. Interviews are a great way for us to get to know candidates, but it is also a great opportunity for candidates to ask questions.
CA: Anything else you would like to add?
MR: Choosing an MBA program is an important life decision. It's where you'll spend one to two years of your life, make lasting friendships with your classmates, faculty, and staff, and launch the next phase of your career. I encourage candidates to dig deep when researching programs.
Don't just look at rankings and career placement data (although Goizueta's numbers are great)! Also look at the curriculum, co-curricular opportunities, and community you will be a part of. Can you tailor your studies to your industry and field? How much time is spent in lectures versus experiential learning? How many leadership opportunities are available to students? How do people treat one another when you visit campus? What is the city like that will be your home for the next couple of years?