The mountain of Round 2 deadlines is just around the corner, and lucky MBA applicants are also trying to choose a business school based on good news from Round 1.  Clear Admit's admissions experts, Graham Richmond and Alex Brown, step up in this episode of Wire Taps to provide applicants and accepted candidates with tips on how to make the most of MBA admissions.
They've pulled profiles from MBA ApplyWire and MBA DecisionWire to offer strategic advice to business school hopefuls.  This week, Graham and Alex review an entry from an educator turned product manager. They also advise an applicant looking for a career in social impact and another accepted candidate trying to decide where to attend.
If you want a chance to be featured on the podcast, be sure to post to MBA ApplyWire or MBA DecisionWire.  Happy listening!
This podcast episode is brought to you by Bain & Company.

Check out Bain's new podcast, Beyond the Bio! Keith Bevans, a Partner and global head of consultant recruiting, dives deeper into the lives, careers, challenges and triumphs of some extraordinary Bain people. Subscribe to Beyond the Bio here.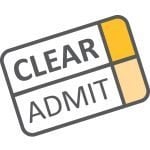 If You Like What You've Been Hearing, Please Subscribe and Rate Us on iTunes!
It's been wonderful seeing the audience for our podcast series continue to grow! Please, if you have enjoyed what you've heard, could you rank the Clear Admit MBA Admissions Podcast in iTunes? That can really help even more listeners find us. To ensure that you never miss an episode, you could even subscribe.
This episode was hosted by Graham Richmond and Alex Brown, and produced by Contributing Editor Jonathan Pfeffer. Thanks to all of you who've been joining us! One more time: Ranking us in iTunes can help others find us, too, and subscribing means you'll never miss a podcast.