In this edition of our Admissions Director Q&A, the Director of Graduate Student Recruitment, Rebecca Mallen-Churchill, joins us to discuss the W.P. Carey School of Business at the Arizona State University (ASU). ASU is located just outside of Phoenix, AZ, and the W.P. Carey MBA program boasts executive connections and an interdisciplinary curriculum.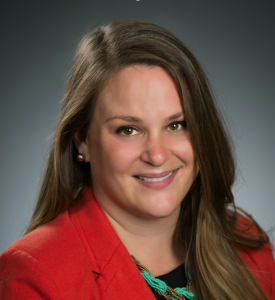 Mallen-Churchill graduated from ASU in 2005; while earning her degree in theatre and Italian, she also discovered her love for higher education while working for the Graduate Admissions office. After gaining work experience in the hospitality industry and traveling the world, Rebecca returned to Arizona and joined W. P. Carey in 2013.  In her time working with the graduate program's office, Rebecca has recruited students from every corner of the globe.  Read on for her insights into the MBA program, including curricular highlights, what to expect in admissions and more.
Clear Admit: What is the one aspect of your program that you wish applicants knew more about?
Rebecca Mallen-Churchill: Our interdisciplinary curriculum.  It is increasingly standard for b-schools to tout this style of curriculum, but most often what they mean is that their business departments work alongside or with each other – finance collaborates with marketing; consulting works on projects with data analytics.  When we say this, we really capitalize on our home here at the #1 most innovative university in the country.  Our interdisciplinary learning labs pair our Full-time MBA students with graduate students across ASU.  They work on projects with students in Engineering, Education, BioDesign, Public Programs – the possibilities truly are endless.  This more accurately reflects many of the roles our students will be joining post-MBA; not everyone will work exclusively with other MBAs so our curriculum prepares our students for the real world.
CA: How might the applicant experience look different this year due to COVID-19? How would you advise candidates to get to know your MBA program and student community if they aren't able to visit your campus?
RMC: Everyone around the world has had to adapt very quickly to this mainly virtual world we now live in.  Because ASU has nearly 20 years of experience operating in the online space, this was not a difficult move for us.  Throughout the spring semester, we hosted our Preview Days and Admitted Student Weekend through Zoom.  If anything, this environment has provided more of a sneak peek into our programs that we have ever been able to provide.  Prospective student can very easily sit in on a class, meet with our program director and have coffee with an alum of the program.  Business is personal at W. P. Carey, and even though we can't meet with students face to face we are all still here to help.  Reach out directly to me to get connected with a recruiter and they can help understand what is important to you and can personally introduce you to the right people to help you understand more about W. P. Carey.
CA: Walk us through the life of an application in your office from an operational standpoint. What happens between the time an applicant clicks "submit" and the time the committee offers a final decision (e.g. how many "reads" does it get, how long is each "read," who reads it, does the committee convene to discuss it as a group, etc.)?
RMC: When we say business is personal, we mean it.  Every person's application is read by no less than 8 members of our admission operations team and the admission committee.  Once your application is complete, our team first reviews for interview consideration. Not everyone will be invited to interview, but if you are – you have made it through the first round!  Our recruitment team is available to provide you guidance on what to expect in the interview and even provide coaching – we want you to be successful! After your interview, you may have to wait a few days to a few weeks depending on the round in which you applied.  At the end of the round, the admission committee (which is comprised of recruitment and admission staff, deans, faculty and members of our career management team) meet to discuss each candidate.  Then final decisions are made and, if you are in, the first step is a congratulatory call from your recruiter!
CA: How does your team approach the essay portion of the application specifically? What are you looking for as you read the essays? Are there common mistakes that applicants should try to avoid? What is one key thing they should keep in mind as they sit down to write?
RMC: What a great question!  You'll notice quickly that we do not ask for a personal statement, nor will we accept one.  We have crafted questions that not only will tell us more about what you hope to accomplish by pursuing your MBA, but how you will contribute to the W. P. Carey community.  The biggest piece of advice I can give here….be yourself!  Speak from the heart, don't feel compelled to use "business" jargon if its not part of your normal speech.  By no means put anything in your essays simply because you think it is something that the committee wants to hear.  I promise – we'll know it's not genuine.  Proofread your essay.  Did you reference the right school?  Are there spelling errors?  Did you answer the question?  A good rule of thumb is to have someone else read your essay, cover up the prompt and have them guess it – if they can't, try again.  Keep in mind while you're writing that this is often times your first impression to the committee – we would much rather understand what is motivating you and what your passions are than read something that isn't really you, but you thought would be impressive.
CA: Could you tell us about your interview process? Approximately how many applicants do you interview? Who conducts the interview (students, admissions officers, alumni) and what is the nature of the interview (blind, non-blind)?
RMC: We think of the interview just as much as an opportunity for you the applicant to get to know us as it is for us to get to know you.  We approach the interview conversationally and try to set you at ease at the start.  While we give advice to prepare for the interview as you would a job interview, we are not attempting to intimidate you or act as "gatekeepers."  We are there to help answer your questions and get to know you!  Our interviews are invitation only and each year, roughly half of our applicants are invited to interview.  While we have been conducting all of our interviews online lately, typically our applicants are offered the option to come on campus if they live in or are visiting the US.  The interview is the applicant along with 1-2 staff or faculty members.  They typically last about 45 minutes with plenty of time for questions.  In addition to the formal interview, we also have many different ways for candidates to get a "sneak peek" on their interview day.  This ranges from lunch with current student ambassadors to sitting in on a class or meeting the faculty director.
CA: Tell us briefly about two notable professors at your institution.
RMC: Reynold Byers and Ned Wellman immediately come to mind!  Dr. Byers has been with our program since 2007 and is definitely a student favorite.  He has taught supply chain management and statistics in the program and I can't believe the number of students who were excited to take statistics at 8:00am, but then I heard it was Dr. Byers who was teaching it.  His students describe him as kind and outgoing, but still pushing them to challenge themselves with the high expectations that he sets.
Dr. Wellman has recently been recognized as one of the top 40 MBA professors under 40.  He will be taking over at the helm of our Executive Connections program in the fall (a unique program connecting each student with an Executive mentor), but his most popular class by far is Negotiations.  Students say his course has prepared them for real life interactions and negotiations they have encountered in their summer internship and full-time job opportunities, but also that it is fun.  He makes learning like a game while applying lessons that have a lasting impact on our students.
CA: Anything else you'd like to highlight about your MBA program or admissions process?
RMC: All of us here at W. P. Carey, from the recruitment team to our incredible faculty, are here to help you.  There is no question too big or too small.  We want to get to know you and help you determine if W. P. Carey is the right fit (plus who can argue with the weather in Arizona)!