Sponsored Content
In this podcast episode, Clear Admit's Graham Richmond welcomes a special guest to tackle a subject that many of our listeners are curious about: post-MBA career outcomes! Learn about planning your career path before, during and after an MBA with Eric D. Johnson, Executive Director of Graduate Career Services at Indiana University's Kelley School of Business.
Eric is known across the graduate management education industry for his innovative work in career services.  In addition to his role as Executive Director, he serves as co-director of the Kelley Leadership Academy, teaches courses on leadership and organizational behavior at Kelley and is a certified Executive Coach. Prior to joining the b-school, he was the CMO of Eli Lilly in the United Kingdom, worked in retail banking and more. He has an MBA from the Kelley School of Business and a BS in finance from Florida State University.
During the interview, Graham and Eric discuss how the job hunting process works once you start an MBA, especially for jobs in consulting, tech, and other popular target fields. Eric also digs into what you can be doing even before starting at business school to ensure a great post-MBA career outcome. They also talk about internships, interviews and more.
Happy listening!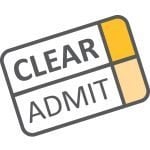 If You Like What You've Been Hearing, Please Subscribe and Rate Us on Apple Podcasts!
It's been wonderful seeing the audience for our podcast series continue to grow! Please, if you have enjoyed what you've heard, could you rank the Clear Admit MBA Admissions Podcast in Apple Podcasts? That can really help even more listeners find us. To ensure that you never miss an episode, you could even subscribe.
This episode was hosted by Graham Richmond and produced by Alex Kelly. Thanks to all of you who've been joining us! One more time: Ranking us in Apple Podcasts can help others find us, too, and subscribing means you'll never miss a podcast.
---
Learn More from the #1 Ranked Online MBA: Kelley Direct