Dimitri Esteban Alejo Giraldo, Michigan Ross MBA Class of 2022
Age: 31
Hometown: Colombia
Undergraduate Institution and Major: Dual degree: Chemical Engineering and Business Administration at Universidad de los Andes in Bogota, Colombia.
Pre-MBA Work Experience (years, industry): Brand manager for Latinoamerica at Uber for 4 years. Before that, I co-founded and ran my own startup for three years that bridged college students' and universities' class schedules through a web-based software application.
Why business school? Why now?
Latin America is going through a time of change and awakening and I want to continue fostering that transformation. I aim to unlock the potential of people and businesses to reshape our countries for the better with tech and social business. However, to achieve this, I need to understand and master the principles that only a top business school can provide. With the world reshaping, now is the time to redesign our frameworks to go beyond the pure aim of returning value to the stockholders.
Why Michigan Ross? What factors figured most prominently into your decision of where to attend?
To transform Latin America towards something greater also implies that I must become a conscious human business leader who transcends the sole vision and impact of a business manager. Ross has what I need to learn, integrate, and enhance those competencies and values, while also obtaining results right away. With the action-based learning and the community-driven principles, I can test and accrue real-time experiences. At the same time, with programs such as MAP and Business+Impact, I am able to expand my real-world insight on how to build a better world through business.
What do you think is your most valuable or differentiating contribution to the Class of 2022?
My international tech and social entrepreneurship perspective. In my last role as Brand Manager at Uber, I experienced the radical impact that tech and business can have to disrupt Latin American people's lives and institutions. At the same time, my experience as an entrepreneur with my startup Academical made me realize what attributes and activities are key to launch tech solutions that can thrive in our region. These two elements have fundamental distinctions between the U.S. and Latin American tech and entrepreneurship ecosystems. Therefore, it is an honor to be a part of the Ross family to share this reality, while also hearing and contrasting others' perspectives.
Fun fact that didn't get included on your application?
In December of 2019, I decided to quit my job and solo backpack across Asia. My plan was to travel for eight months before I started my MBA. However, you all know what happened this year! The pandemic restricted and locked everything in mid-March. I couldn't continue traveling anymore; however, what could be interpreted as a misfortune was instead the total opposite. I was "stranded" on a beautiful island in Thailand for four months, in my private bungalow right on the beach, and I only had to pay 9 USD per day. But the best part of the whole situation was it gave me the opportunity to write every day of those four months. In a few days, I'm publishing in Latinoamerica what I wrote: a book about the Self and the Creation (Title: "Creating Who You Are and Choose to Be").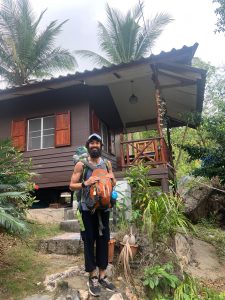 Post-MBA career interests?
Social tech impact in Latin America. I will help to disrupt the way we do businesses through tech and social principles. I will achieve this by working as a strategist and/or general manager in a  company whose goal is to create holistic value and impact through tech for Latin America. However, if there is not such a company, I will go back to the startup world to build that org-business model myself.
Advice to current prospective applicants:
–One thing you would absolutely do again as part of your application process?
Visit the schools and/or talk to students/alums. This was a game-changer. To choose the program that will affect the path of your life shouldn't be considered an insignificant decision. Therefore, relying solely on rankings and other impersonal stats would be injudicious. Go and visit the schools and/or talk with at least two or three students per program and try to get a true feel.
–One thing you would change or do differently?
To focus on my strengths since the beginning. Every applicant has at least one drawback. Mine was the GMAT/GRE. I spent almost two years studying and doing multiple exams but then I realized that I would not get a perfect score. For that reason, I decided to focus on what I was good at (e.g. telling my story, my experience, etc). I would have loved to hear that advice before.
–Part you would have skipped if you could—and what helped you get through it?
The GMAT/GRE. Although these exams assess certain skills and knowledge, they have a measurement error because they rely on certain methods such as the CAT (computer-adaptive test) or English as the language that are not equitable for international students. Thus the bar is higher and sometimes unnecessary. My advice would be to not study harder, but rather to focus more on the rest of the application. If the GMAT/GRE is not your strength, it is ok, there are a large range of elements that the programs assess. Of course, avoiding a terrible score is still a good idea, but try to spend the majority of your energy on the rest of the application.
What is your initial impression of Michigan Ross's students/culture/community?
Even though it sounds a little cliché (because Ross is known for it) it's a warm and helpful community. Really! I am amazed at how people (students, staff, professors, etc.) are genuinely passionate about helping and providing the best environment and even more during these tough times. You can truly feel a friendly, delightful, and constructive vibe.
One thing you have learned about Michigan Ross that has surprised you?
The Career Development Office. Even before our onboarding, they were reaching out to us to start thinking through and working on our professional path. They have a very organized office and a well-structured program that doesn't rely on just a few experts, but rather on the whole community so you can professionally thrive.
Thing you are most anxious about in your first year?
To properly meet my peers with this Covid situation. Although the whole Ross community (and University) has done an amazing job to interact and learn from others online, this particular set of circumstances is out of their hands. I am very grateful for the opportunity to be here and meet astonishing students, however, I can't stop imagining how it would be without the pandemic restriction.
Thing you are most excited about in your first year?
To start working on my goal: the "why" I came here. I am so thrilled that despite only having taken a few weeks of classes, I am already learning and working so much to accomplish my purpose. With just a few classes and some programs, I have been able to better understand those tech and social principles that will help me to disrupt paradigms. I'm even more excited to see how the rest of my time here can help me to become the conscious human business leader that will help to transform my region by unlocking the potential of my people.