Nathan Alston, Michigan Ross MBA Class of 2022
Age: 29
Hometown: Chesapeake, VA
Undergraduate Institution and Major: College of William and Mary, Theatre and Government
Pre-MBA Work Experience (years, industry): 7 years, non-profit theatre and music performance.
Why business school? Why now?  
Business school has been an exciting opportunity for me to develop skills that I felt were lacking in my undergraduate education. As a theatre student, I was very confident in my creative problem-solving abilities but hoped to build stronger financial analysis skills in order to make a bolder impact at work. Business school has provided me the unique opportunity to aggressively fill in these knowledge gaps with intentionality and focus. Attending business school now was imperative for me because I felt that after seven years, I was at a fork in the road. I felt that with my skillset and with my relatively small network, I couldn't quite reach the type of roles I was interested in.
Why Michigan Ross? What factors figured most prominently into your decision of where to attend?
When I first started to research business schools, I was afraid that my arts background would be an obstacle and not an asset. I was worried that my work would make it challenging to build a community and find my place in business school. I am also Black and queer and there are so few of us in business school. I knew I wanted to find a place that was committed to building a diverse class. The second that I stepped on Michigan's campus, I was struck by how inviting, driven, and warm the community was. I have always felt right at home here and because of that, I knew it would be the best environment for me to begin the growth that I was looking for. In addition to community, Michigan Ross is known for producing business leaders who are as passionate as they are analytical. This approach aligns with my own approach to leadership.
What do you think is your most valuable or differentiating contribution to the Class of 2022?
I hope my most valuable contribution to the Class of 2022 will be my dedication to using the arts as a tool to build community.  So many of my classmates have talked to me about their love of the arts and I can't wait to take advantage of the cultural opportunities we have here in Ann Arbor/Detroit.
Fun fact that didn't get included on your application? 
When I was in high school I achieved a brown belt in Jiu-Jitsu. I started to do it because it was a great workout and in all honesty, my parents thought I should be able to throw a punch (who doesn't love a good fight?). I ended up quitting about a year shy of achieving a black belt because I was cast in my first play. While I regret quitting, this decision was the first time I made a commitment to seriously working in the arts.
Post-MBA career interests?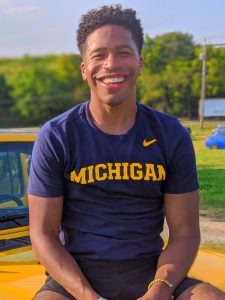 My short-term plan is to be an associate brand manager at a consumer packaged goods company. My long-term goal is to pursue a marketing role in the entertainment industry. CPG's have developed tried-and-true marketing strategies which would help me to further develop the analytical skills that I am looking for. Plus, I'd love to develop skills outside of the entertainment industry and better understand how other industries approach similar business challenges. My overall goal is to advocate for Black queer people in the entertainment industry (both as creators and audience members).
Advice to current prospective applicants:
–One thing you would absolutely do again as part of your application process?
I was a part of the Management Leadership for Tomorrow (MLT) MBA Prep program. MLT is a non-profit organization that seeks to increase diversity within business leadership. Their MBA Prep program was essential in helping me to understand what exactly I wanted from business school and provided me a roadmap to help me reach success. Their approach to the business school admissions process was intense, but through this program, I built amazing relationships with business school students at other top schools.
–One thing you would change or do differently?   
If I could go back, I would have found a tutor for the GRE sooner. Test prep was incredibly challenging for me and because I'm a bit stubborn, I didn't seek a professional tutor until later in the process. I wish that I had found one sooner so that I could have spent more time on my applications and less time on my GRE score.
–Part you would have skipped if you could—and what helped you get through it?
If I could go back, I would have found more opportunities to relax during the application process. It gets to be a stressful and all-consuming process and I wish I'd taken more time to slow down and focus on me.
What is your initial impression of Michigan Ross's students/culture/community?
My initial impression of Michigan Ross is just how passionate all of my classmates are. Everyone comes to the classroom with very unique perspectives and interests. It's been thrilling to hear what everyone is up to and how they hope to take advantage of the next two years.
One thing you have learned about Michigan Ross that has surprised you? 
Embedded in the Michigan Ross culture is just a sense of joy and happiness that I was not expecting in business school. In addition to snatching this degree, everyone is here to have a good time. Even with Covid-19 stopping most in-person meetings, we've all found opportunities to connect and have a good time.
Thing you are most anxious about in your first year? 
I'm most anxious about the classes. I had never taken economics or accounting before business school. This first semester of classes has been daunting but Michigan Ross has provided us so many academic opportunities to stay on track.
Thing you are most excited about in your first year?
I'm most excited about the time to slow down and think seriously about the companies that I hope to recruit for. Michigan Ross has provided us all with so many connections and it's thrilling to see what type of job/internship opportunities are available to us.