Whether in the Two-Year, One-Year or a dual degree MBA program, new Northwestern Kellogg students cite the culture and community as key factors in choosing the leading business school in this edition of Real Humans: MBA Students.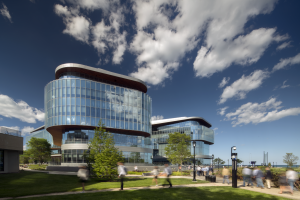 A surge in applications this year (up 54%) led to a larger class size. 559 candidates chose to matriculate for the Two-Year MBA Class of 2022, compared to 474 for the Class of 2021. Forty percent of the new group are female and 26 percent are international. Under federal guidelines, the U.S. minority racial and ethnic breakdown is 17 percent Asian American, 6 percent Black, 8 percent Hispanic, and 3 percent multi-race. Multi-dimensional reporting reveals that 1 percent of the U.S. student body are indigenous peoples of North America, Hawaii, and other Pacific Islands who would otherwise not be represented in the data.
During their undergraduate years, the new Kellogg class averaged a GPA of 3.6. Fifty-two percent had majored in economics/business and 29 percent had pursued STEM majors. Twenty-eight percent had studied the humanities. When it came time to take the GMAT, they averaged a score of 727 with the range landing at 640 to 770. For those who chose the GRE instead, candidates averaged scores of 163 in both the Quant and Verbal sections.
Before matriculating, new Kellogg MBAs averaged five years of work experience across a variety of industries. The most popular pre-MBA industry was consulting, as 26 percent of students came from it. Another 22 percent came from the field of financial services. Fifteen percent had worked in technology. Six percent each brought experience in non-profit/government/education work or media/entertainment. Others worked in manufacturing, consumer goods and other industries.
Get to know the students behind the stats in the following pages, as new students share their MBA admissions journeys, what drew them to Kellogg and more.