Two NYU Stern MBA students, Kidae Hong and Claire Park, share their entrepreneurial and tech experience in bringing a new sense of community to life during the COVID-19 pandemic.
How Covid Led Us to Build an Online Networking Platform for MBAs
By Kidae Hong and Claire Park, NYU Stern School of Business (MBA '21)
Stumbling on a Problem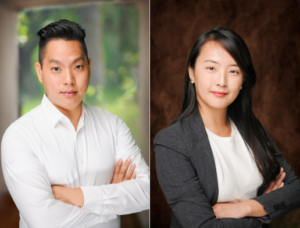 In December of 2019, fresh from completing our first semester in NYU Stern's full-time MBA program, Kidae held his birthday party in our small studio apartment in Hell's Kitchen. We invited over 10 of our close friends and had a great night. Then, in March of 2020, Covid happened. By the time Claire's birthday came around in June 2020, she invited the same friends to her birthday party, but this time over Zoom. Surprisingly, the same group of friends that had spent a great time in person found it difficult to mingle over Zoom.
Whereas in-person, people would form small groups of two to three people and have many simultaneous conversations, everyone had to have just one single conversation online. This worked fine in a group of three to four people, but with a dozen people, it turned out to be difficult for everyone. We soon realized that Zoom was not able to provide the natural experience of in-person social gatherings for large groups and felt the need for a solution that could replicate social experiences online.
Later on, as we started our virtual internships, we came across the same problem during networking events. Everyone was either all placed into one big room and forced to have one single conversation or people were randomly broken up into static rooms and awkwardly stuck there. That's when we decided there was a clear need for an online networking platform with fluid interactions. 
Doing What We Do Best
Prior to coming to Stern, our background was in entrepreneurship. We had previously co-founded three companies in Korea in various industries — a crowdfunding platform, a women's apparel brand, and most recently a live-streaming social media service. As we realized that the pandemic had brought on a sudden and clear need for an online networking platform, our inner entrepreneurs sprang right into the action. It was time for us to do what we do best: fix the problem by building a solution.
It turned out that NYU Stern was the perfect place to start such a service. We interviewed more than 20 of our friends on their experience with offline and online networking events and surveyed over 50 additional people. We then met with the Office of Career Development to hear the school's perspective on what pain points they had holding networking events online. When we demoed our prototype, the head of the Career Office said "this is exactly what we need… No one has shared anything like this and everyone's been looking for it." Hearing that, we knew we were onto something.
Next, we found teammates through the NYU Startup Team Hunt events held by the NYU Entrepreneurial Institute and booked free consultations with the Help Desk at Stern's Berkley Center for Entrepreneurship. We spoke with professor Jihoon Rim, who was the CEO of Kakao and whom we had taken the Managing a High-Tech Company course from the previous semester. He helped us understand what we should be testing and where our priorities should lie. 
Launching Circle in the NYU Stern community
Four months after we initially thought of the idea to build an online networking platform, we were ready to launch our service, Circle (www.letscircle.co). As the spring semester of 2021 started, we officially introduced our platform on our class' Teams and Slack channels and sent out emails to different offices at Stern and to club presidents. Within a week, we had several requests for demos and live events started getting scheduled soon after that. It wasn't long before we started seeing alumni mixers, admissions events, and student club events taking place on Circle.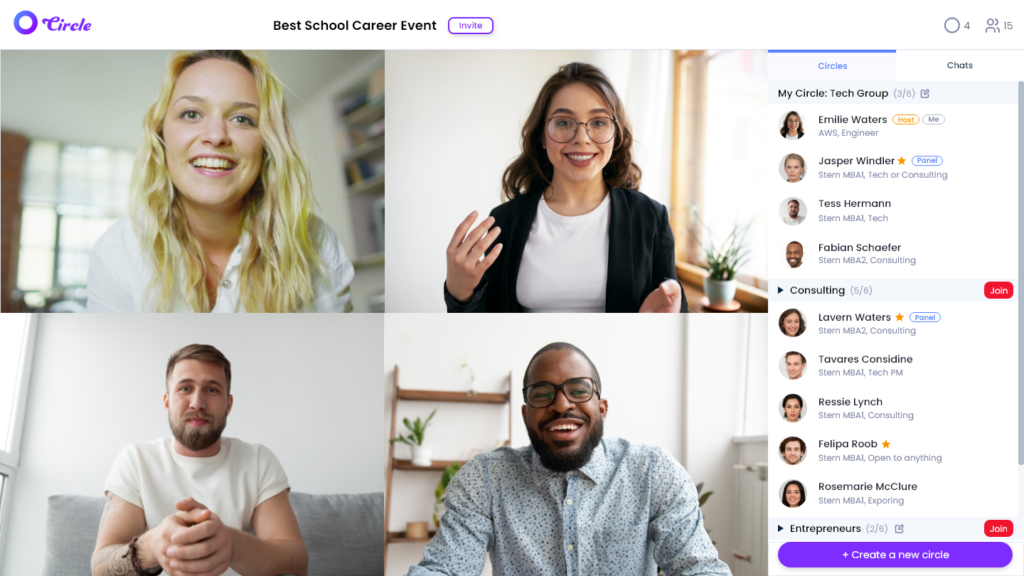 Since launching in February, over 250 events have been hosted on Circle and the platform has been growing over 50 percent every week. Moreover, 45 percent of event hosts come back to host events again through Circle. Thanks to the strong support, we were able to introduce Circle to other fellow business schools such as Wharton, Columbia, and Yale as well.
Looking ahead
Moving forward, we're looking to expand the use case of Circle beyond business schools as the need for a large group of people to freely move around and mingle organically in small-sized groups exists in every sector and industry. Hopefully, this is just the beginning of Circle's journey.
Our MBA experience was truly different from what we expected, but we are happy that we have been able to take this challenging circumstance and use it to create a change. The MBA program has been the perfect ground for us to act on our passion and we can proudly say that neither we nor the school has let the pandemic stand in our way!