Johnson & Johnson is the world's largest and most broadly based healthcare company. For over 130 years, J&J has developed medical devices, pharmaceuticals, and consumer packaged goods to advance human health and well-being. With over 130,000 employees across the world, J&J relies on scientists to research and develop new products, and marketing professionals to uncover market insights and make sales to patients, consumers and medical professionals around the globe. Some employees, like Grace Babula, Kellogg MBA '19, have training in both! 
In this edition of Real Humans: Alumni, we hear how this trained chemist got the tools, credentials, and flexibility she needed to pursue the types of roles she was interested in within the healthcare industry. Embarking on the MMM program at the Kellogg School of Management allowed Grace to combine her analytical background and experience with strategic and design thinking skillsets, providing her with dream role in an ever-changing and patient-focused industry. Read on to hear how the Kellogg MBA prepared her for her internship at J&J in their medical device Marketing Leadership Development Program and how this opportunity turned into a full time position on the MedTech marketing team. 
Grace Babula, Northwestern Kellogg '19, MedTech Marketing at Johnson & Johnson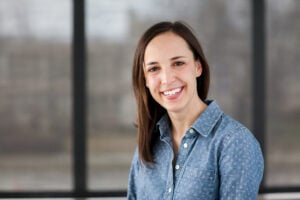 Hometown: Eldred, NY
Undergraduate Institution and Major: Williams College: Chemistry
Graduate Business School, Graduation Year and Concentration: Northwestern University, Kellogg School of Management Class of 2019: MMM Program
Pre-MBA Work Experience: 2.5 years, R&D at Nova Biomedical; 2.5 years, market access and reimbursement strategy at Optum/UnitedHealth Group 
Why did you choose to attend business school? After undergrad, I thought I would apply to PhD programs in chemistry. As I worked in a lab, it became clear that wasn't the right fit for me. I had no idea what I wanted to do instead but, through conversations with a mentor at UnitedHealth Group, I began to see an MBA as a way to get the tools, credentials, and flexibility to pursue the types of roles I was interested in.
Why Kellogg? Which factors influenced your decision? The MMM program and Kellogg's emphasis on collaborative work stood out to me. I knew I wanted to stay in the healthcare industry and saw value in being able to combine my analytical background and experience with strategic and design thinking skillsets. It also didn't hurt that I visited Northwestern on a beautiful spring day and Lake Michigan had never looked so good. 
What was your internship during business school? How did that inform your post-MBA career choice? I interned at Johnson and Johnson in their medical device Marketing Leadership Development Program. I was interested in med devices and medtech because of the opportunity to work on tangible products in a space that is undergoing a lot of change. I wanted to play a role in ensuring tech is integrated in ways that are meaningful and aligned with patient and clinician needs. I found a patient-focused view that aligns with my own at J&J! 
Why did you choose to work for your current company? I returned to J&J after graduation because of the culture and breadth. As the industry continues to move toward earlier and preventative interventions, J&J's breadth within healthcare (pharmaceuticals, med devices, and consumer) is especially well-suited to create impactful integrated solutions.
How did your MBA experience prepare you for your current career? Having majored in chemistry and taken mostly art classes as electives at Williams, I had no formal business training prior to business school. Given this, the coursework has certainly served me well! However, I found that the opportunity to reflect and develop softer skills has been even more valuable. I joined J&J with greater awareness and perspective, and a wonderful support system through the Kellogg network!
How has COVID impacted your industry/career plans? I was working on a medical device that is used in an elective procedure at the start of the pandemic — things came to a screeching halt last year! Our customers primarily meet in-person with our sales team, so we needed to rethink how we engaged and educated customers remotely. I'm also excited to see a greater emphasis on health equity at J&J and in the industry more broadly, given how much the pandemic has exposed. 
What advice would you give to a current MBA student? The MBA experience can feel all-encompassing — make sure to take time for yourself! 
Learn about more business school alumni like Grace Babula by exploring our Real Humans: Alumni series.
To see what current students from Kellogg School of Management are up to, visit their Real Humans: Students profiles.