Nike is the world's largest supplier and manufacturer of athletic shoes, apparel and other sports equipment. This American multinational company, headquartered in Beaverton, Oregon, is driven by its vision statement to "bring inspiration to every athlete in the world and to make sport a daily habit." For Katie Ross, an avid runner and adventurer, this message resonates deeply. Leveraging her MBA from the Kellogg School of Management, Katie Ross gets to make an impact every day as a corporate strategy manager for this champion brand builder. 
After deciding to get an MBA to gain the confidence, skills, and credibility to grow in her career, the people of Kellogg made it an easy decision for her. Eager to test out new careers and gain different experiences, Katie immediately started looking for a pre-MBA internship upon acceptance, eventually landing on Nike's Global Strategic Planning team. Following the completion of an additional internship during her time at business school with Proctor & Gamble, this athlete's heart was still with Nike's mission statement and she went back to the company to continue pursuing strategy to influence products that are improving people's lives worldwide. 
In this edition of Real Humans: Alumni, we hear how Katie Ross' experiences at the Kellogg School of Management equipped her for a career in brand management and how the lessons she learned while pursuing her MBA continue to guide her today. Read on for Katie's full story.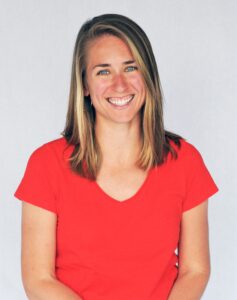 Katie Ross, Kellogg '20, Corporate Strategy Manager at Nike
Age: 29
Hometown: Eden Prairie, MN
Undergraduate Institution and Major: Bowdoin College: double major in Government and Asian Studies
Graduate Business School, Graduation Year and Concentration: Northwestern University, Kellogg School of Management Class of 2020: Marketing 
Pre-MBA Work Experience: 3.5 years, consulting 
Why did you choose to attend business school? Prior to Kellogg, I worked for Deloitte Consulting in their Strategy & Operations practice. During my time at Deloitte, I worked with incredible managers and teams, primarily serving automotive, retail and sports clients. I firmly believe there was no better place to start my career. However, after three and a half years in consulting, I was ready for a change; I wanted to experience living in the same city every day, and I wanted to try working in a role where I could see my recommendations through to reality (rather than handing off the presentation and moving onto the next client.) 
Coming from a liberal arts undergraduate program and having zero corporate internship experience prior to starting my first day of work at Deloitte, I gathered all of my business knowledge by observation and trial-and-error on the job. I had never taken an accounting or marketing class. I wanted to get an MBA to lay an academic foundation for my business knowledge, and give me the confidence, skills, and credibility to grow in my career.  I didn't want my education (or lack thereof) to ever limit me. Plus, I was excited about the opportunity to test out new careers and meet new friends. 
So once I got the "you're in" call from Kellogg in December 2018, I immediately started looking for pre-MBA internships. I was lucky enough to land a job on Nike's Global Strategic Planning team from April to August prior to attending Kellogg.
Why Kellogg? Which factors influenced your decision? My mom went to Northwestern for college, and my dad went to a school on the south side of Chicago that shall remain nameless, so when I had a decision to make between the schools' MBA programs, I just picked my favorite parent (kidding). The parental ties did make the decision more fraught, but ultimately, I decided Kellogg was the school where I would be the happiest. Everyone I met seemed to have an interesting story to tell but were even more curious to hear mine. The marketing department seemed like it would equip me better than any other school for an internship in brand management. And the trail along Lake Michigan seemed like an idyllic place for my daily runs. 
What was your internship during business school? How did that inform your post-MBA career choice? I interned with Procter & Gamble (P&G) in their brand management function. When I thought about the internship process, I asked myself, "In 10 years, which career path will I most regret not trying?" For me, the answer was brand management. It seemed like something I could be good at and find fulfilling: jumping between creative and analytical problem solving, managing big-picture thinking and lots of details, and rallying around a shared goal with a cross-functional team. P&G was the holy grail for what I was hoping to do, and I was very fortunate to have the chance to intern with them.
Why did you choose to work for your current company? Ultimately, I decided to return to Nike for two main reasons. First, I believe the world would be a better place if more people went out for a run every day. Nike's vision to "make sport a daily habit" resonates deeply and is something to which I can gladly dedicate 8+ hours a day of energy and thought. Second, Portland is my partner's and my idea of heaven on earth; where else can you start the day with a run in the U.S.'s biggest urban forest, drive to the coast or the mountains for the afternoon, and end the day at a brewery in your sweatpants and sneakers?
How did your MBA experience prepare you for your current career? I've often heard that the most challenging part of any job is the people. Kellogg acknowledges that working with people is a fundamental (and often challenging) part of business, so every class involves team-based assignments. The lessons I learned about how to work with, persuade, and motivate teams are the most important things I learned at Kellogg and will stay with me for the rest of my career.
How has COVID impacted your industry/career plans? I was very fortunate to have signed my offer in the fall of 2019 long before the pandemic began, so COVID-19 hasn't impacted my industry/career plans per say. However, my life certainly looks different than I anticipated when I accepted my offer to return to Nike. My partner and I anticipated we would hike the Oregon portion of the Pacific Crest Trail prior to starting work. Instead, we moved to Portland earlier than anticipated, bought a house, and have been working from home ever since.  
What advice would you give to a current MBA student? My biggest advice: do you. It's very easy to get swept up in the business school experience and feel like you need to try everything, be everything, fill-in-the-blank everything that everyone else is. It's great to get involved, meet people, and fully immerse yourself in the business school experience, but if doing so starts to compromise your sanity or self-worth, take a moment to breathe and re-ground yourself. The more you can own your business school experience and make it what you want rather than what you think it should be, the more fulfilling the experience will be.  
Learn about more business school alumni like Katie Ross by exploring our Real Humans: Alumni series.
To see what current students from Kellogg School of Management are up to, visit their Real Humans: Students profiles.