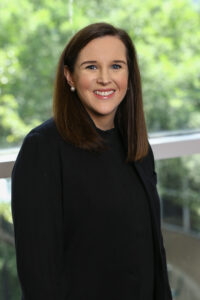 We continue with our Admissions Director Q&A series with Bailey McChesney, the Director of MBA Admissions at Vanderbilt Owen. McChesney manages the application evaluation process and the incoming student onboarding experience. She oversees a team of experienced application evaluators and the MBA Recruiting & Admissions Fellows. Prior to her current role, she enjoyed traveling and recruiting students to join the Vanderbilt MBA program and serving as the Owen Orientation Chair.
Read on for her insights into the Vanderbilt Owen MBA program, what to expect in admissions and more.
Vanderbilt Owen Admissions Director Q&A
Clear Admit: What is the one aspect of your program that you wish applicants knew more about?
Bailey McChesney: Vanderbilt sits right in the middle of Nashville, Tennessee, in an area called Midtown. Our beautiful, green campus is right beside downtown Nashville and is walkable to many restaurants, places to live and hot spots. Students come to Vanderbilt and fall in love with living in Nashville. The city is vibrant, friendly and continues to flourish and grow. With our Board Fellows Program, you have the opportunity to get involved in the community and add value in a tangible way. Nashville continues to be a hub for young professionals and in addition to providing great hands-on and immersive work projects, there are amazing opportunities to see live music, sports and experience the arts.
CA: Will the applicant experience look different this year due to COVID-19? Will prospective students have the opportunity to visit campus? 
BM: Vanderbilt University has been committed to delivering in person education and we are proud that we were able to conduct courses in person for the past two years. This fall, we are offering a series of virtual opportunities for candidates. We have a virtual visit opportunity which allows candidates the chance to interact with current students, our Career Management Center, and our Recruiting & Admissions Team. We are also offering a virtual Discover Vanderbilt Business weekend event in November. This is one event conducted over two days. The first day of the event is focused on the Business Case for Equity, Diversity, and Inclusion and the second day is focused on Life at Owen.
 The Owen Graduate School of Management Mission is to provide world-class business education on a personal scale. We offer an extremely personalized experience for candidates to get to know our team and our program and for us to get to know candidates.  All candidates have a designated Recruiting Manager, who works alongside them throughout the entire recruiting and admissions process, and our Recruiting Team continues to offer personal consultations to provide insight into the program and the application process.
CA: Walk us through the life of an application in your office from an operational standpoint. What happens between the time an applicant clicks "submit" and the time the committee offers a final decision?
BM: Our program has a thoughtful and comprehensive evaluation process to ensure we are evaluating the full potential of each applicant. Upon submission, the application goes through an initial assessment to determine if we will be inviting the candidate for an interview. Once we have received all application materials and the candidate has interviewed, we have a team of individuals who evaluate the application. Each application is evaluated twice by experienced application evaluators on our Recruiting and Admissions Team. Our Career Management Center also has the opportunity to review parts of the application. After the comprehensive evaluation, we have an Admissions Committee who makes the final decision. The Admissions Committee is made up on individuals from our Career Management Center and the Recruiting & Admissions Team. We seek leadership potential in applicants and look for candidates who can successfully manage the academic rigor of the program, add value in and out of the classroom and become leaders as they take the next step in their career through the post-MBA career search.
CA: How does your team approach the essay portion of the application specifically? What are you looking for as you read the essays? Are there common mistakes that applicants should try to avoid? What is one key thing they should keep in mind as they sit down to write?
BM: With our essays, we are trying to give candidates every opportunity to show us who they are as a professional and as a person. The essay is the part of the application where candidates have the most control, so we encourage candidates to focus on being authentic. We have two required written statements in addition to a video response. One of the written statements is a career-focused statement which allows candidates to tell us about their post-MBA career goals and the skills they are hoping to develop while they are in the program. Our second required written statement is an opportunity for candidates to highlight something about themselves or their experience.  This is an applicant's chance to spotlight something about themselves that they are proud of or want the Admissions Committee to know.
CA: Could you tell us about your interview process? Approximately how many applicants do you interview? Who conducts the interview (students, admissions officers, alumni) and what is the nature of the interview?
BM: We believe that the interview is an essential part of a candidate's application and really gives applicants a chance to showcase their professional experience and complement the online application. We invite more than 80% of our applicant pool to interview. We love hearing your story! Our interviews are conducted by our MBA Recruiting and Admissions Fellows, current second-year students. Who better to speak to about the experience in the program than the students themselves? Our Fellows go through extensive interview training, including a Disrupting Everyday Bias training, and are thoughtful as they interview potential peers. The interview gives applicants the chance to show us who they are beyond their resume. All of our interviews are blind and behavioral based, so interviewer only sees the candidate's resume. We encourage candidates to prepare for their interview just like they would a job interview. Our approach to the interview is to really hear an applicant's story and look for every reason to welcome a candidate to Vanderbilt Business.
CA: Tell us briefly about two notable professors at your institution (ideally one student favorite, and one up-and-coming).
BM: Tim Vogus is a Professor of Management and is a favorite among students for a multitude of reasons. It could be that he raps in class, but he also shows tremendous care for the students in his class. He fosters a classroom environment where students feel comfortable and are invited to contribute and be challenged.  He teaches the core Leading Teams in Organizations course to first year MBA students in Mod 1 and teaches an elective on negotiation. His research focuses on making organizations more inclusive, and how to create and sustain highly reliable performance. He is particularly interested in creating and strengthening safety culture and its effect on making health care delivery safer. I have always found his research fascinating! Tim is the Deputy Director of the Frist Center for Autism and Innovation and is passionate about inclusivity. He also serves as the Faculty Director for the Leadership Development Program.
Erik Olson started teaching our core Financial Accounting and Reporting course last year and has been a student favorite since. He previously worked as a Tax Associate for KPMG and has a PhD in Management from Yale in addition to several Master's Degrees. His research focuses on the impact of disclosure firm on capital allocation decisions, and he has research interests in capital markets, taxation, corporate governance, and institutional investors. At Owen, he won the "Thanks Teach" Vanderbilt-OGSM Award for Teaching Excellence in his first year as a core accounting professor. Erik is involved with our Dean's Scholars program and works with our Office of Academic and Student Affairs to create meaningful content for those students. He also is a 2nd Degree Black Belt.
CA: Is there anything else you'd like to highlight about your MBA program or admissions process?
BM: Vanderbilt MBA is thoughtful about creating a program that is personalized from the very beginning. Our curriculum is customizable; and with lots of opportunities for experiential learning, leadership development and involvement in clubs/organizations, your entire experience can be customizable. Our faculty, staff and students foster a culture where you can stand out, grow, and develop alongside your peers. The personalized and collaborative experience that is our MBA program is unique. Getting your MBA is a transformative experience that can set you up for the next step in your career. What our program offers is the opportunity for that experience to be personalized and collaborative. That personalized experience starts from the very beginning. Our Recruiting & Admissions Team wants to get to know you and help you understand if Vanderbilt MBA is the right community for you as you pursue your graduate business education.
Thanks for reading our Vanderbilt Owen Admissions Director Q&A! Learn more about the program here.