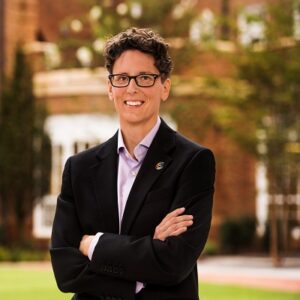 This edition of our Admissions Director Q&A series takes us to the Terry College of Business at the University of Georgia. Deirdre Kane, the Director of Admissions for the Full-Time MBA & Dual Degree programs at Terry College, joins us to discuss the ins and outs of MBA admissions. Deirdre earned her bachelor's in English literature with minors in French and women's studies from Drew University, a master's in English literature from the University of Maryland, College Park, and a doctorate in Learning, Leadership and Organization Development at the University of Georgia. Before joining the Terry College as Associate Director of MBA Admissions in 2011, she worked for 12 years at MIT Sloan, holding positions in Information Technology and MBA Admissions.
Read on for insights into MBA admissions, what stands out about the program, what to expect during the admissions interview and more from the Admissions Director at The University of Georgia's Terry College of Business.
Clear Admit: What is the one aspect of your program that you wish applicants knew more about?
Deirdre Kane: I want applicants to know more about what we mean when we say "dedicated career support" and "individualized attention." Those are catchphrases, I know, but we have tried to show how that impacts the student experience through our videos and our podcast. We truly want our students to achieve the outcomes they want and we want those outcomes to align with their values and career ambitions. I also want applicants to think about what MBA experience they want to have rather than hyper focus on specific metrics that aren't accurate reflections or complete representations of what our program offers. Getting an MBA is about more than earning a credential, so it is important to take the time to research and find those programs that can help you achieve your goals and make the most out of those two MBA years, both personally and professionally. We offer an unparalleled experience because of the resources of the larger university, our ability to help you expand your network with valuable connections, and the wealth of opportunities to develop your leadership through our project-based courses and engagement with the Athens community.
CA: Will the applicant experience look different this year due to COVID-19? Will prospective students have the opportunity to visit campus?
DK: Unfortunately, the applicant experience is not yet what we want it to be. We don't feel we are ready to office in-person Campus Visit Days just yet, but we are able to coordinate visits for individuals who want to see the Business Learning Community, tour Athens, attend a class, meet with students, and meet with Admissions staff. They just have to contact our office to set that up by emailing [email protected]. In place of those Campus Visit Days, we've upped our virtual event game and created more videos, two of which give candidates a "tour" of the Business Learning Community: a virtual tour video and a downloadable app.
CA: Walk us through the life of an application in your office from an operational standpoint. What happens between the time an applicant clicks "submit" and the time the committee offers a final decision (e.g. how many "reads" does it get, how long is each "read," who reads it, does the committee convene to discuss it as a group, etc.)?
DK: After each deadline passes, applications are randomly assigned to readers for review. After that first holistic review, candidates are recommended for interview and the Admissions Committee finalizes those interview invites. During the Committee review process, applications may get a second read before a decision is reached. The interviewer reviews the application before meeting with the candidate, so that is the second read. After candidates are interviewed, the interviewer makes their recommendation to the Admissions Committee. The Committee then meets to discuss all candidates recommended for admission. Once acceptance decisions are reached, the Committee then evaluates candidate for merit aid awards so that decisions and awards can be issues at the same time. All candidates not chosen for interview in that first batch are then reviewed individually by the Director before the end of the application round and final decisions are released.
CA: How does your team approach the essay portion of the application specifically? What are you looking for as you read the essays? Are there common mistakes that applicants should try to avoid? What is one key thing they should keep in mind as they sit down to write?
DK: We have a required essay asking how the program can help them achieve their short and long term goals. From this essay, we are looking for transparency and a demonstration that the candidate has really thought things through, understand their current strengths and skills, the value of their work experience to date, the knowledge and skills gaps that they have identified and how they will use their time in the program to fill those gaps and make the career transition they outline in the essay. Are those goals reasonable and achievable? Are these goals we can help then achieve? In this essay, you have to decide what you need to share to answer the question, show that you have done your research about the program and have specific reasons for wanting to attend, demonstrate self-awareness about your accomplishments, strengths, skills, and areas for improvement. For the second required essay, they can choose from two prompts. What we want to learn here is how you have tried to leave a place better and more welcoming than you found it, whether that be at work, a volunteer engagement, or a personal experience. This is an opportunity to show us your ability to empathize with those difference from you, put yourself in their shoes, and create positive change by acting on that knowledge.
CA: Could you tell us about your interview process? Approximately how many applicants do you interview? Who conducts the interview (students, admissions officers, alumni) and what is the nature of the interview?
DK: All candidates are interviewed by a member of the Admissions staff who also sits on the Admissions Committee. We want to get to know everyone we consider admitting into our program. Our interviews are mostly behavioral, but candidates should also be prepared to discuss their goals, why they think now is the right time for the MBA, and why they are interested in our program.
CA: Tell us briefly about two notable professors at your institution (ideally one student favorite, and one up-and-coming).
DK: As you might imagine, there are more than two! But I can highlight two that are universally popular, and like all faculty who teach for the program, they pour themselves into our students. Dr. Annette Poulsen is one. She is a finance professor and teaches our core finance course. She is a Josiah Meigs Distinguished Teaching Professor, UGA's highest teaching award, and prior to coming to UGA, she worked as an Economist at the U.S. Securities and Exchange Commission. A second to mention would be Dr. Jason Matthews, who has been teaching Accounting at Terry since 2012 and has had an extensive career as a CFO. He has been teaching the MBA core accounting course since 2015, and even if students don't finish the course loving Accounting, they are fans of Dr. Matthews because of his ability to teach the real world relevance of accounting.
CA: Is there anything else you'd like to highlight about your MBA program or admissions process?
DK: Oh so much more! There's how wonderful a place Athens is, the high number of project opportunities we have for a program our size, my fabulous colleagues and their dedication to each student's success, our efforts as a program to make sure everyone feels like they belong, but the one thing I think it's important for every applicant to remember is that the right program is out there for everyone and if they are willing to put in the work, they will find it!