Aaron Gottlieb, Washington Foster's MBA Class of 2023
Age: 32
Hometown: Burien, WA
Undergraduate Institution and Major: University of Southern California, Bachelor of Science in Economics/Mathematics
Pre-MBA Work Experience (years, industry): 8 years in the airline industry (Alaska Airlines and Hawaiian Airlines) working in pricing and revenue management. 1.5 years with a tech startup (Avvo) working in ad monetization. 
Why did you make the decision to attend business school? Why now?
I'm interested in pivoting into a new industry and function, so business school is a perfect way to reinvest in myself and expand the opportunities available to me. In school I knew I'd be able to develop a broader, more robust business acumen through the intensive curriculum while also learning from the diverse experiences and skill sets of my classmates. I look forward to the myriad opportunities to further advance my leadership and soft skills, while also building out a robust professional network.
I felt strongly that my current mix of business and leadership experience would allow me to take full advantage of everything business school can offer. My experience leading a team at a large, public company will allow me to leverage an MBA in a much deeper and comprehensive way.
Why did you choose Washington Foster? What factors figured most prominently into your decision of where to attend?
Foster aligned optimally with my personal and career goals. Post-MBA I knew I wanted to grow my career in Seattle, and Foster can best support an expansion of my professional network locally. I also want to pivot into tech, and the emphasis on tech at Foster, combined with the school's relationships within the tech industry, can support my ambitions. Additionally, the smaller class size and more intimate learning environment are characteristics I was attracted to because I knew they would enable a highly personalized education.
What do you think is your most valuable or differentiating contribution to the Class of 2023?
My experience in two separate industries and significant leadership experience will allow me to contribute a unique voice and perspective. I've been on many diverse teams throughout my career, and my adaptability and versatility regardless of the situation will help produce positive outcomes.
Tell us a fun fact that didn't get included on your application:
My family and I were featured on the local Seattle news for being the first to discover the Black Widow spider on Stuart Island in the San Juan Islands.
Post-MBA career interests:
I'm fascinated by tech and product management, but I'm also passionate about the social impact space. The great thing about an MBA is that it opens doors in many different areas, so I want to keep an open mind and explore different opportunities.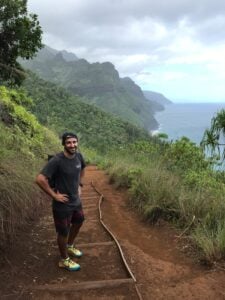 Advice for Current Prospective Applicants:
– What is one thing you would absolutely do again as part of your application process?
Start early and spend significant time reflecting on where you have been and where you want to go. Then understand what makes each program unique and differentiated and how the program aligns with your personal and professional goals. Talk to current students and alumni in your desired fields. A higher ranked program by itself can absolutely be a worse fit, so make sure you do your due diligence and go beyond the rankings!
– What is one thing you would change or do differently?
I would try and focus my energy and time inwards rather than outwards. In life there is always this temptation to compare yourself to anyone and everyone, but this is an unproductive approach during the MBA application process. Don't stress about how each part of your application stacks up against others. To the extent you can, try to block out the outside noise you can't control and focus on being your best self. Understand your weaknesses and your strengths, present the best version of yourself, and be honest and genuine. The process is about you, and if you try to be someone else it will appear inauthentic.
– What is one part you would have skipped if you could—and what helped you get through it?
The essays were tough, and I'm not the most eloquent writer, so I would've skipped those if I could. But they're actually a great vehicle for reflection and a way to better understand yourself and your goals more comprehensively. It forces you to dive deeper into what really makes you tick, and I think if you realize this and reframe the process it can be more enjoyable and rewarding.
What is your initial impression of the Washington Foster students/culture/community?
Everyone in and around the program has been so incredibly supportive and welcoming. The collaborative culture is very real, and everyone is invested in lifting up not only themselves but everyone else around them. Each member of the class is so talented and driven, and it's amazing being surrounded by so many unique people bringing something different to the table.
What is one thing you have learned about Washington Foster that has surprised you?
I've been pleasantly surprised by how rigorous and fast-paced the coursework is. The quality of the professors in the classroom has been extraordinarily high, and the way they're able to connect the curriculum with the real world has really enhanced the learning process and made the material more interesting and relatable.
Has the COVID-19 pandemic affected your personal application or admissions process in any way? If so, how? I'm certainly not alone in this line of thinking, but the pandemic has made me reconsider what I really wanted out of my career. How can I bring closer into alignment who I am, what I believe in, and what I do for work? How can I give my work more meaning and have a larger impact in the areas that I care most about? This personal reflection came through in my application, and I want to be very intentional about using my time at Foster to better answer this question and position myself accordingly.
What is one thing you are most anxious about in your first year?
Finding the right balance between coursework, leadership opportunities, recruiting, and networking. There is so much being thrown at us all at once and so many opportunities to take advantage of, but at the end of the day there must be tradeoffs and you need to figure out how to prioritize what is most important to you and go for it!
What is one thing you are most excited about in your first year?
Meeting so many new, amazing people. Very excited to see where this journey takes us!