Emilia DiMare, Washington Foster's MBA Class of 2023
Age: 26
Hometown: La Quinta, CA
Undergraduate Institution and Major: University of Southern California, Major: International Relations
Pre-MBA Work Experience (years, industry): 4-years in HR Advisory/Consulting and 1-year in Sales 
Why did you make the decision to attend business school? Why now?
For the last five years, I worked as an Human Capital consultant. As an Executive Advisor, I collaborated with HR leaders to develop solutions to some of their most pressing employee experience and diversity, equity and inclusion challenges. My job was challenging, dynamic and I worked alongside some of the most intelligent and kind people. However, after almost five years, I realized, to achieve my long term goals, I needed to diversify and expand my skillset. Business school is an opportunity to redraw the boundaries of my career and get out of my comfort zone.
I chose an MBA because it will help me achieve a few key things. First, an MBA will provide me with a more holistic business perspective. All business functions are interconnected and only speaking the language of HR was limiting. Second, an MBA is my opportunity to reimagine how I want to define my career. I'm excited to learn about various career paths and how I can blend my skills/ experience to create a meaningful career path. Lastly, an MBA is about community building. I love that a core component of the MBA experience is fostering meaningful relationships with peers, connecting with alumni, seeking mentorship – the support and opportunity to learn from such a diverse community is thrilling.
Why did you choose Washington Foster? What factors figured most prominently into your decision of where to attend?
There were three factors that set Foster apart from other MBA programs. First, were the copious experiential learning opportunities. From working with minority-owned businesses to interning with the Bill & Melinda Gates Foundation, to conducting independent research studies, Foster has many opportunities to take learning outside the classroom. 
Second is Foster's tight-knit culture. Assessing the culture of an MBA program from the outside was challenging. But after speaking with several students and learning about the  socially distant lunches organized by professors, class camping trips, and alumni-led events, I recognized a culture I wanted to be a part of.
The last factor was location. Not only does Foster have partnerships with some of the most innovative technology companies in the world but the Career Management team and student-led clubs work tirelessly to connect students to these companies. By the second week at Foster, my class was meeting and presenting case studies to alumni at some of the biggest tech companies in the world. Admittedly, I was also drawn to Seattle for it's proximity to the mountains and coastline- the natural beauty here is unprecedented! 
What do you think is your most valuable or differentiating contribution to the Class of 2023?
My peers are extremely accomplished, kind, and intelligent so this is a challenging question!
But I think that my most valuable contribution will be my experience in Diversity, Equity and Inclusion. I hope to leverage my DEI and HR consulting experience to bring a pragmatic perspective to the important discussions we have in the classroom. Outside the classroom, I'm involved with the Consortium and the Diversity in Business club. I'm excited to work with my peers to influence DEI at Foster!
Tell us a fun fact that didn't get included on your application:
I come from a family of tomato farmers.
Post-MBA career interests:
Given my passion for creating solutions to people-oriented business challenges, I'm exploring management consulting and product marketing.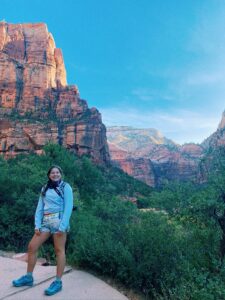 Advice for Current Prospective Applicants:
What is one thing you would absolutely do again as part of your application process?
Speak with current students. Chatting with students in formal and informal settings enhanced my understanding of the application process, the school's culture and expectations in the classroom. Connecting with current students helped me recognize where I'd be a good fit. 
Then when the time came to decide what school to attend, it was helpful to understand their perspective and run through my pro/con list. I'm extremely grateful to the students who coached me through the admissions process and offered candid advice when I was deciding between schools.
What is one thing you would change or do differently?
In retrospect, I wish I applied earlier. As a round three admit, I had less time to prepare for summer conferences, meet fellow classmates before classes commenced, and settle into my new city.
What is one part you would have skipped if you could—and what helped you get through it?
If I could, I would've skipped the GRE. Standardized tests are no fun and it was challenging balancing work and study. That said, I am glad I took the exam because it tested my time management skills and prepared me to re-enter academia. Support from my friends, time management, and my stack of practice problems got me through it.
What is your initial impression of the Washington Foster students/culture/community?
My initial impression is that the Foster community is deeply committed to making a positive impact. One example is the participation in the Challenge for Charity (C4C) club events. C4C has organizes volunteer activities almost every week. The first week of October, fifty of us planted 250 trees in a community garden that serves fresh produce to underserved communities.
What is one thing you have learned about Washington Foster that has surprised you?
I'm stunned by the access we have to the Foster administration and faculty. Having come from a large undergraduate university, going on a "Wednesday Walk" with Foster's Assistant Dean, is a new experience. Similarly, on our first day of class, our marketing professor not only memorized our names but also readily, gave out his cell phone number. I think these actions really speak to tight-knit community that Foster is known for. 
Has the COVID-19 pandemic affected your personal application or admissions process in any way? If so, how?
On one hand, the COVID-19 pandemic resulted in a proliferation of online MBA events. It was easy to attend webinars and virtually meet students across the country!
On the other hand, the pandemic added a lot of uncertainty. My testing center closed a week prior to my test date. For weeks I was left wondering if I'd be able to take the GRE after months of preparation. Then with the second stay at home order, many of us were left wondering if classes would be in person.
The pandemic threw many curve balls into my application process. But these hurdles just made me more resilient!
What is one thing you are most anxious about in your first year?
Finance. Given my Liberal Arts background, my exposure to quantitative subjects, like finance, is limited. However, in the first few weeks, my anxiety has ebbed. Our finance professor is amazing. His lectures are engaging, he knows how to make the content relatable, and by leveraging case studies, I've been able to apply these new concepts to real-world problems.
What is one thing you are most excited about in your first year?
I'm really excited for our Applied Strategy project in the Winter quarter! The Applied Strategy project is an opportunity to apply our knowledge to a real-world business challenge and to make a positive impact on a local business.