Harguleen Singh, Washington Foster's MBA Class of 2023
Age: 27
Hometown: Des Moines, WA
Undergraduate Institution and Major: University of Washington – Economics
Pre-MBA Work Experience (years, industry): 5 years working in technology consulting 
Why did you make the decision to attend business school? Why now?
My career up to this point has been very rewarding. I got a chance to work with cross-functional teams and see how businesses and business leaders can directly impact the world. This experience helped me understand my desire of becoming a business leader and leaving a mark on the world through my work. I began seriously considering an MBA 2 years ago when I realized that in order to become the type of business leader that I want to become, I needed to learn foundational business skills and continue developing my leadership, strategic thinking, and other soft skills. I decided that earning an MBA was the best way for me to accomplish my goals. 
Why did you choose Washington Foster? What factors figured most prominently into your decision of where to attend?
Living and working in the Seattle area, I had the chance to speak with many colleagues and associates who received their MBA from the Foster School of Business. Almost all of my friends and colleagues who attended Foster raved about the culture and community within the school. When I began researching different programs, I was drawn to Foster's small class size, focus on collaboration, and strong network of alumni in the greater Seattle area. I wanted to attend an MBA program where I could really get to know my classmates and professors and build meaningful relationships with them, so Foster was an obvious choice for me. 
What do you think is your most valuable or differentiating contribution to the Class of 2023?
In my career before business school, I worked primarily with major social media clients on projects to help make their platforms more inclusive and equitable. Through my past experience, I've been able to positively impact social media users around the world. I hope to share my experiences and what I've learned about implementing DEI initiatives with my classmates at Foster. 
Tell us a fun fact that didn't get included on your application:
I'm a huge sports fan and know way more about the history of basketball, baseball and football than I should. 
Post-MBA career interests:
After earning my MBA I want to become a management consultant. I love problem solving and coming up with strategies to tackle difficult situations. Management consulting will allow me to do this while also giving me a chance to work with diverse and talented people from many different industries.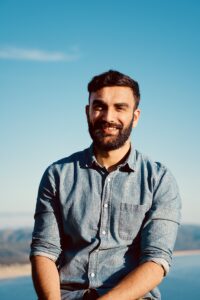 Advice for Current Prospective Applicants:
– What is one thing you would absolutely do again as part of your application process?
As part of the application process, I really focused on my interview skills. I worked with an admissions consultant and spent a lot of time on my own thinking introspectively. This helped me tremendously when it came to communicating my career goals and purpose for pursuing an MBA during admissions interviews. 
– What is one thing you would change or do differently?
I applied fairly late in the process. One thing I would do differently if I had the chance is begin working on my application much sooner. This would have helped relieve a lot of the stress that comes with applications. 
– What is one part you would have skipped if you could—and what helped you get through it?
I'm probably not alone here but my least favorite part of the application process was preparing for the GMAT while working full time. What helped me get through it was setting up a schedule that allowed me to take a day off from studying every week. 
What is your initial impression of the Washington Foster students/culture/community?
I absolutely love the UW Foster community and culture. My classmates are so diverse. We have students from many different countries, cultural backgrounds, and work experiences and everyone is so welcoming and willing to help one another. 
What is one thing you have learned about Washington Foster that has surprised you?
The one thing that's been most surprising to me about UW Foster is how enthusiastic the faculty and professors are about engaging with students not only inside the classroom but beyond. 
Has the COVID-19 pandemic affected your personal application or admissions process in any way? If so, how? The COVID-19 pandemic affected my application a great deal. While I was applying, Washington state, and much of the country was on lockdown. This was both a blessing and a curse. On one hand, it gave me a lot of time to be thoughtful about my application but on the other hand, it meant that I couldn't step away from the stress that came with constantly studying for the GMAT or preparing my essays.
What is one thing you are most anxious about in your first year?
I'm most anxious about missing out on the many opportunities available to me here at Foster.
What is one thing you are most excited about in your first year?
One thing I'm really excited about during my first year is getting to know my classmates and professors.